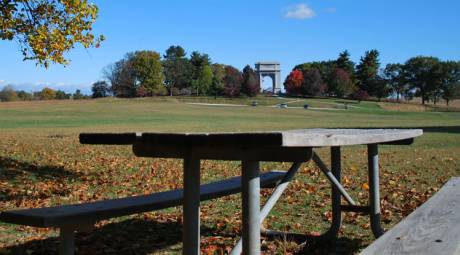 VALLEY FORGE NATIONAL HISTORICAL PARK
1400 North Outer Line Dr
King of Prussia
Touring Valley Forge National Historical Park can whet many an appetite. Clusters of picnic tables near Varnum's quarters and Wayne's Woods offer traditional settings. The many open fields (near the National Memorial Arch, for example) are great places to spread out a blanket and dig in. For grilling, retreat to the Betzwood Picnic Area (on the western edge of the park), accessible to hikers and bikers by the scenic Schuylkill River Trail.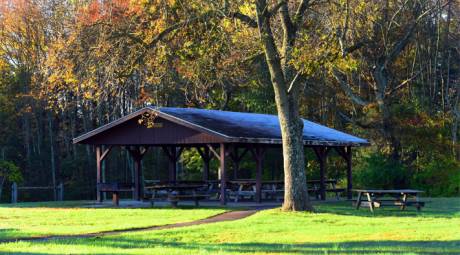 EVANSBURG STATE PARK
More than 150 picnic tables are available for use at Evansburg State Park, many with grills and pavilions nearby. Before settling down to an al fresco meal, visitors can fish, bike, hike, play softball, horseback ride and even golf.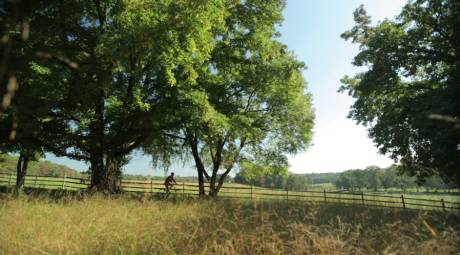 LORIMER PARK
183 Moredon Rd
Huntingdon Valley
An Abington Township respite, Lorimer Park is 230 acres of woodlands, meadows, creeks and trails. The 70 picnic tables are served by 30 grills and fireplaces. An outdoor pavilion can be reserved and holds as many as 40 people.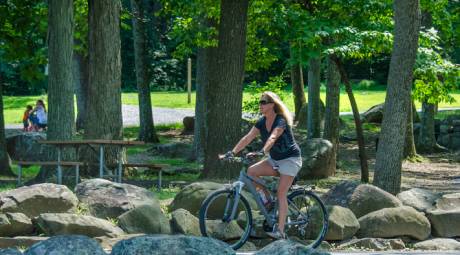 GREEN LANE PARK
Pack your ribs, sauce, sides and beverages in the cooler and head to Green Lane Park. There, you and your crew can get out on the beautiful water, in a traditional boat, a paddleboard or under the captainship of the pilot of a pontoon boat. Once back on dry land, find one of the plentiful table/grill spots (the Deep Creek Lake and Hill Road Day Use areas are recommended) and get to work feeding that hungry appetite. If the timing is right, the day can end with a free summer performance at the amphitheater.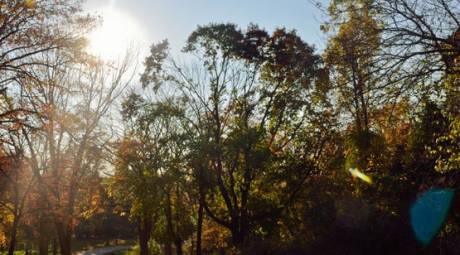 FORT WASHINGTON STATE PARK
If your summer plans include a large family gathering, reuniting several generations, Fort Washington State Park is a great place to hold it. Make a reservation and focus on the Flourtown Day Use Area and Militia Hill Day Use Areas, as they have over 300 tables. Then unpack the food, let the elders relax in the shade and send the little ones to clamor over the playground. Before leaving for the day, take a look at the view from the observation tower and see the rolling hillsides dressed in green for the season.
LOWER PERKIOMEN VALLEY PARK
101 New Mill Rd
Oaks
This site's access to Route 422 makes it an easy commute. But it's also well shielded from the busyness of the highway, meaning that once picnickers enter the shady protection of the tree cover, a quiet peace takes over. For parents, the park provides plenty of open space for play, as well as onsite restrooms. After eating, the babbling Perkiomen Creek likely to encourage some quiet downtime and perhaps a refreshing nap.
ASHBRIDGE MEMORIAL PARK
1301 Montgomery Ave
Bryn Mawr
Locals flock to this gem of a park, bringing kids of all ages. The playground has a wide range of age-appropriateness, where toddlers and their older siblings can both be fully (and safely) engaged. The tables are nestled in the shade of a large oak tree, and the park even provides a scaled-down version for pint-sized picnickers.
ROLLING HILL PARK
1301 Rose Glen Rd
Gladwyne
There are no formal picnic grounds here, but plenty of grassy areas to spread out a blanket and enjoy a lunch under the blue sky. A walking-running trail calls for some surprising bursts of cardio, thanks to a few challenging hills. This is also one picnic spot where you can bring your dog; the onsite dog park - fenced for safety - is a great place for a canine romp.