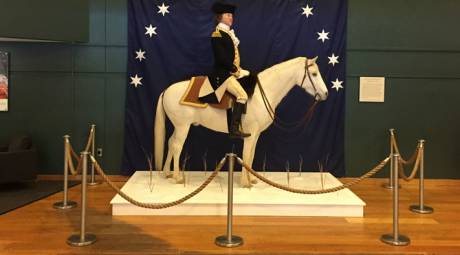 VALLEY FORGE NATIONAL HISTORICAL PARK
George Washington, 1777-78
1400 N. Outer Line Dr
King of Prussia, PA
General George Washington and his staff took up residence during the 1777-1778 winter encampment at Valley Forge, settling in the Isaac Potts House that is now Washington's Headquarters. When visiting Valley Forge National Historical Park for the all-day Presidents' Day programming (February 15), swing by the headquarters for a tour. It will be open from 9 a.m. to 5 p.m.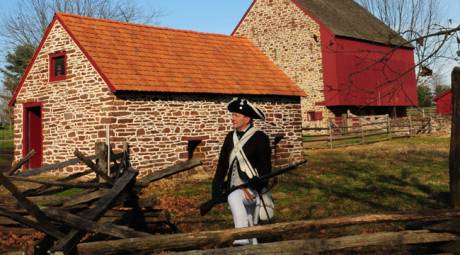 PETER WENTZ FARMSTEAD
General Washington used Peter Wentz Farmstead as a headquarters during the fall of 1777, before and after the Battle of Germantown. Records of Washington's stay indicate his ongoing enjoyment of "butter pie," a meatless English dish made of onions and potatoes, as well as his continual reimbursement to the Wentzes for its cost. The Farmstead is closed Mondays (including Presidents' Day) but is open Saturday from 10 a.m. to 4 p.m. and Sunday from 1 p.m. to 4 p.m.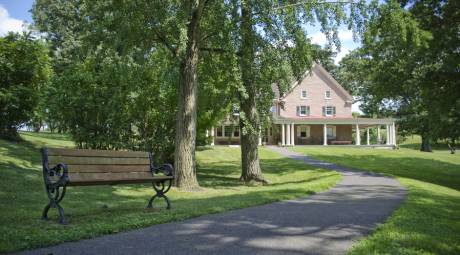 PENNYPACKER MILLS
The Pennypacker estate (now Pennypacker Mills) was a headquarters and hospital location for Washington in September 1777, housing 8,000 army personnel and 3,000 state militia members. A first-hand account of the stay included this observation on Continental Army's dwindling supplies: "...before dark on the first day of camp every fence on Samuel Pennybacker's [sic] place had disappeared." The site's Saturday-Sunday hours are 10 a.m. to 4 p.m. and 1 p.m. to 4 p.m., respectively.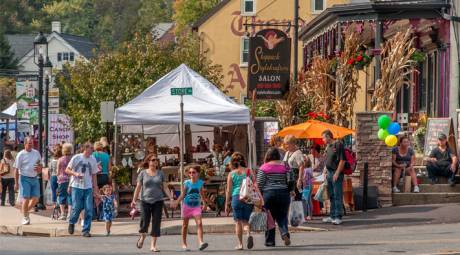 SKIPPACK VILLAGE
Skippack played a crucial role in the quest for independence; seven times, General Washington and the Continental Army camped there, passing through in September and October 1777 (pre- and post-Battle of Germantown), eventually encamping near the Towamencin Mennonite meetinghouse on Forty Foot Road. Skippack Village is now a quaint shopping destination with plenty of walkable shops, but its historic underpinnings are still evident.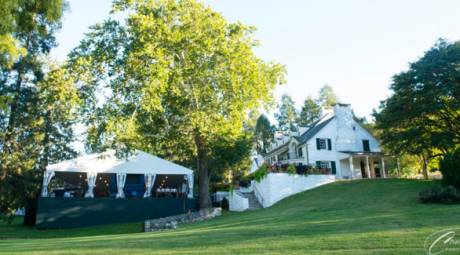 PHILANDER CHASE KNOX ESTATE
Theodore Roosevelt
151 Liberty Ln
Malvern, PA
Theodore Roosevelt had a stay at the Philander Chase Knox Estate in Valley Forge when his friend and colleague, Senator Philander Chase Knox, hosted a wedding ceremony for his daughter. The property - lovingly restored - is now one of the most unique event spaces in Montgomery County.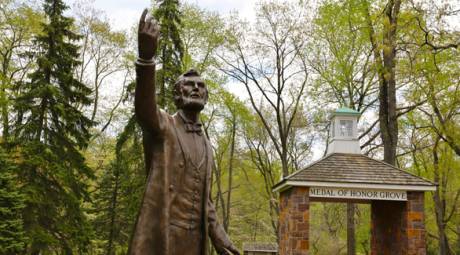 FREEDOMS FOUNDATION AT VALLEY FORGE
Founded with the active support of (then) General Dwight D. Eisenhower, The Freedoms Foundation at Valley Forge has been an institution since 1949, four years before he became President. The Freedoms Foundation focuses primarily on educational programs, but the public can walk the Medal of Honor Grove. This patriotic pathway celebrates each Congressional Medal of Honor winner, including President Theodore Roosevelt, who got his posthumously. It is free and open year-round from dawn until dusk.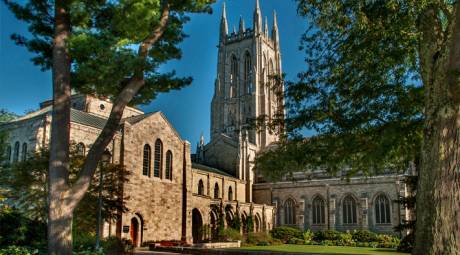 BRYN ATHYN HISTORIC DISTRICT
The Pitcairn Family, integral to the entire Bryn Athyn Historic District, were first supporters of and then friends with the Eisenhowers, backing Ike for President as far back as 1951 (he was elected in 1953). In thanks for that support, Eisenhower, accompanied by his wife Mamie, visited the Pitcairns at Glencairn. In addition, as a Christmas gift, the family sent an ornate nativity to the White House, which became a beloved seasonal fixture through 1961.
CHELTENHAM SHOPPING CENTER & ROOSEVELT FIELD
John F. Kennedy, 1960
As a candidate for the 1960 election, Senator John F. Kennedy spoke at the now-defunct Cheltenham Shopping Center, using the October 29 timeframe to woo undecided voters for November 8, a mere ten days later. Later, on the same stump, he rode his motorcade through Bridgeport and spoke at Roosevelt Field, former home of Norristown's high school football team.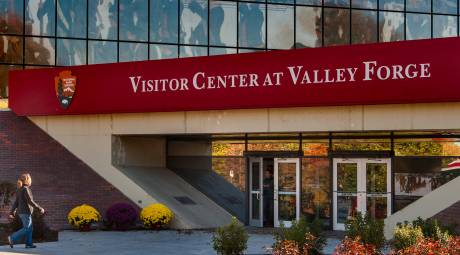 VALLEY FORGE NATIONAL HISTORICAL PARK
President Gerald R. Ford celebrated America's bicentennial at the Park on July 4, 1976. While there, he signed legislation that changed the classification of the grounds from a state-administered site to a National Historical Park. This distinction is being celebrated throughout 2016 (the 40th anniversary), along with the #FindYourPark initiative that honors the NPS centennial.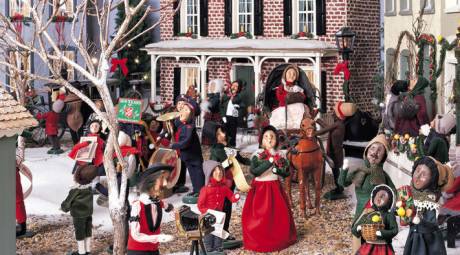 BYERS' CHOICE CHRISTMAS MUSEUM
During his presidency, George W. Bush visited our region twice in September 2004. On the 9th, he spoke at Byers' Choice in Chalfont.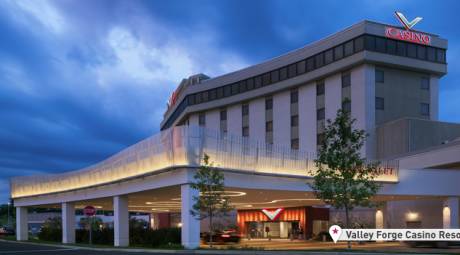 VALLEY FORGE CASINO RESORT
President George W. Bush's second stop in 2004 came on September 22nd. That day, he participated in a "Focus in Education" presentation at the (then) Valley Forge Convention Center, in what is now the Valley Forge Casino Resort.
K'NEX FACTORY
Barack Obama, 2012
Hatfield, PA
Although not open for touring, the K'NEX Factory in Hatfield was a visitation stop for President Barack Obama in November 2012. While there, the President and his staff saw a colorful display of K'NEX toys, including an American flag of 49,000 K'NEX pieces.