AMERICAN HELICOPTER MUSEUM & EDUCATION CENTER
West Chester
Just 15 miles southwest of Valley Forge is the nation's premier aviation museum devoted exclusively to helicopters. The American Helicopter Museum & Education Center tells the history of these amazing aircraft through interactive and static displays. Helicopter rides are also available on select days throughout the year.
AMERICAN TREASURE TOUR
Oaks
The American Treasure Tour is an epic collection of Americana showcasing classic muscle cars, music, and memorabilia. Get nostalgic on a guided tram tour through decades of American history.
BERMAN MUSEUM OF ART
Collegeville
Notable art collector and former chairman of the Philadelphia Museum of Art, Philip Berman, graciously built a strong arts presence alongside his wife at his alma mater, Ursinus College. Ursinus is now home to the Berman Museum of Art, an internationally-recognized, impressive collection of fine art. Focused collections include American 19th and 20th century paintings, prints, and sculpture, which are utilized to illustrate historical trends in art, literature, science and political and social history.
BOYERTOWN MUSEUM OF HISTORIC VEHICLES
Boyertown
The Boyertown Museum of Historic Vehicles displays a collection of antique and vintage automobiles, trucks, motorcycles, sleighs, carriages, and bicycles, all with a Pennsylvania connection. Many of the trucks on display were built by the Boyertown Auto Body Works, which operated on the site until 1990. Other highlights of the collection include the former Fegley's Diner, which has been completely restored and relocated to the museum, as well as an early Sunoco gas station.
GLENCAIRN MUSEUM
Bryn Athyn
One of the most stunning exhibit spaces in all of Montgomery County (and perhaps all of Pennsylvania), Glencairn Museum, part of the Bryn Athyn Historic District focuses on religious iconography, with permanent collections that cover a comprehensive range of ethnicities, artistic traditions, belief systems, and creative expression.
MENNONITE HERITAGE CENTER
Harleysville
The collection at the Mennonite Heritage Center preserves three centuries of life in eastern Pennsylvania, representing one of the oldest communities in the New World. Browse the artifacts and artistry of "Work and Hope: Mennonite Life in Eastern Pennsylvania," which covers facets of daily life such as fashion and domestic craftsmanship.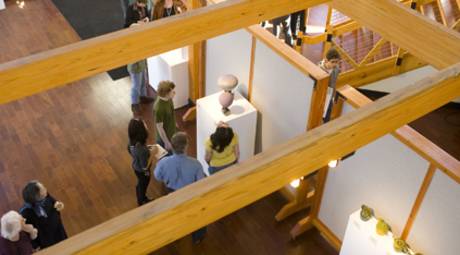 MONTGOMERY COUNTY COMMUNITY COLLEGE
340 DeKalb Pike
Blue Bell, PA
The gallery of the Fine Arts Center showcases the talented faculty and alumni of MCCC at a show lasting throughout February. All media are represented, ensuring a wide scope of artistic interpretations. A Meet-the-Artist reception takes place February 10.
Regina Marie Designs Gallery
Regina Marie Designs Gallery – Featuring A curated collection of works by PA, and surrounding area artisans. Browse an airy upscale Gallery of jewelry, paintings, woodworking, blown glass, pottery, stained glass, fiber, and metals. Workshops and Featured artist events make this an education and fun spot to return to again and again!
SCHWENKFELDER LIBRARY & HERITAGE CENTER
Pennsburg
The Schwenkfelder Library & Heritage Center's permanent exhibit speaks to the longevity of this faith community and the deep impact it had on the area. Pieces on display range from Native American artifacts that date to the earliest settlers to beautiful, hand-crafted examples of Pennsylvania Dutch needlework for both practical and decorative purposes.
STOOGEUM
Ambler
The knockabout comedy of The Three Stooges is encapsulated into one, three-story building that bursts with memorabilia and mayhem. The Stoogeum (rhymes with "museum") displays more 100,000 items, ranging from Stooge breakfast cereal to Stooge video games, and also features an 85-seat theater for viewing classic Stooges shorts.