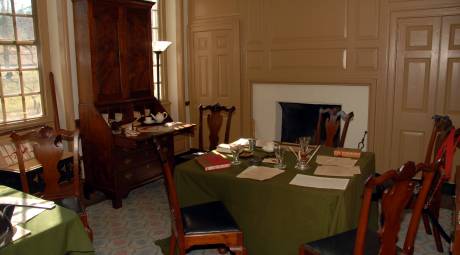 THE "PENTAGON" OF ITS TIME
Photo Credit: National Park Service
The house could be considered the "Pentagon" of its time, as it was the place where Washington and his highest-ranking officers lived and worked. Washington's office, as well as an aide's office, have been recreated to look much as they did during the encampment.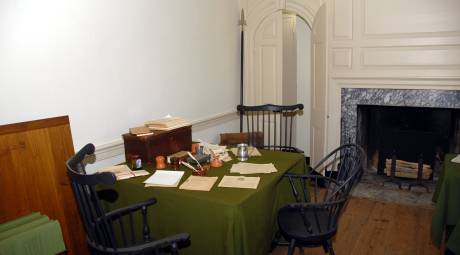 WASHINGTON'S LIFE AT VALLEY FORGE
Photo Credit: National Park Service
George Washington was never alone during the encampment, and for several months he had an extra special guest as Martha Washington joined him for a time. George and Martha were two of up to 25 people who would have been living inside the house. Archaeological and documental evidence suggests a log annex was constructed next to the house to accommodate all of the necessary personnel.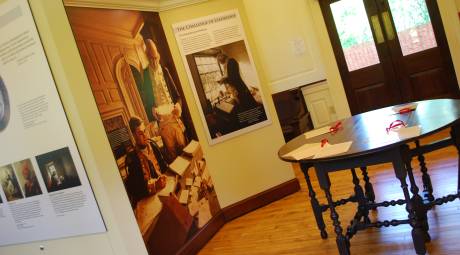 VALLEY FORGE TRAIN STATION
A more modern building can be found next to Washington's Headquarters. The Valley Forge Train Station was erected in 1913 to serve passengers along the Reading Railroad. For several decades, the station was a frequent stop of tourist excursions to the park. Today, the century-old station has been restored and houses a collection of exhibits that look at Washington's leadership and is also the meeting place for ranger-led tours of the headquarters building.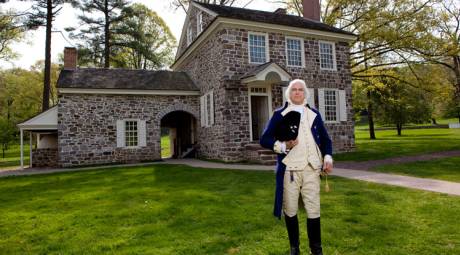 Washington's Headquarters Remains Closed
Take a closer look at rooms in the Isaac Potts house, which appear as they might have during the encampment. Click and drag your mouse to look around, zoom in, and make the image full screen for a more immersive experience!
Note:
Due to the flooding caused by Post-Tropical Cyclone Ida, Washington's Headquarters remains closed indefinitely. The Covered Bridge at the intersection of Rt 252 and Yellow Springs Rd is reopened.
Valley Forge Park Highlights
Explore More Valley Forge