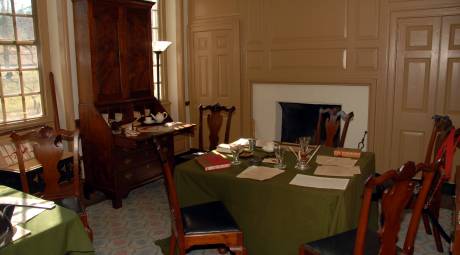 THE "PENTAGON" OF ITS TIME
Photo Credit: National Park Service
The house could be considered the "Pentagon" of its time, as it was the place where Washington and his highest-ranking officers lived and worked. Washington's office, as well as an aide's office, have been recreated to look much as they did during the encampment.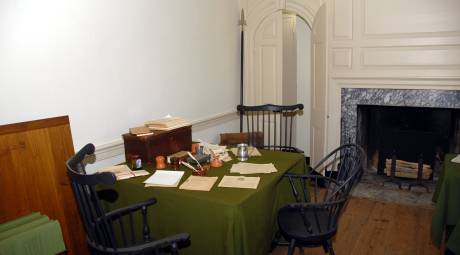 WASHINGTON'S LIFE AT VALLEY FORGE
Photo Credit: National Park Service
George Washington was never alone during the encampment, and for several months he had an extra special guest as Martha Washington joined him for a time. George and Martha were two of up to 25 people who would have been living inside the house. Archaeological and documental evidence suggests a log annex was constructed next to the house to accommodate all of the necessary personnel.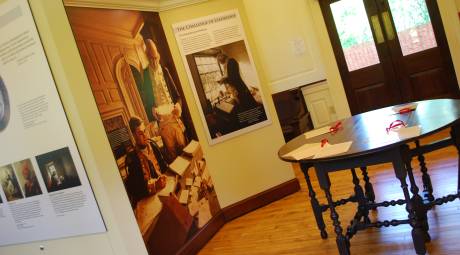 VALLEY FORGE TRAIN STATION
A more modern building can be found next to Washington's Headquarters. The Valley Forge Train Station was erected in 1913 to serve passengers along the Reading Railroad. For several decades, the station was a frequent stop of tourist excursions to the park. Today, the century-old station has been restored and houses a collection of exhibits that look at Washington's leadership and is also the meeting place for ranger-led tours of the headquarters building.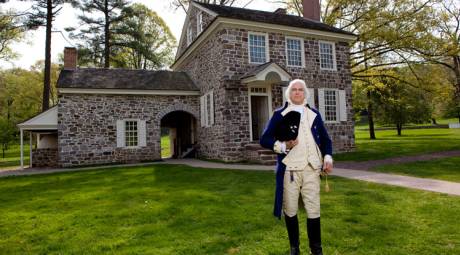 PLAN YOUR VISIT
January and February: Open on weekends only from 10AM-4PM (Exceptions in Jan and Feb: HQ is open on Martin Luther King Jr. Day and President's Day from 10AM-4PM)
Mid-March through Mid-June: Open daily from 10AM-5PM (Note: HQ will begin opening daily on March 16th in 2020)
Mid-June through Mid-August: Open daily from 10AM-6PM (Extended summer hours)
Mid-August through November (before Daylight Savings Time ends/the first Sunday in Nov): Open daily from 10AM-5PM
November (once Daylight Savings Time ends/the first Sunday in Nov) through the end of December: Open daily from 10AM-4:30PM
Note: Washington's HQ may be closed due to inclement weather, particularly snow/ice, or river flooding. When snow, ice, or flooding conditions are present, please call the Visitor Center at (610) 783-1099 to confirm the status of Washington's Headquarters.
Valley Forge Park Highlights
Explore More Valley Forge