History
 
In September 1777, with the Continental Army struggling to gain the upper hand in the fight against the British, George Washington led his troops into rural Montgomery County. For three days, the Army encamped on the grounds surrounding a local mill owned by Samuel Pennypacker. 
Washington marched his troops out on September 29 as they prepared to once again engage the enemy. Days later the two armies would clash near Germantown. The result was a disheartening defeat for the Americans, and the Continental Army once again retreated back to Montgomery County, setting up camp once again at Pennypacker Mills from October 4 through 8 before heading east once again. 
During the Army's stay, George Washington is said to have used the mansion house as his headquarters. Though the house underwent an expansion and enlargement in 1901, the room where George Washington slept remains and is a highlight of house tours. 
Today the mansion houses the personal collection of former Pennsylvania Governor Samuel W. Pennypacker, who served as Pennsylvania's chief executive from 1903 to 1907. Pennypacker was an avid collector of American historical artifacts, including some dating back to the Revolution. 
Guided tours are available Tuesday through Saturday, 10 a.m. to 4 p.m., and Sundays from 1 to 4 p.m. Tours take approximately one hour with the last tour leaving at 3 p.m.
Admission is free though a donation of $2 per person is suggested.
Annual Events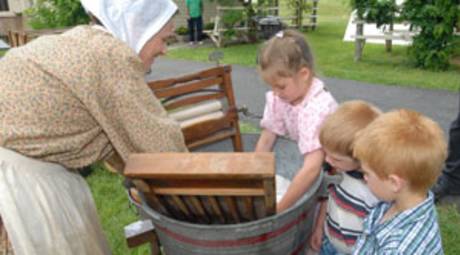 CIVIL WAR EVENT
June
The Civil War comes to life each year during the annual two-day Civil War Reunion at Pennypacker Mills. Weekend events include artillery demonstrations, daily battle reenactments, the Meet the Union Generals program, demonstrations of everyday life in the 1860s, exhibits and mansion tours. Kids can also participate in the Be a Soldier program. You can also hear stories and songs of the Civil War all weekend.
THE CRAFT MARKETPLACE AT PENNYPACKER MILLS
September 18
Pennypacker Mills
Pennypacker Mills celebrates the artistry and handiwork of local crafters each year during the Craft Marketplace. Unique handmade items and one-of-a-kind gifts are available for purchase from 9:30 a.m. to 3 p.m. The event features free admission and free parking. Food vendors will also be on site for the event.
Hotels Near Pennypacker Mills
Nearby Hotels
Revolutionary History in Montgomery County
Explore Patriot Trails