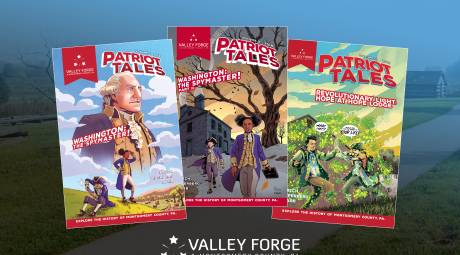 Patriot Tales
Pick up your copy of Patriot Tales Volume 3 Today!
We proudly introduce to you, Patriot Tales: Volume 3! Dive into history with our experiential comic book that's truly fun for all ages! Pick up a FREE copy during your weekend stay in Montgomery County at the Valley Forge Visitor Center.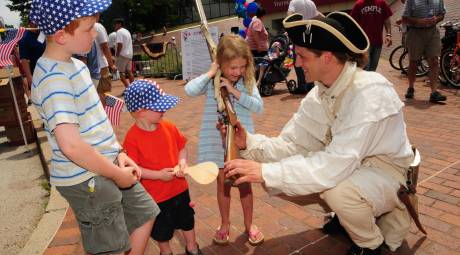 Patriots in the Park
July 4
Celebrate our nation's independence through historical games, demonstrations, storytelling, tours, food and more! Learn about the birth of the nation and the pivotal role the Valley Forge Encampment played in securing our freedom from Great Britain - all while celebrating the 4th of July in your national park.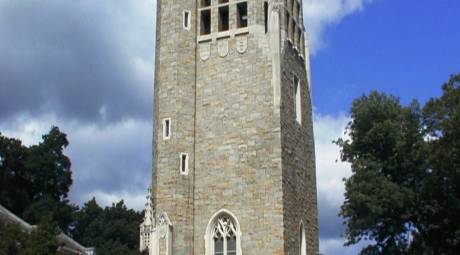 Independence Day Carillon Concert in Valley Forge
July 4
This year the park is celebrating our nation's Independence with a Carillon Concert by Doug Gefvert beginning at 2 p.m. at Washington Memorial Chapel, Rte. 23 in Valley Forge National Historical Park. This concert will be featuring patriotic selections & works by American composers. The event will be rain or shine!
Sponsored by the Washington Memorial Heritage. 610-783-0120, 610-265-5211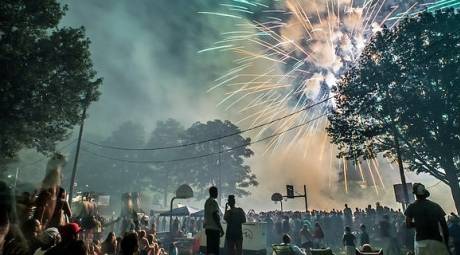 CONSHOHOCKEN🎆
July 3
Conshohocken celebrates its Independence Day party on July 3rd starting at 6 pm with activities, food, and entertainment. The fireworks will light up the sky above Sutcliffe Park at 9:45 p.m.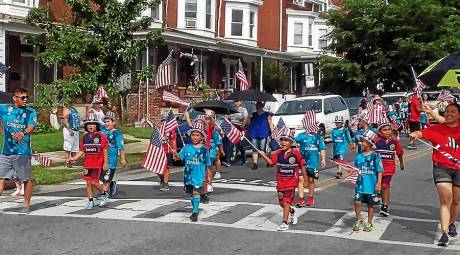 NORRISTOWN FOURTH OF JULY CELEBRATION 🎆
July 4
Norristown celebrates with an all-day celebration beginning with this year's parade. The parade will begin at 9:45 a.m. taking the streets of Norristown starting at St. Francis on Marshall Street and ending on Main Street. Additionally, the Block Party on Main is back! This will take place at 10:30 a.m. as Main Street will transform into a fun-filled party with craft vendors, live music, food, and a kids zone! Last but not least, the all day celebration will conclude with a concert and fireworks at Elmwood Park. There will be a party from 3:00 p.m.- 9:00 p.m. with live music followed by fireworks at the Fire chief's Memorial band shell beginning at dusk.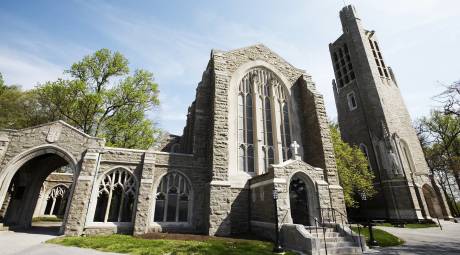 WASHINGTON MEMORIAL CHAPEL
July 4
The distinct sound of 58 bronze bells will echo across Valley Forge from the Washington Memorial Chapel on July 4. Beginning at 7:30 p.m. one of the world's largest carillons will play patriotic tunes to celebrate Independence Day. The free concert is a rain-or-shine event.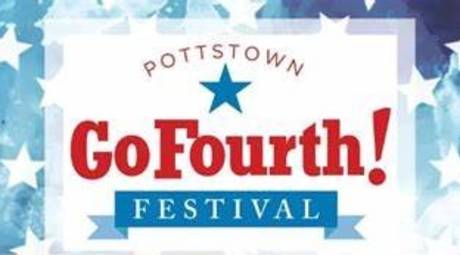 POTTSTOWN🎆
July 4
Memorial Park, 75 West King Street, Pottstown
Pottstown's GoFourth celebration continues this year with it's carnival celebration. The festivities will begin with the National Anthem at 11:30 a.m. followed by family friendly activities and food all day! Around 6 p.m. the U.S. Hot Air Balloon Team will release balloons from the park, ending the night with fireworks. The Colebrookdale Railroad will be running four round-trip excursions from Memorial Park to Boyertown and back.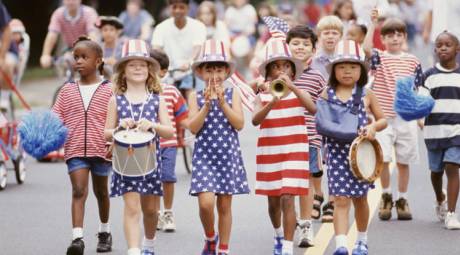 GLENSIDE🎆
July 4
This three part event, now well into its second century, spreads across Abington and Cheltenham Townships, engaging patriots both young and old with the We Love America Children's Morning Program (10 a.m.), the 115th annual Grand, Glorious, Patriotic Parade (3:30 p.m.), and the America the Beautiful Aerial Fireworks Spectacular (9 p.m.) concluding at Abington Junior and Senior High Schools.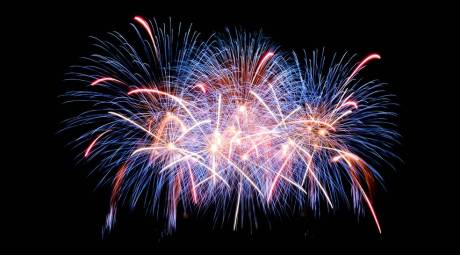 SKIPPACK VILLAGE🎆
July 4
Historic Skippack Village celebrates July 4 with a full day of events. At 10:30 a.m., meeting at the Skippack Firehouse, Route 73 becomes a sea of red, white and blue for the annual July 4 parade; at 3 p.m., it's time for BBQ at Parc Bistro. At dusk, head to Palmer Park for jaw-dropping fireworks.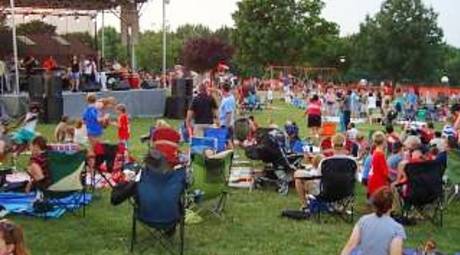 LOWER PROVIDENCE TOWNSHIP🎆
July 4
Lower Providence Township rings in Independence Day this year with a brand new All American Birthday Bash & Fireworks. This will include family fun games, food and more! Fireworks will begin at 6:30 with a rain date on Saturday, July 6th.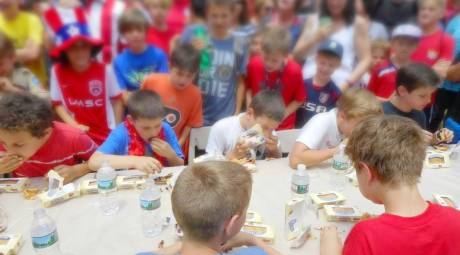 NARBERTH🎆
July 4
Narberth's renowned Independence Day tradition is now 77 years old; it began in 1942 as a patriotic boost in the early months of World War II. To this day, it continues to draw the community together, with a parade and carnival at Narberth Park, followed by the largest firework show on the Main Line.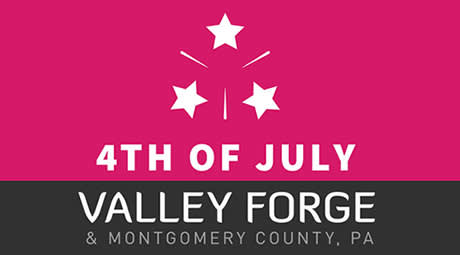 LAFAYETTE HILL
July 4
Whitemarsh Township's Independence Day gets off on the right foot with a parade that begins at 10 a.m. marching from Barren Hill Fire Company to Joshua Road. Following the parade is a picnic with music, food, drinks and more at the Miles Park Pavilion! You don't want to miss out on this communal celebration!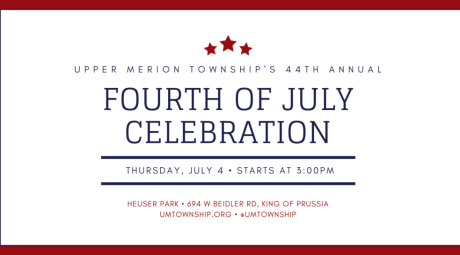 UPPER MERION TOWNSHIP🎆
July 4
This year Upper Merion Township will hold their 44th annual Fourth of July celebration! Kicking off at 3 p.m. with a carnival at Heuser Park there will be activities, food, and the favored beer garden. Followed by a concert this celebration will end with fireworks at dusk!