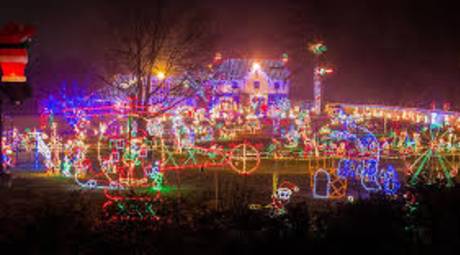 1320 East Butler Pike
Ambler
East Butler Pike generally bustles with traffic, so park safely and walk cautiously, especially with children after dark. But the effort is worth it. The landscape slopes gently away from the roadside, meaning it's got to be seen on foot to be truly appreciated.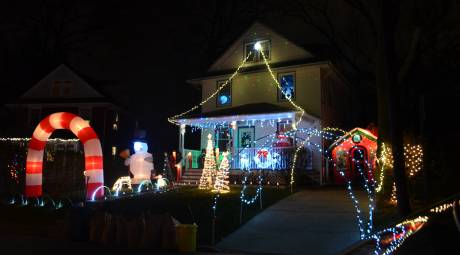 5 Whitemarsh Avenue
Erdenheim
This little cottage looks like it could be in a North Pole neighborhood, a few doors down from the Clause's place. The display is not extensive, but it is off the charts in terms of charm.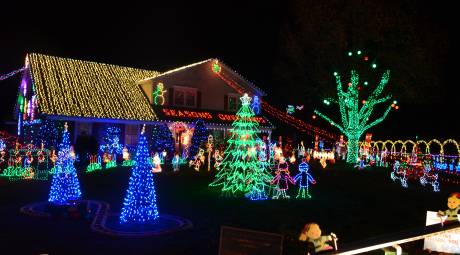 Terwood Avenue & Brendan Circle
Willow Grove
The drive to the Valenza family's Christmas cavalcade is half the fun; there are a number of well-decorated homes on Terwood Avenue. But once this spectacular corner property comes into view, you will have to fight the urge to gasp out loud.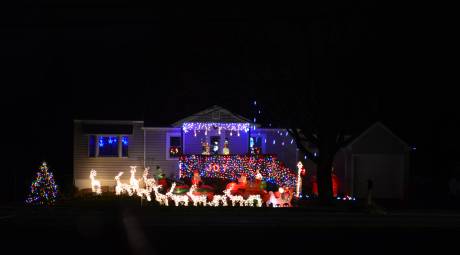 207 Maple Avenue
Horsham
Across the street from this cute home is Hallowell Elementary School, which makes a safe and convenient pull-over spot after hours. The display may not be the monster proportions of others throughout the county, but it is full of holiday spirit nonetheless.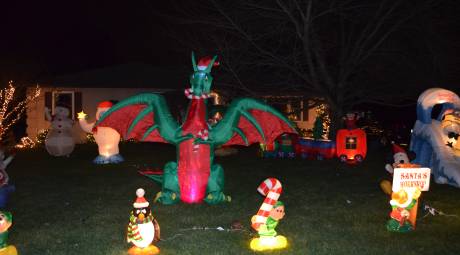 631 Knoll Drive
Lansdale
For youngsters who love the giant blow-up decorations that appear on lawns this time of year, this house will certainly please. A Game of Thrones-style holiday dragon greets visitors, but don't let him (her) distract from the pair of runways with pilot Santas ready to take off.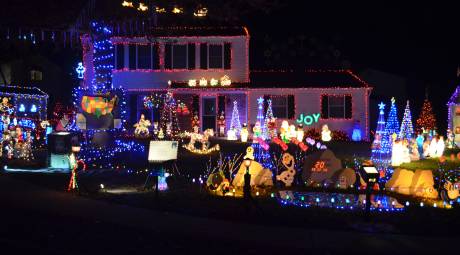 1800 Dutchman's Circle
Harleysville
The Drelik property blazes with 35,000 lights (connected by 3.5 miles of extension cords) that immediately cause a "Woah" moment upon first viewing. Kids can interact with the displays through a series of push-button boxes. Be aware, though, that one of the access routes, Green Lane Road, is closing December 12. Take Sumneytown Pike to Bustard Road to Liberty Bell Drive.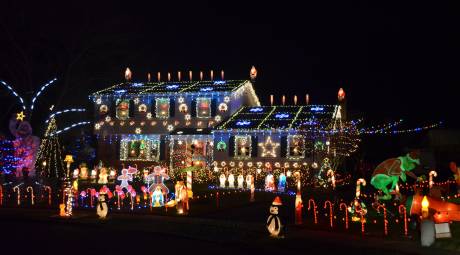 1507 Saint Andrews Way
Lansdale
Lights are more enjoyable when you can cluster together a couple of visits. When you're done at the Drelik's on Dutchman's Way, this home is less than five minutes away. The Abominable Snowman is large enough to be actual size. And fans of A Christmas Story will love the mailbox decoration.
215 Stallion Lane
Schwenksville
Ever witnessed an animated Christmas tree singing Elvis? Well, thanks to the technological connection between this display and a broadcast soundtrack on FM radio, it's possible!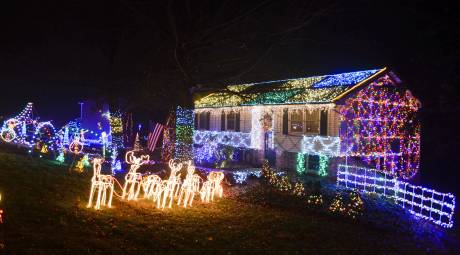 15 Glen Farms Drive
Collegeville
These neighbors obviously share both their property lines and their love of the holidays. Two side-by-side homes feature just about every holiday icon possible, from gingerbread men to Wise men, highlighted in their electric glory.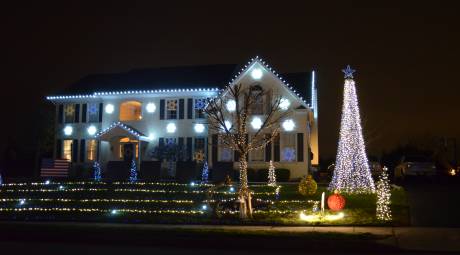 110 Ithan Lane
Collegeville
This home pulses with electric energy fueled by the steady beat of holiday music accessible from your car radio. The color palette glitters with white, silver and blue and the combined effect is stunning.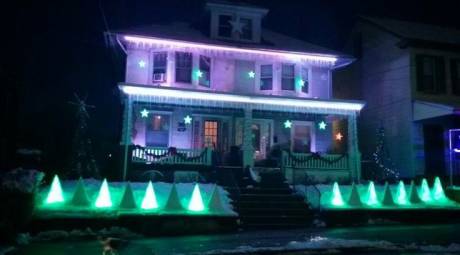 911 South Street
Pottstown
These twin homes pack a lot of glitz into a contained footprint while keeping the presentation neat, trim and delightful. A forest of colorful Christmas trees in the foreground provides a setting that Santa would be proud to visit.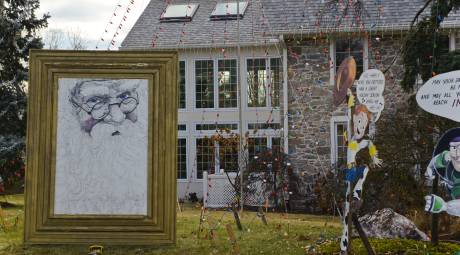 288 Valley Forge Road
King of Prussia
Most holiday light displays look terrific at night but when the sun is up, aren't that visually appealing. This one works both in daylight and moonlight, owing to the giant cutouts of cartoon characters that range from Olaf to Jesse the Yodelin' Cowgirl, from Toy Story 2.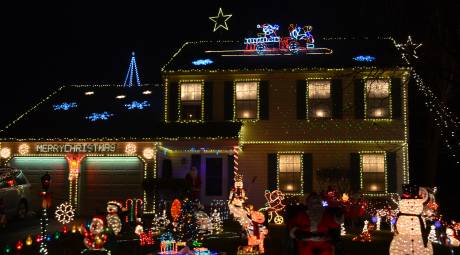 3708 Reninger Road
Hatboro
This dazzling front lawn requires a few moments to take it all in. The Santa seated in a giant chair at the sidewalk is startlingly lifelike. And yes, that's a firetruck in lights on the roof!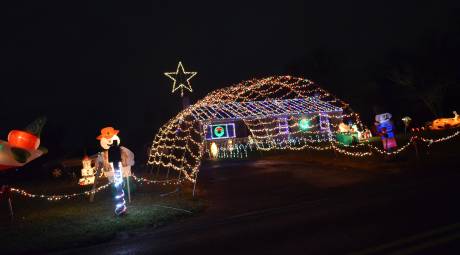 128 Graterford Road
Limerick
We've seen tall inflatables during our tour of Montgomery County displays, but the airplane here may be the widest. It is huge! The archway of lights over the driveway is also impressive.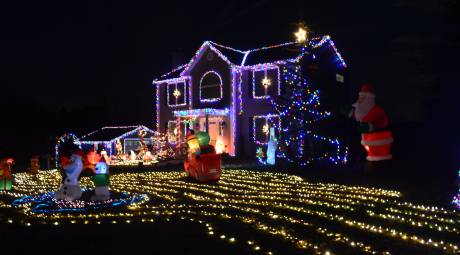 78 Level Road
Collegeville
This property beckons on woody Level Road like a beacon. The homeowner estimates 30,000 lights, saying, "I was buying them in sets of 10,000 apiece, and before long, I realized that over the years, I had done that three times!"