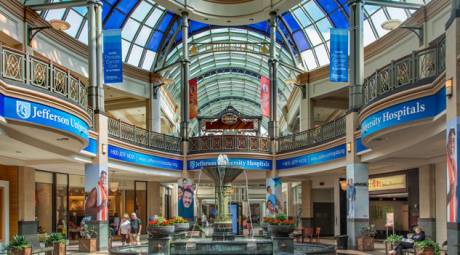 KING OF PRUSSIA MALL
160 North Gulph Road
King of Prussia

Nordstrom Court and Bloomingdale's Court at King of Prussia Mall are both decked in springtime colors as a setting for cute-as-a-button pictures with the Easter Bunny. He is onsite and ready to receive visitors during general mall hours until April 15, and using an online form, parents can book specific visiting times.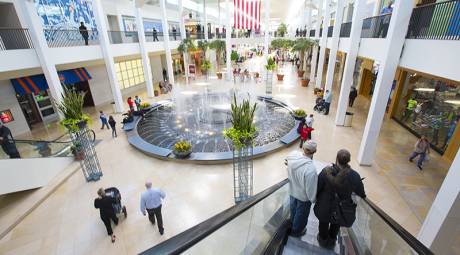 PLYMOUTH MEETING MALL
500 West Germantown Pike
Plymouth Meeting

The Easter Bunny can be found on the lower level of Plymouth Meeting Mall, near the fountain. Picture reservations are bookable until April 15, when the fuzzy one hops off his throne to load his basket of sweet deliverables.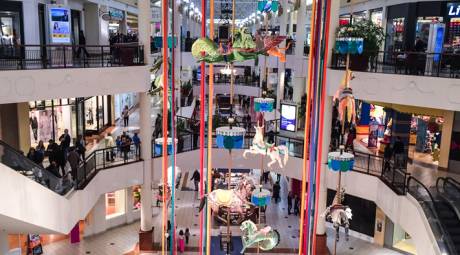 WILLOW GROVE PARK MALL
2500 West Moreland Road
Willow Grove

The Easter season's "eggs-tra" special guest will be seated in Willow Grove Park Mall's Elevator Court dressed in his springtime colors, as photogenic as ever through April 15.
One of the bunny's best buds, the Mad Hatter, hosts a tea party on April 5 (10 a.m. to 1 p.m.) and again on April 9 (1-4 p.m.). The giddy gala includes characters, crafts, tea and cookies and games. As with any "proper tea," reservations are politely requested.
MONTGOMERY MALL
230 Montgomery Mall
North Wales

Once your little ones are dressed to the nines, scurry them over to the Elevator Court at Montgomery Mall for a stunning snap. Visiting times for kids are daily through April 15. April 9, however, is reserved for pets, who can be brought on-leash from 6-7:30 p.m.
COVENTRY MALL
351 West Schuylkill Road
Pottstown

Like Santa, the Easter Bunny can fortunately appear at more than one location at one time. That enables him to be onsite at the center court in Coventry Mall. And he can take part in the April 8
"Egg-stravaganza" at Boscov's. Children under 12 can follow his festive trail, enter a jellybean counting contest, create an Easter snack, win prizes and get a free gift. The event raises funds for March of Dimes.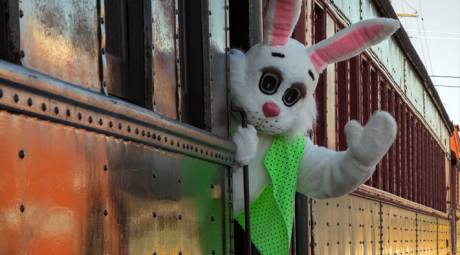 COLEBROOKDALE RAILROAD
April 8-9, 14-16
43 Chestnut Street
Boyertown

Colebrookdale Railroad puts an interesting spin on the traditional egg hunt, staging it right in its dining, coach and open-air cars. Pitched at children eight and under, excursions can also be coupled with brunch, lunch or dinner.
ELMWOOD PARK ZOO
April 8-9, 14-15
1661 Harding Boulevard
Norristown

Norristown's traditional Easter Egg Hunt (and Bunny Brunch) at Elmwood Park Zoo has gotten so popular that it often sells out (two of the April 8-9 slots are already booked solid). So if you want tickets to this hunt, which starts with a hearty hot brunch buffet and includes music, crafts and photo ops, hop to it. First-timer tip: Have the kids bring an empty basket.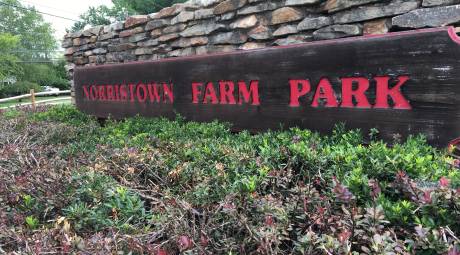 NORRISTOWN FARM PARK
April 9
2500 Upper Farm Road
Norristown

This Eco-Egg Hunt at Norristown Farm Park combines collecting candy with hunting treasure. A series of nature-based clues guides kids ages 6-8 through the woods and fields in pursuit of a treasure at the end; it starts at 3 p.m. Younger hunters (3-5) will simply scramble for eggs scattered on the lawn; that pursuit begins at 2 p.m.
UPPER DUBLIN TOWNSHIP
April 7
801 Loch Alsh Avenue
Fort Washington

The date and time for this egg hunt and storybook session is ideal for busy families with a jam-packed weekend. It's Friday, April 7, from 6-7:30 p.m. Kids six and under will hunt amid an array of cartoon cutouts, making some truly unique photos. The cost is $7 for township residents; $12 for all others.
NARBERTH PLAYGROUND
April 8
100 Conway Avenue
Narberth

Narberth Playground will be hopping on April 8 with not only Mr. Easter Bunny but his wife, Mrs. Easter Bunny. They'll be overseeing this free event where kids will comb through the springtime grass looking for delicious loot. The hunters will be separated by ages, ensuring that everyone has a chance at finding their maximum capacity. The event is free.
WEST LAUREL HILL CEMETERY
April 8
225 Belmont Avenue
Bala Cynwyd

The morning of April 8 springs forth at West Laurel Hill Cemetery with a full morning of activities that hop to a start at 10 a.m. Wayne Art Center leads the creation of crafts, and kids can also get their faces painted, have a caricature drawn and get balloons. The 11 a.m. egg hunt has sweets well worth searching for; they're sponsored by Zitners Fine Confections. The event is $10, and proceeds benefit Alex's Lemonade Stand.
HORSHAM TOWNSHIP LIBRARY
April 8
435 Babylon Road
Horsham

Most people go to a library to search out information (or a quiet place to read). But families heading to the Horsham Township Library on April 8 will be seeking jelly beans, Peeps, chocolate and other seasonal sweets. There is sure to be plenty of loot for the 10:30 a.m. start time. The free event also includes the Easter Bunny, crafts and snacks.
CRIST FARM STAND
April 8
3528 Bethlehem Pike
Souderton

This hunt at Crist Farm Stand starts at 11 a.m. and is free. Dozens of eggs will lie in wait, each containing a small treat inside. But four of them contain large prizes for the lucky ducks who find them. Post-hunt, the Easter Bunny will be available for photos – also free with your own camera – from 11 a.m. to 2 p.m.
DANIEL'S LAWN & GARDEN CENTER
April 8
1457 Sumneytown Pike
Harleysville

The best part about this event is that it is held inside Daniel's Lawn & Garden Center. There's no chance an errant April shower will interrupt it. Overseeing the egg collection is the Easter Bunny, available and eager for pictures.
BUXMONT INDOOR SPORTS CENTER
April 8
2278 North Penn Road
Hatfield
This egg hunt at BuxMont Indoor Sports Center has two terrific takeaways: baskets full of eggs for the kids and armloads of summer camp information for their parents. The free event runs 9 a.m. to 3 p.m.
FREDDY HILL FARMS
April 8
1440 Sumneytown Pike
Lansdale

What better place to celebrate the chickies and duckies of the spring season than an active farm? Freddy Hill Farms' annual Easter egg hunt is April 8 at 11 a.m. It's free and suitable for children ages 2-6. Bring your own basket or bag, and be sure to dress the kids for the weather.
STANBRIDGE STREET PARK
April 14
2501 Stanbridge Street
East Norriton
The organizers of this free hunt at Stanbridge Street Park ask that participants report to the pavilion at 9:55 a.m. to check in before the 10 a.m. start time. Once the search for eggs begins, kids 3-8 can scatter, collecting as many treats as they can locate.
COBLE PARK
April 15
53 Spring Mount Road
Zieglerville
Each spring, as the ground begins to thaw and the daylight hours lengthen, the landscape of Lower Frederick Township greens up beautifully. All that lush grass makes great hiding places for eggs – even colorful ones. So the Coble Park hunt on April 15 at 10 a.m. is going to take plenty of eager and sharp sharp-eyed searchers.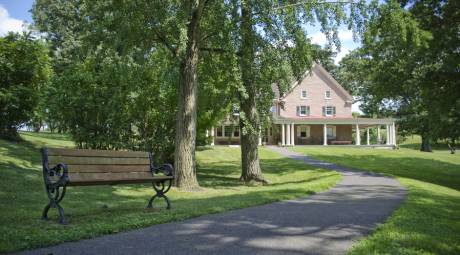 EASTER WORKSHOP FOR KIDS
April 8
Pennypacker Mills

Celebrate Easter and spring at Pennypacker Mills by dipping into children's crafts that include making a greeting card, a frame, dyed eggs and even a game of Bowling for Bunnies. Kids who are five and up will also leave with several projects that can be completed at home. Refreshments will be served. Preregistration is requested at 610.287.9349.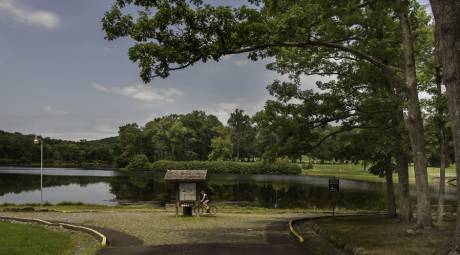 COLOR EASTER EGGS NATURALLY
April 8
Green Lane Park

Looking for a change from food-coloring tablets from the store? Join the educators from Green Lane Park to see how eggs can be beautifully decorated using natural elements. Bring your own hard-boiled dozen and leave with a basketful of unique eggs colored from nature's palette.
Bunny Breakfasts and Brunches
INDIAN VALLEY BRANCH OF THE NORTH PENN YMCA
April 8
2333 Welsh Road
Lansdale

The Indian Valley Branch of the North Penn YMCA takes over the Lansdale Applebees (Ralph's Corner Shopping Center, intersection of Forty Foot and Welsh Roads) for a morning of hot food and hopping fun. Each child receives his or he own Easter gift, and the proceeds from ticket sales ($7 adults, $5 children) benefit Indian Valley YMCA childcare programs.
TOWAMENCIN VOLUNTEER FIRE COMPANY
April 8
1590 Bustard Road
Harleysville

Peter Cottontail and pancakes! What more could a pint-sized Easter fan want? Towamencin Volunteer Fire Company's 8 a.m. breakfast ($8 adults, $5 children, free for those under three) is just the start to a memorable day. At 10 a.m., the crowd crosses the street (safely, hand-in-hand, of course) to Firehouse Park for an egg hunt.
WILLOW GROVE UNITED METHODIST CHURCH
April 8
34 York Road
Willow Grove

Willow Grove United Methodist Church is using this breakfast to help fund its music group, the Cross Roads Band. The $5 breakfast ($3 for kids seven and under) covers eggs, French toast and sausage. Following the morning meal – and a presentation of the Easter story – it's time for pictures with Peter Cottontail.
KING OF PRUSSIA VOLUNTEER FIRE COMPANY
April 9
170 Allendale Road
King of Prussia

The core menu for this breakfast at the KoP Fire Company is pancakes, scrambled eggs, sausage, home fries and French toast ($8 for adults, $5 for kids 5-12 and free for kids four and under). But a mere $3 more gains access to the various vegetable, meat and cheese inclusions at the omelet station.
NORTH PENN VFW POST 676
April 9
2519 Jenkintown Road
Glenside

A full-scale buffet awaits the breakfast bunch attending this North Penn VFW spread with its leporine host: the Easter Bunny. The morning meal is served at 10 a.m., followed by an 11 a.m. egg hunt separated by age groups, 2-4, 5-7 and 8-9. Admission is $10 for adults; $5 for children.