If you are looking for holiday cheer, look no further than the 1940s home of Ralph Parker and his family.
A grown-up Ralph takes us on a tour of his childhood at Christmastime in Hohman, Indiana, through family life, kid sisters, stern parents, best friends, daring adventures, wild winters, and of course, getting that coveted Christmas present from Santa: The Official Red Ryder, Carbine Action, Two-Hundred-Shot, Range Model Air Rifle! A Christmas Story, directed by Leena Devlin at Steel River Playhouse in Pottstown is the new stage adaptation of the classic 1983 hit film.
Ralphie's main goals in life are for he and his hilarious and loyal friends Flick (Kailey Reinboth) and Schwartz (Quintin Frey) to avoid the school bully (Scut Farkus, played by a scary Tom Pederson) and his terrifying band of Toadies (played convincingly by Jaelyn Aguilar, Mason Keith, Zane Eckman, and Sylina Morello) and to secure that elusive air rifle for Christmas. If he could just see that package under the tree, his life would take on new meaning!
However, Ralphie's mom is convinced (along with his teacher and even Santa Claus) that he'll shoot his eye out, so he undertakes a strenuous and calculated advertising campaign so that his parents get the hint.
We watch Ralphie—played by Will Pederson—weave his way through various pitfalls, from the bully catching him and twisting his arm, to the minefields of giggling girls in the classroom, and his beautiful and intelligent teacher, Miss Shields (Kathleen Verbo), to trying not to curse (oooh Fudge!), to spending time with his family around the dinner table, to his friends triple dog daring each other to lick the frozen flagpole (here's a hint—don't!).
Porter Eidam, as the narrator playing adult Ralphie, was superb. Every scene was punctuated by his wry tone, his incredulity at the confidence of his younger self, and the love he has for his family. Ralphie's sibling, Randi, was played adorably by Natalie Dougherty; but the real prize goes to Ralphie's parents, played by Steve Reazor and Andrea Frassoni, who kept the audience laughing all night.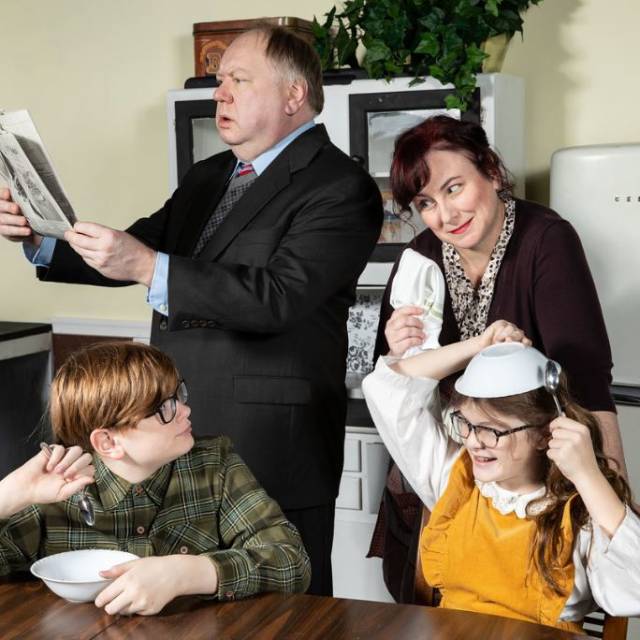 These two theater professionals kept the story rolling with Frassoni's unending cheerful statements, undercutting the Old Man's constant griping. Ralphie's dad's goals in life are to defeat the furnace and whip it into shape, avoid the neighbor's gross and smelly dogs, which almost ruin Christmas Day, and to win something, anything, through quizzes he receives and sends off in the mail—and don't you know, one day he does win a contest, resulting in an "award" that he puts on display for the entire neighborhood to see, much to his wife's dismay.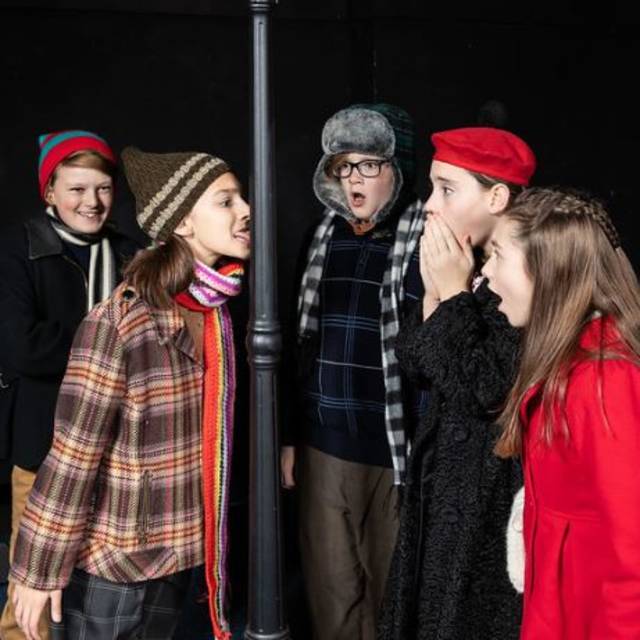 Even though his dad is gruff, and his mom is overly excited about meatloaf and red cabbage, the love they show for their family and the holidays shine in each scene.
The second act brings us to Christmas Day—will anything go right? Will Ralphie ever get that coveted Official Red Ryder, Carbine Action, Two-Hundred-Shot, Range Model Air Rifle? Will he shoot his eye out?! Will he ever defeat the school bully?!
A Christmas Story celebrates all the best of the holidays: nostalgia, family, love, friends, gifts, togetherness, and snow! This play runs from December 6 to December 22, and is family-friendly.
Steel River Playhouse
245 E. High Street
Pottstown, PA 19464
P: (610) 970-1199