Heading to the Harleysville and Skippack areas? Look for no further for delicious places to eat— Morning, Noon, and Night. This little section of Montco boasts a huge residential area, many businesses, and of course, great shopping and dining. Let's take a deep dive into Central Montco.
Morning: Wander into Skippack Village for great shopping, people-watching, and food. Most of the Skippack restaurants and shops are locally-owned and operated, and meeting the owners is always a real treat. Be sure to stop in many of the boutiques and eateries.
The Energy Station offers grab-and-go breakfast sandwiches, coffee and tea, for when you're in a hurry. For a more leisurely bite, take a moment to relax and have some comfort food to give you 'energy' to start your day.
Fuel up with Feine Coffee Roasters
Noon: For lunch, you definitely have your pick.
Fuel up with Feine Coffee Roasters when you need to perk up and start your shopping in the Skippack Italian Market for an early lunch. The Skippack Italian Market gives you the opportunity to eat AND shop! Equal parts catering, deli, shoppe, and country store, you'll find something to nosh on now or later. Delicious hoagies, meats, cheeses, imported olive oil, plus yummy appetizers—Garlic Parmesan Fries, Asiago Spinach & Artichoke Dip, and Arancini definitely keep the hunger pangs at bay.
If you're in the mood for vegetarian cuisine, check out Cabbage, where you can try the soup of the day like Mushroom Barley, the spread of the day like Spicy Pinto Bean, or delicious hearty fare like Vegan Chili. The salads, like Roasted Beet, are a crowd favorite too.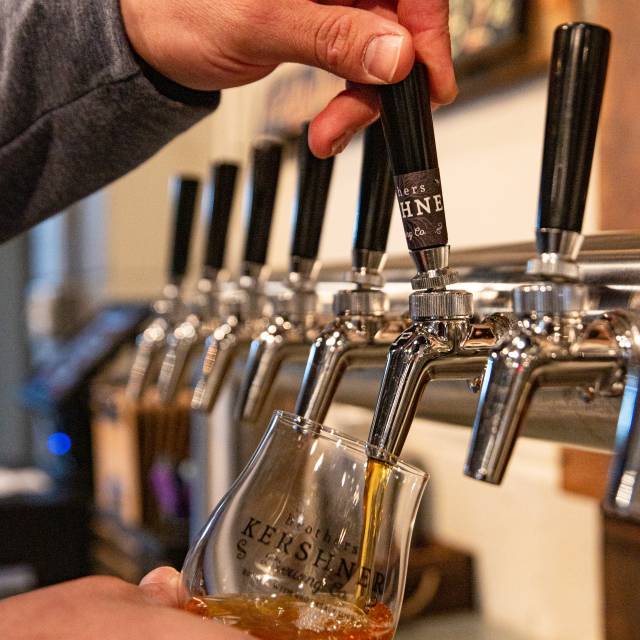 Snack/Happy Hour—In the mood for a little after-work happiness? Look no further than the fantastic breweries in the area! Brothers Kershner Brewing Co keeps the beer a-brewin' with selective and creative brews.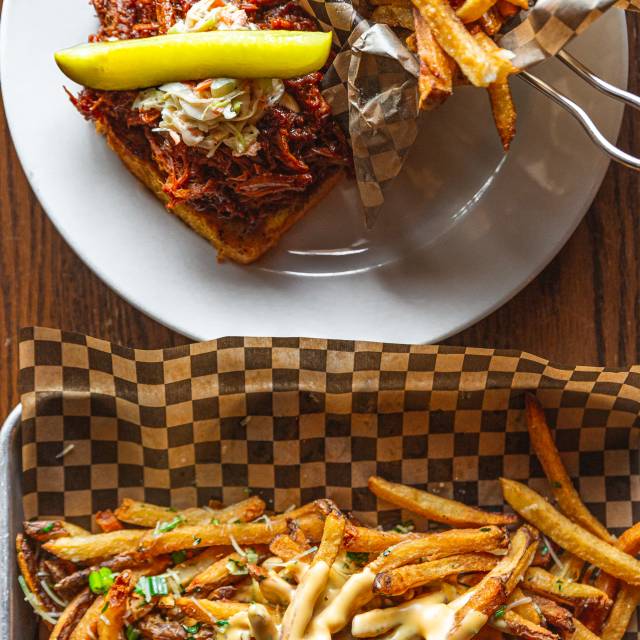 Night: Start with a draft beer or a carefully crafted cocktail and some tapas and relax— you've had a long day! The Butcher and Barkeep in Harleysville is truly a place you can sit back and mull over the day's events. The BLT, Cubano, or the Short Rib sandwiches melt in your mouth, while the small plates of Avocado Bruschetta, Bouillabaisse, Fried Green Tomatoes, St. Louis Ribs, or the Tuna Poke all over offer a great nosh. But the real winners here at the B & B are the Shrimp & Grits (cheesy grits with Carolina shrimp and Andouille-bell pepper cream) or the Chicken and Waffles (cornmeal waffles, southern-fried chicken tenders covered in pepper jelly and Fruity Pebbles butter) with a side of Sexy Fries— truffled fries sprinkled in fresh herbs and parmesan. We promise you'll never look at fries the same way again.
The Butcher and Barkeep in Harleysville is truly a place you can sit back and mull over the day's events.
If you are looking for a fun, eclectic, and super delicious night out, you've found it in 19 Bella. Just outside Skippack in Cedars, this funky BYOB restaurant serves up lunch and dinner tapas-style on cute plates (you can even buy some of the fine and fun china you see). Be prepared for small plates where everyone can share and have a taste.
Menu items like the Lobster Mac & Cheese, Zucchini Pancakes, Beet Salad, Local Wild Mushrooms Risotto, Farrotto & Beef, and Filet Mignon Oscar with Lump Crab, Grilled Veal Chop, and Portuguese Sea Scallops all will tickle your taste buds. Be sure to order several dishes for the table. Or, go wild and order the Chef's Choice from the "Blind Menu of Confidence Tasting" to try new items. Save room for dessert!
You'll see Justin's Carriage House on the way into Skippack Village, so stop off and try some food while you're in town. The Sweet & Spicy Filet Tips are a fan favorite, with Hot Crab Dip, Nachos Supreme, Black & Bleu Caesar Salad, and the Flatbread Pizzas scoring big.
Have dinner, a nightcap and perhaps even stay over in Skippack Village. After dining in one of their three restaurants, why not stay at the sophisticated Hotel Fiesole? Mistral and Stefano's each offer fine dining in Continental European cuisine while the Ferrari-themed Bella Rossa offers a more casual Italian dining atmosphere. If you just desire a drink to finish the evening, the Trolley Bar right off the lobby is a great place to relax in the old restored trolley. Plus, there's live music and entertainment held weekly in the Rathskeller.
There's always something going on in Skippack Village, brunch, lunch, dinner, festivals, and more—we'll see you soon in Central Montco.