The extraordinary show Fun Home begins with present day Allison Bechdel, a graphic novelist, sketching and remembering her formative years in the "Fun Home," which was her family's funeral parlor. The musical details the events that led to Alison's coming out to her parents and the world and trying to find her place.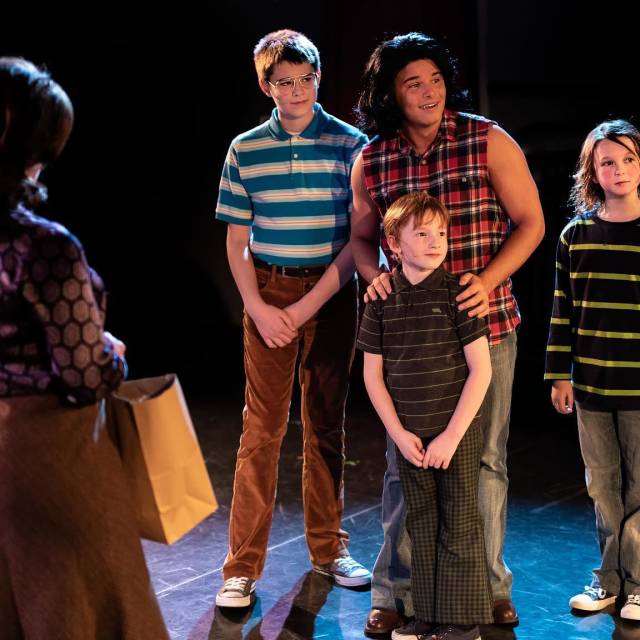 The show is performed in Steel River Playhouse's Newberry Loft, upstairs, with the audience sitting around the space in a U. The actors move about in front of the audience, and you feel as if you aren't just watching the angst, you are in the middle of it. This one-act show runs just 100 minutes, and you are fully engaged until the bitter end. Watch the stylized house at the back of the set; furniture is minimal and the house changes colors with the mood and the scene, depicting the characters' feelings.
Director Leena Devlin, also the Artist Director of Steel River Playhouse, created the space where this coming-of-age story is told, and the actors brought Allison Bechdel's 2006 graphic memoir to life, with the adaptation by Lisa Kron and Jeanine Tesori.
The cast of young characters who played Allison and her brothers convincingly laughed and sang through their father's overly enthusiastic ideas, then rode the waves of his quick temper and impatience. Reese Grove (Small Alison), Tom Pederson (Christian Bechdel), and Stephen Kesner (John Bechdel) admirably brought these characters to life. For example, the kids try to keep fun alive with songs, even writing a commercial for the family funeral home in 70s-style "Come to the Fun House." Interestingly, small Allison seems to be surer of herself than teenage Alison, with present-day Allison laughing and cringing at various snapshots of her past.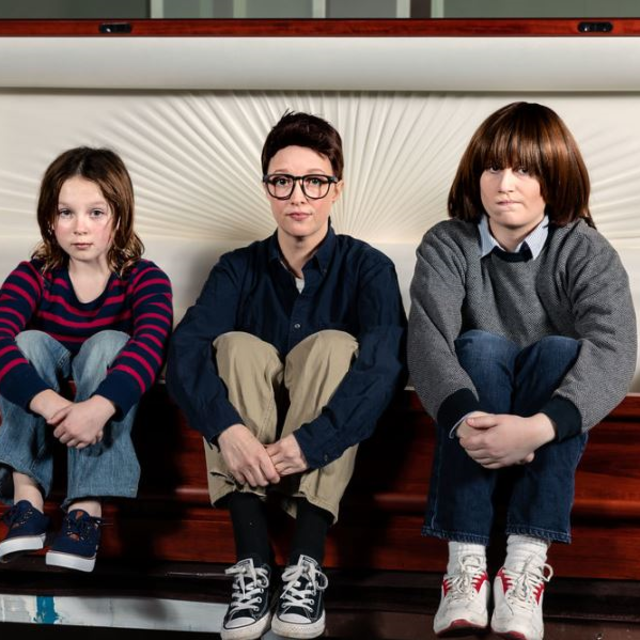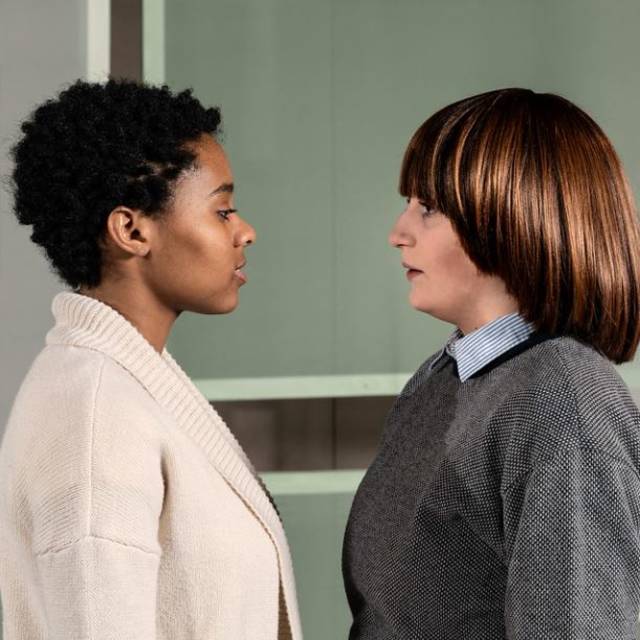 Alison's long-suffering mother, played by Julie Eurillo, clearly didn't know what she was going into when she got married, but she does her best to eke out a life with her kids. She tries to make her husband happy, while realizing at the same time she can't give her husband anything he wants. The father, Bruce, played by Rob Tilley, tries to connect with his family but never really finds the right way. He's full of fun and ideas but is quick to anger when he's not understood. When teenage Allison (Shaelyn Parker) goes off to college, she enjoys having phone calls with her father to discuss literature. Her father has certain topics he wants to discuss, and everything else he skirts around. 
Allison comes out while at college and joyfully recounts her plans in "Changing in Major." She writes home to tell her parents, but never really gets a reply to her news. We switch back and forth to present day and Alison's memories, but she's right there with us recounting the events and sharing her feelings. When she realizes her father is like her, she tries to create a dialogue and get him to open up, but he just can't.
This show has tones of Rent, where each word is crafted with longing and the characters' needs to express themselves – either joyous or heart-broken. The family that lives inside the Fun Home spends so much time covering up their hearts instead of talking them out, and the end results can be disastrous.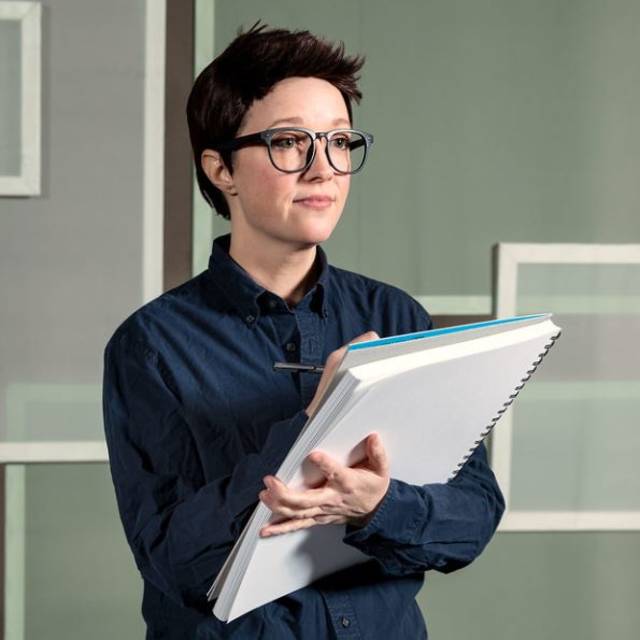 Fun Home, a fabulous one-act musical runs through February 16, 2020 at Steel River Playhouse in Pottstown.
Creative Team:
Director – Leena Devlin
Music Director – Eileen Fields
Vocal Coach – Julie Eurillo
Choreographer – Lisa Hendricks
Stage Manager – Madison Devlin
Assistant Stage Manager – Kendra O'Donnell
Scenic/Props/Projection Design – MJ Stone
Lighting Design – Jackie Hough
Costume Design – Teal Knight
Sound Design – Lydia Klementisz
Dramaturg – Meg Falasco
Orchestra Conductor – Barb Newberry
Cast:
Allison Bechdel – Laura Watson
Medium Allison– Shaelyn Parker
Small Allison– Reese Grove
Bruce Bechdel – Rob Tilley
Helen Bechdel – Julie Eurillo
Christian Bechdel – Tom Pederson
John Bechdel –Stephen Kesner (and Avery Spatarella)
Joan – Amber Cimone
Roy/Pete/Mark/Bobby Jeremy – Tell Williams
Note: This production is suggested for mature audiences due to language and mature themes.