Montgomery County is brimming with many options for diners. It's more than the plethora of cuisine or how you choose to dine whether it's take-out, delivery, or dine-in (currently half capacity).
More important than all of that is the diversity of the people who own and operate restaurants in Montgomery County. Their stories may be different but a common ingredient prevails – passion.
2020 brought the coronavirus pandemic, which closed and then limited operations at restaurants. Across the country, people have created lists of Black-owned businesses to show solidarity for social justice and equality. The following are some Black-owned restaurants in Montgomery County.
Welcome to the Avenue
107 E. High Street, Pottstown
Watching his mom cook when he was a kid didn't just fill Kwane Haywood's stomach, it fueled a lifelong dream of owning a restaurant.
After thirty years of working in the food service industry, the dream turned into a reality when Kwane and his wife, Akiai Worthington, opened Welcome to the Avenue in 2018.
Haywood, from Saint Vincent, and Worthington, who hails from Barbados, truly honor their roots at this authentic Caribbean restaurant.
Popular choices at the Pottstown BYOB are:
Curry chicken (it won the award for Best Main Dish in 2017 at the "Carousel of Flavor" in Pottstown)
Braised turkey
Quinoa and avocado hot pot
In an interview with the Daily Local News Haywood said:
"The menu is me thinking out of the box. I didn't want to do the same thing that everyone else was doing. Just keeping it the way I grew up eating it, and the way my mom made it."
What customers say about Welcome to the Avenue:
"Flavor explosion. Amazing taste, spot on."
"Our first time there and we felt like family."
"Absolutely amazing and fit for my vegan/vegetarian taste buds."
After thirty years of working in the food service industry, the dream turned into a reality when Kwane and his wife, Akiai Worthington, opened Welcome to the Avenue in 2018.
The Cheesecake Lady
If you see a line of people on Township Line Road in Elkins Park, you can turn off your directions. You probably just found The Cheesecake Lady.
Vanessa Jackson never even tasted cheesecake until her thirties. But when she did, it was the best thing she ever tasted. She started to spend time making cheesecakes and would bring them to her aunt to try and of course, critique. When she finally said "THAAAAATT CHEESECAKE...!"Jackson knew that she nailed the recipe, which was filled with the finest and freshest ingredients.
Jackson was recently featured in the The Philadelphia Inquirer.
The cheesecake haven is open with a limited schedule and has been known to sell out within a few hours.
Vanessa's oldest daughter, Brittany, helps run the store that features much more than plan cheesecake. There are over thirty flavors including banana pudding, caramel apple crunch, and birthday cake.
Buutchiis Grille
Kwabena Buatchi turned his love of grilling into an African/Caribbean restaurant.
His master-grill skills first led to a food truck then to a permanent location on East Butler Avenue in Ambler.
Everything on the menu is cooked from scratch with Buatchi's special touch of spices and (sometimes) heat. Some favorites from the menu are jerk chicken platters, oxtail and jollof rice.
Buatchi, who emigrated from Ghana at 17, says his goal is to "introduce some of our favorite foods from our culture with the rest of our community. We pride ourselves in the quality of our food and we invite you to come and share this passion with us."
Zachary's BBQ & Soul
Just because it's no longer on Markley Street in Norristown, doesn't mean that Chef Keith Taylor and his team have stopped serving up BBQ and soul food. They relocated operations to a commissary in Philadelphia and are still smoking barbeque and creating delicious food.
Zachary's BBQ & Soul's catering is a sure-fire crowd pleaser with heaping platters of pulled pork, BBQ chicken and beef brisket.
Even if you are feeding your own family and are tired of cooking (aren't we all), Zachary's offers Kitchen to Kitchen Meal Delivery for groups of 2-14. They deliver to Montgomery County, Delaware County and Philadelphia.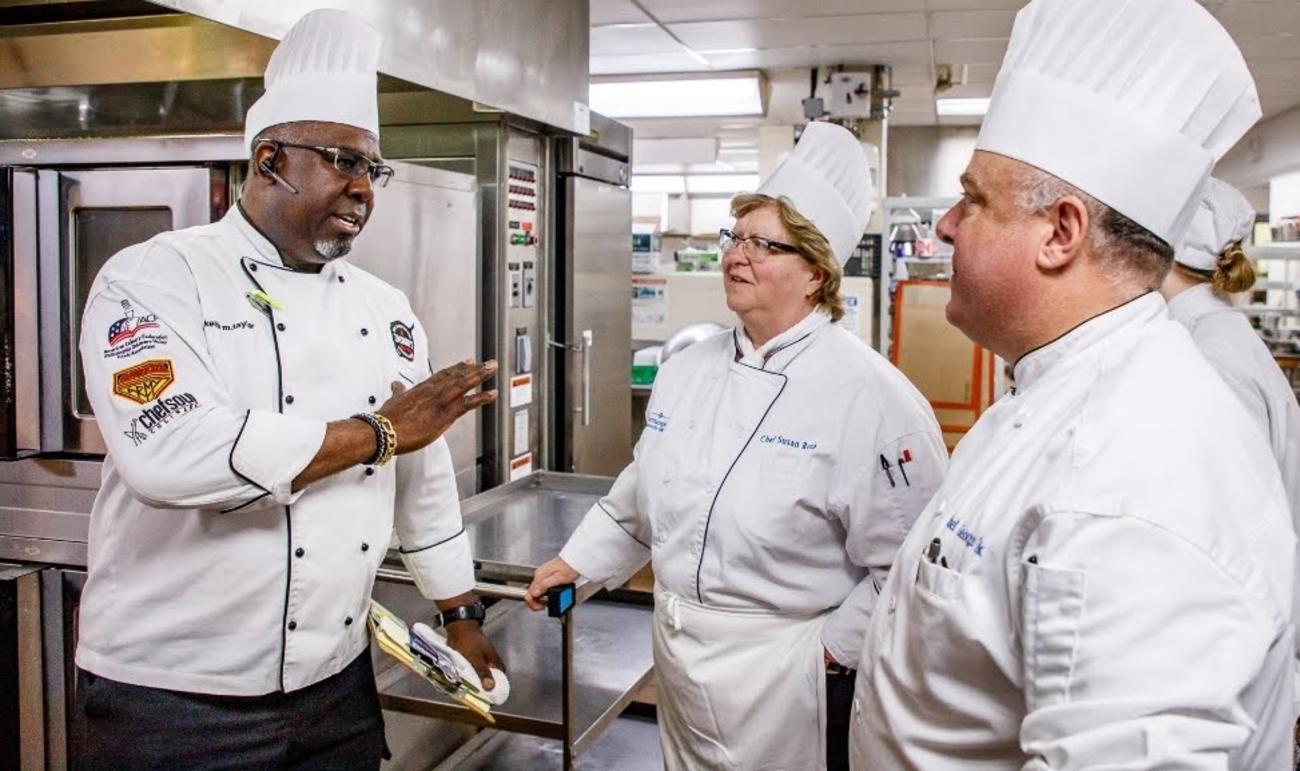 And yes, will get to see Taylor again, in his chef's whites and toque, behind the counter and in the kitchen soon. They have big plans for expansion in Montgomery County. Zachary's BBQ & Soul has a lot cooking (inside and out of the kitchen) here are some highlights of what's to come:
Recently completed plans and design for new Zachary's Main Street Deli & Catering Company concept.
Zachary's has teamed up with Five Saints Distilling in Norristown to provide culinary operations consulting which will lead them to introducing classic pub fare in a new kitchen. 
Completed renovations and the finishing design elements for a new teaching kitchen studio and event space that will be the home of The Soul Of Cooking: Kitchen Experience. They will be producing interactive cooking demonstrations and video content with the help of a key partnerships between Taylor's company and Valley Forge Tourism & Convention Board, Corbett Inc., Red C Media, and visiting chefs that will bring fun cooking classes and education opportunities for adults, children, and groups from every demographic.
Visitors at Elmwood Park Zoo will soon get to savor soul food while visiting their favorite animals. Zachary's Main Street will have an onsite location and also be offering on-site event catering.
"From my first restaurant almost twenty years ago in Norristown to the endless growth that I am engaged in today, Montgomery County represents progress and an experience that I am grateful to be a part of," said Taylor. "Every soul that I encounter here is why my efforts are all based in Montco and I have learned that there is no place better to continue my mission as a leader and an ambassador of gracious hospitality."