Prepare. Prevail. Preserve.
Runners typically trek a five-mile course that traverses the scenic Valley Forge National Historical Park. This year, we're going virtual and invite runners and walkers of all kinds, and from any location, to participate virtually. The 15th Annual Rev Run falls over National Park Week and all proceeds from the race go directly back into Valley Forge National Historical Park.



1. Anyone in the world can participate
Get this: So far, runners from the Netherlands, Germany, and 15 U.S. states have signed up. Going virtual means runners and walkers from all over the world can participate.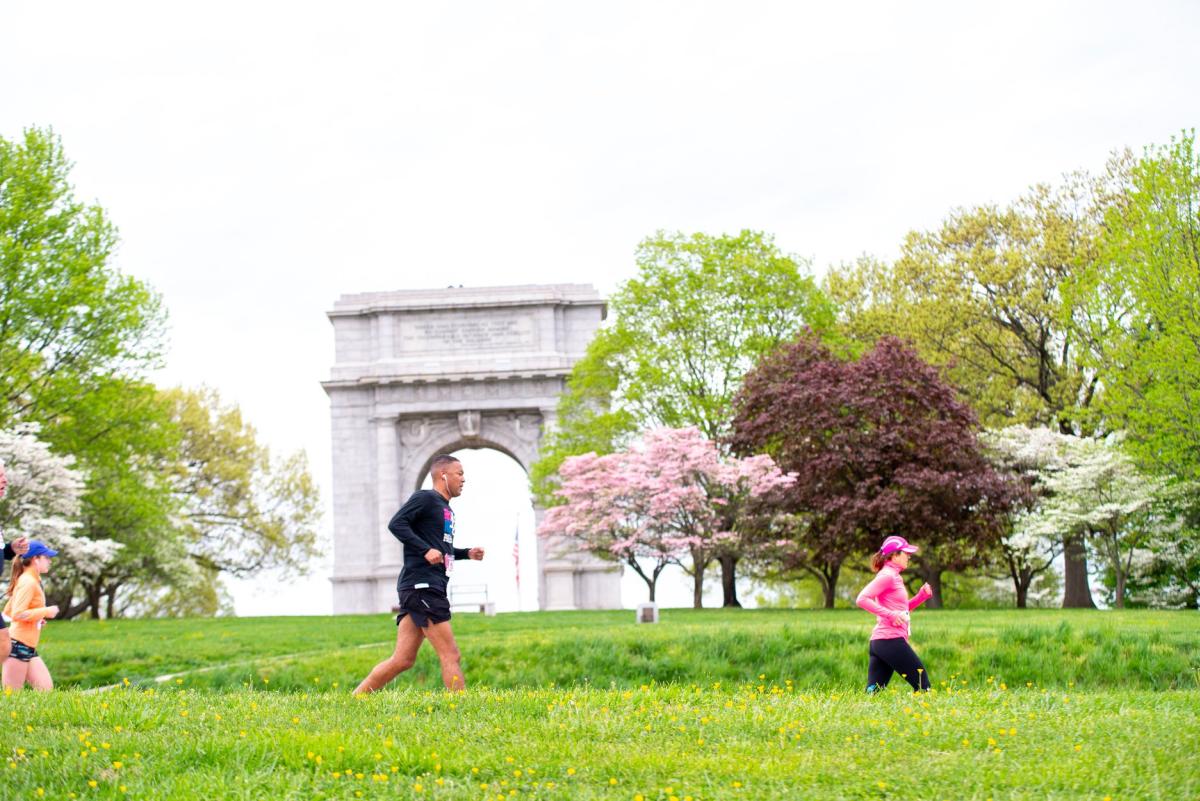 2. A chance to give back
100% of proceeds from the Valley Forge Revolutionary 5-Mile Run benefit visitors services at the Valley Forge National Historical Park. In 14 years, this event has raised nearly $458,000 for our friends at the Park.
Race Director Kirsten Tallman says, "The trail in the park is like a ribbon that winds around a beautiful gift. To me, supporting the Rev Run is a great way to give back to a place that gives me so much."
3. Hardware
For the first time since the race's inception in 2005, every participant will receive a finishers medal.
4. Celebrate National Park Week
The 15th Annual Rev Run falls over National Park Week to celebrate the National Park Service: April 17th – 25th.
5. For your health and well-being
Running can burn up to 700 calories per hour. You'll raise your heart rate, lower blood pressure, and relieve stress - all while toning and shaping your body.

6. Bragging rights
Runners local to the Valley Forge area can choose to still "Conquer the Valley" in Valley Forge Park. Did we mention hills? Conquering the rolling hills on the course is brag-worthy in itself.
7. Not just a run
Not a runner? Not a problem! Folks can donate directly to the Park here without having to participate in the race.
8. Community
Not only is this a great chance to give back, the Rev Run is an opportunity to connect running communities from around the world.
9. Customized digital bibs
New this year to enhance the virtual experience, participants will receive a personalized digital racing bib.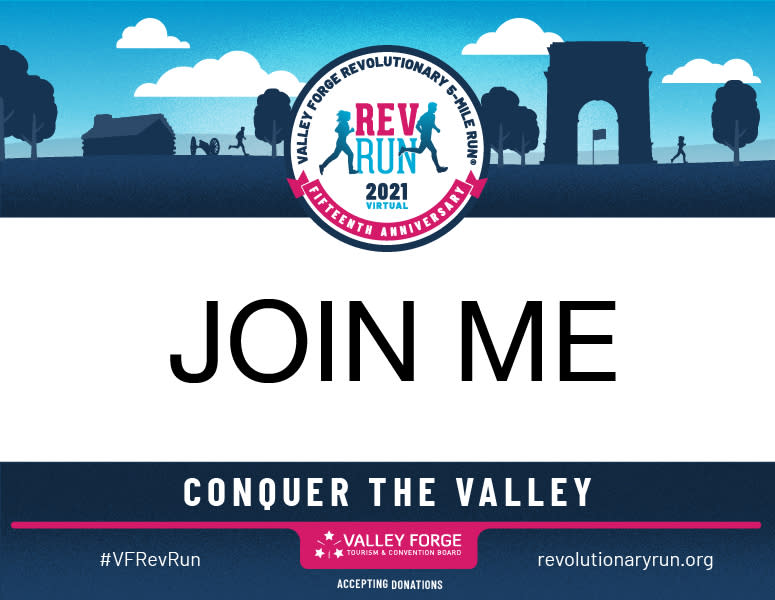 10. Exclusive National Park experience
The typical Valley Forge course is one of the only in the United States held entirely in a National Park.
11. T-shirts
They're not regular t-shirts, they're cool t-shirts.
12. Inspire others
It doesn't matter if you're aiming for a PR, running for fun, or anything in between, someone is going to start running because of you.
13. Branded gear
In addition to the awesome swag registered participants are guaranteed, there's an online store for folks to purchase VF Rev Run branded quarter-zips, hats, and more.
14. Because you can
No further explanation needed.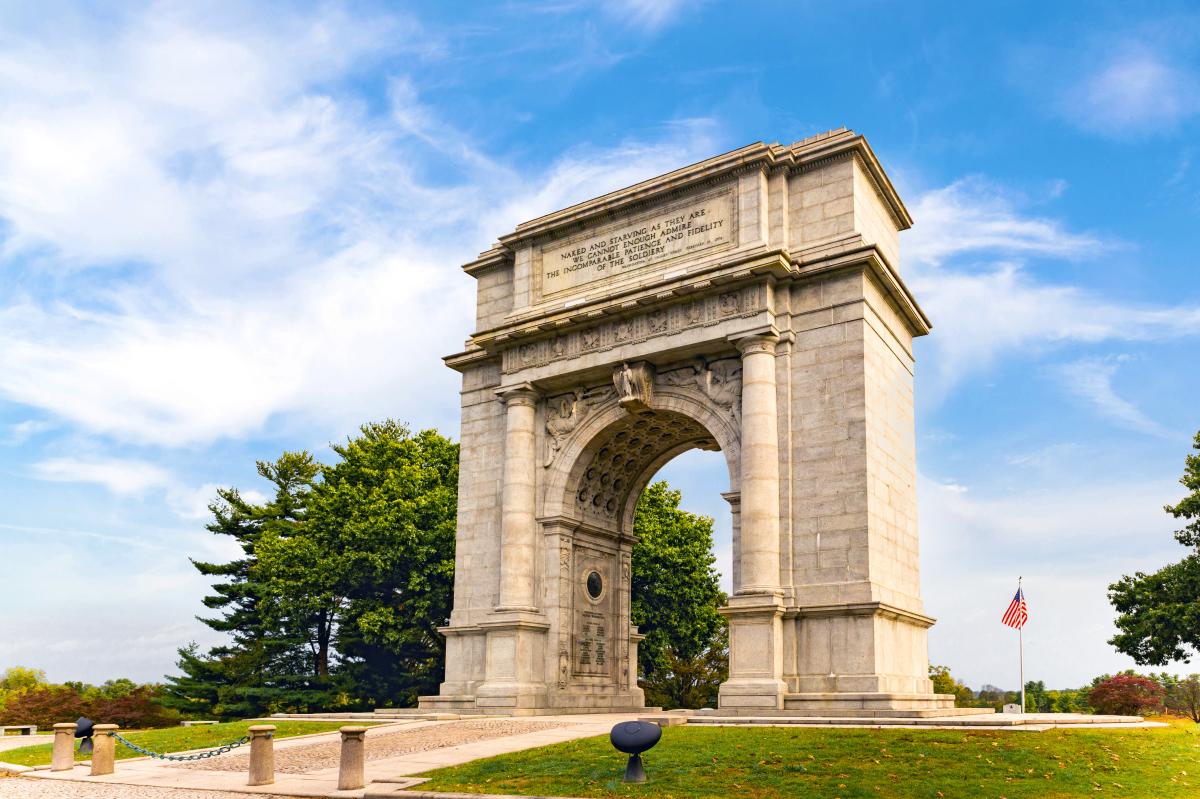 15th Anniversary!
This is your chance to take part in a monumental anniversary for the most revolutionary race there is.
Reflecting on the past year, Montgomery County Commissioner Ken Lawrence says, "During the pandemic, families have been coming here to get outdoors. It's more important than ever to support the Park."
We couldn't agree more.
Register now for the 15th Annual Valley Forge Revolutionary 5-Mile Run!