BRIDGET'S STEAKHOUSE
Ambler
Montgomery County, Pa., was home to not one "best of" steakhouses from thrillist.com but two. Joining Creed's is Bridget's Steakhouse in Ambler. It's impossible to spotlight one dish among the many excellent choices, but if cornered, we would go for the service-for-two Surf-n-Turf Butcher Block. Extra perk: The mixology talents of Logan the bartender.
RED CEDAR GRILL AND COCKTAILS
Colmar
Best to arrive in Colmar's Red Cedar Grill and Cocktails hungry: The marinated rib-eye is portioned to be huge, comprising two steaks. But once you start in, you'll find that they have been cooked to perfection, making it hard to stop. Need a recommended starter? We'll say one word: mussels.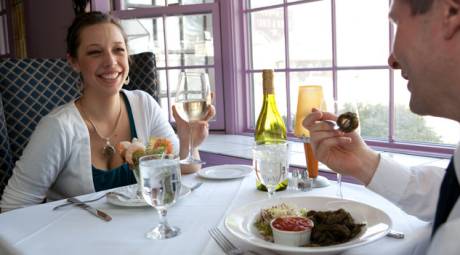 ROADHOUSE GRILLE
Skippack
Skippack's Roadhouse Grille has just reopened from a six-month closure for a renovation of the interior, which is delightfully fresh and inviting. The chef's mastery of meat here extends even to something as theoretically mundane as meatloaf. Do not underestimate, however. At the Roadhouse, it's a culinary standout.
CARRIAGE HOUSE RESTAURANT
East Greenville
The Carriage House Restaurant in East Greenville serves up a fantastic rib-eye—on par with more high-profile steakhouses—at a terrific value. Not only that, but the setting is uniquely charming, evoking a time when ladies and gentlemen arrived in horse and buggy for an evening's repast.
NABRASA BRAZILIAN STEAKHOUSE
Horsham
For a South American approach to savory servings of sirloin, it's difficult to resist the temptation of NaBrasa Brazilian Steakhouse in Horsham. NaBrasa is a carnivore's carnival, where the presentations of choice cuts of meat continue to fill your plate until you literally tell the servers to stop.
FIREBIRDS WOOD FIRED GRILL
Collegeville
Firebirds Wood Fired Grill is relatively new to the Collegeville area but it has already distinguished itself for excellence. Here's a neat variation to the steak and vegetable presentation: Firebirds serves them as filet kabobs with a balsamic ancho chili drizzle.