Pumpkin Spice
The Best Fall Flavors in Montco
Cool weather is nice, but what we really love about fall is pumpkin spice. Whether you drink it hot or frozen or eat it for dinner or dessert, pumpkin spice is everywhere in Montco. Here are 11 of our favorite spots in Montco to enjoy the season's best flavors.
A TASTE OF BRITAIN
Wayne
Kick up your afternoon tea with the sweet taste of pumpkin pie at A Taste of Britain in nearby Wayne. The pumpkin pie black tea is one of the most anticipated flavors of the year.
BOYD'S CARDINAL HOLLOW WINERY
Lansdale
Cinderella pumpkins, cinnamon and brown sugar give Cardinal Hollow Winery's pumpkin wine its signature flavor. Don't miss out, this wine is only available in the fall.
CORROPOLESE BAKERY
Norristown
Corropolese Bakery is best known for its tomato pie, but during fall, it's the place to satisfy your craving for pumpkin pie. And in November, Corropolese adds pumpkin cheesecake into the mix.
DUCK DONUTS
King of Prussia
There is nothing quite like a donut fresh from the fryer, and that's exactly what you get at Duck Donuts. All donuts are made-to-order, and in fall, the pumpkin donuts can't be beat. Try them topped with graham cracker and marshmallow drizzle, or enjoy it with the toppings of your choosing.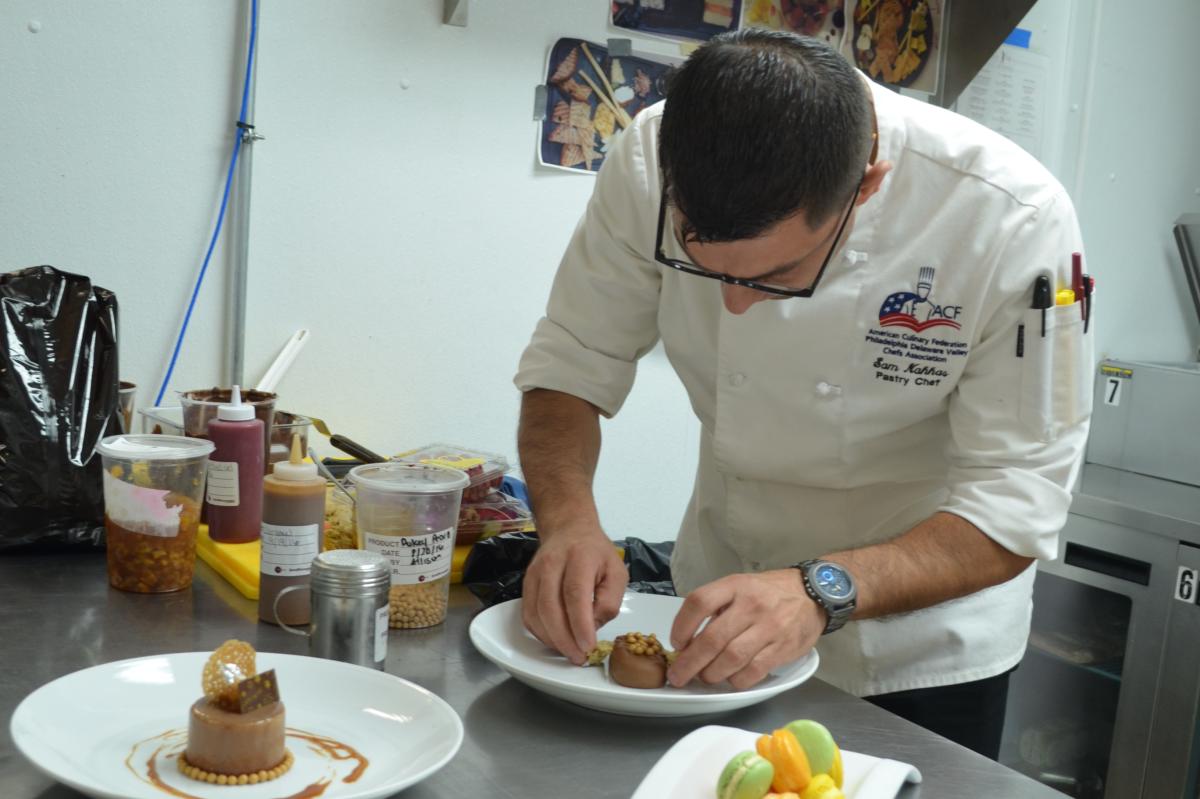 THE FARMER'S DAUGHTER
Blue Bell
The Farmer's Daughter, located at the Normandy Farm Hotel and Conference Center in Blue Bell, is a farm-to-table restaurant that serves excellent meals every day. But it's the award-winning desserts that get a shot of pumpkin in fall. Try the Normandy Cake, which combines chocolate, caramel and honey with pumpkin cake. We also enjoy the pumpkin chiffon gelato, made in-house.
GINA'S AMAZING CUPCAKES
Ambler
It's not available every day, but when Gina makes her Pumpkin Toffee cupcakes, it's a must-have. The cake, the toffee pieces, the frosting: they don't call them amazing for nothing.
HARVEST SEASONAL GRILL & WINE BAR
North Wales | Wayne
Craving the flavor of pumpkin with your dinner? Try Harvest's pumpkin ravioli with butternut squash puree, sage brown butter and toasted pumpkin seeds. Harvest's weekend brunch menu also includes the indulgent pumpkin pie cheesecake waffle.
STEEL CITY COFFEEHOUSE
Phoenixville
Steel City is debuting its new homemade ice cream in October, and we couldn't be more excited. Among the five seasonal flavors: pumpkin cheesecake with salted caramel. Yes, please!