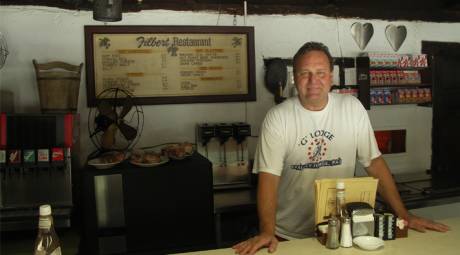 G-LODGE RESTAURANT
1371 Valley Forge Road
Phoenixville PA 19460
This diner-style restaurant is the great beginning to a day of exploring Valley Forge National Historical Park; given its proximity, it's possible to dig into a stack of hotcakes and then go hot on the trail of the Loyalists in experiencing our Revolutionary War history.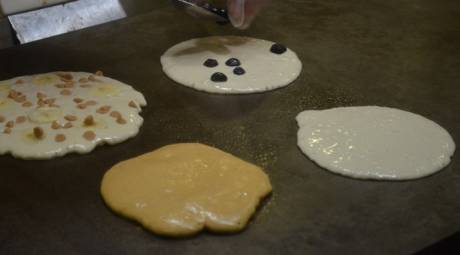 SHADY MAPLE SMORGASBORD
129 Toddy Drive
East Earl, PA 17519
A little drive from Montgomery County brings pancake fans to Shady Maple, where the pancakes are freshly made and the quantities are unlimited. If Fanny happens to be behind the griddle while you're there, you will be in the hands of a true batter baron. Kids will love the mix-ins of fruits, nuts and even candies.
ALFREDO'S RESTAURANT
1132 West Main Street
Norristown, PA 19401
You'd think a simple blueberry pancake would be easy to pull off, but it's very easy to end up with runny batter that leads to berries that pop and burn. Alfredo's gets the ratios just right, so the juicy blueberries nestle comfortable in the rich batter, resulting in a fluffy, fruitful breakfast.
ANNAMARIE'S PLACE
347 Main Street
Royersford, PA 19468
Annamarie's has a tiny dining room for which locals will almost always encounter a wait. But oh, is it worth it. The kitchen excels with pancakes every single day, offering a wide variety of seasonal varieties (snickerdoodle for December, for instance). Here's a plus: If you're in search of a gluten-free version that is full-flavor, this is the place to get it.
DADDYPOPS
232 North York Rd
Hatboro, PA 19040
Daddypops is that perfect blend of excellent food at a great value. A pancake that hangs over the rim of the plate comes at a price seemingly more appropriate to a silver-dollar short-stack. The hand-made attention to detail is obvious because the edges have the same lovely, crispy rims that mom used to get when she made pancakes.
LANCERS DINER
858 Easton Road
Horsham, PA 19044 1482 Old York Road
Abington, PA 19001
Lancers ups the ante on plain banana pancakes by adding walnuts. And then ups the ante again by mixing in a handful of chocolate chips.
MAIN LINE BISTRO & CREPERIE
1047 West Lancaster Avenue
Bryn Mawr, PA 19010
For the best in the French cousin of the pancake - the crepe - Main Line Bistro is the place to go. The banana split version nests ice cream, banana and strawberries in a delicate bed and then tops them with whipped cream and chocolate syrup.
THE KITCHEN BAR
1482 Old York Road
Abington, PA 19001
Plenty of diner-type chefs offer cinnamon pancakes. Not many stuff them with blueberry cream cheese filling the way the Kitchen Bar does.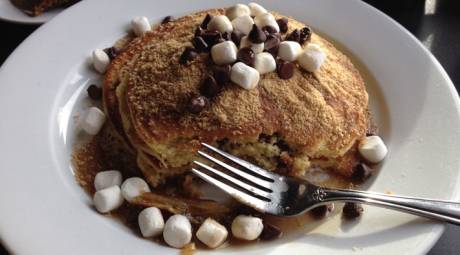 WEST AVENUE GRILL
718 West Ave
Jenkintown, PA 19046
1650 Limekiln Pike
Dresher, PA 19025
The chefs here raise the simple pancake to an art form. The pancake pièce de résistance is the S'mores. It's a trio of cakes united by layers of marshmallow crème, and the finishing sprinkle combines chocolate chips with a crispy crumble of pulverized graham crackers.
ZAKE'S CAFE
444 South Bethlehem Pike
Fort Washington, PA 19034
The pancakes at Zake's are so rich and decadent that they are also an offbeat lunch option. The lemon and honey flavor, served with raspberries and a drizzle of caramel sauce, works particularly well as a noontime entrée. It's a semi-sweet dream that nearly floats off the platter.