MONTCO'S BEST BYOB
Bring Your Favorite Beer and Wine
Bottle of red. Bottle of white. Whatever kind of mood you're in tonight. Bring your favorite wine (or beer) to our favorite BYOB restaurants in Montgomery County.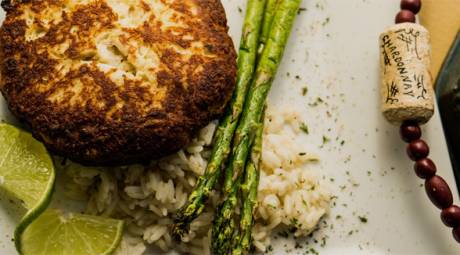 LILY'S GRILL
A local gem in Pottstown, Lily's Grill prides itself on an elegant feel to the dining room, but not at the expense of comfort. Uncork your bottle of white to couple with Lily's extensive seafood options, including the crowd-pleasing ginger and soy glazed peppered tuna steak, served with a salad made of local hydroponic lettuce.
BOSTON STYLE PIZZA
North Wales
One of the more unique pizzas you'll find in Montco, Boston Style Pizza takes its name from the Greek community in Boston where the pan pizza was invented in the 1950s. That's the style that inspires the pies at this North Wales restaurant.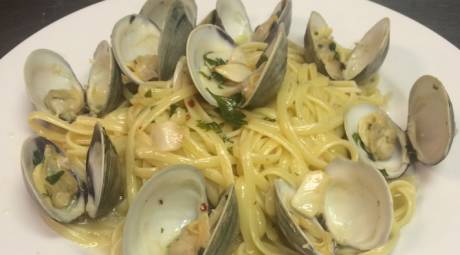 CIBO ITALIANO RISTORANTE
Ambler's Cibo Italiano already has the delicious food and cozy atmosphere. All you have to do is bring your favorite bottle of wine to make it a true date night.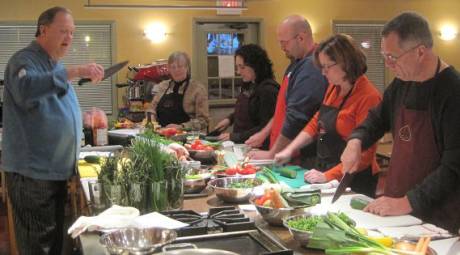 COOKING SPOTLIGHT
Phoenixville
For a more "hands-on" BYOB dining experience, check out Cooking Spotlight in Phoenixville. Classes are offered for groups and individuals looking to shake up their monotonous menus at home. At the end of the lesson, students sit down with their bottle of choice and enjoy the dish they've prepared.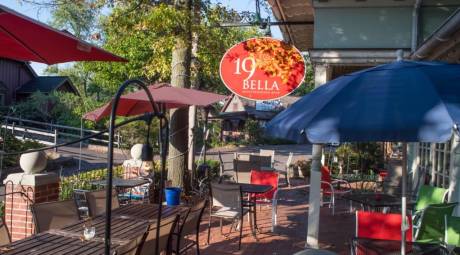 19 BELLA
Cedars
Looking for tapas to go with your preferred aperitif? Look no further than 19 Bella in Cedars. Enjoy Mediterranean-inspired small plates, such as roasted carrots and cauliflower with za'atar and cucumber lavender yogurt, while cozying up in the rustic-yet-chic space.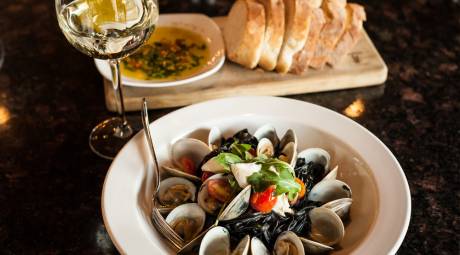 ARUGULA RISTORANTE
Plymouth Meeting
The traditional wood-burning oven and open-kitchen atmosphere set Arugula Ristorante in Plymouth Meeting apart from the pack. The Amalfi Coast of southern Italy has inspired the menu, which has an abundance of seafood options - as well as traditional favorites, like the Margherita pizza.
BLACKFISH
A truly artistic culinary experience, the contemporary, yet intimate Blackfish Restaurant in Conshohocken is pleasing to the eye and the palate. Bring a bottle that pairs with the seafood-centric menu, and try the delightfully refreshing Crudo tuna to start. In addition to the ever-changing àla carte menu, are tasting menus of five-to-seven courses.
BOCELLI RESTAURANT
Plymouth Meeting
Nestled in the former Gwynedd Valley train station, Bocelli Restaurant transports diners to a quaint trattoria in the heart of Italy, serving classic Roman dishes such as spaghetti alla carbonara, in which the pasta is tossed in a creamy sauce with savory pancetta and plenty of parmesan cheese.
MIRNA'S CAFE AND GRILL
Jenkintown || Blue Bell
Mirna's Café and Grill, with two locations in Blue Bell and Jenkintown, is a go-to for authentic Mediterranean cuisine. Start off with the house-made, creamy hummus, but be sure to save plenty of room. Mirna's is known for its hearty portion sizes, sure to leave a full stomach and a smile.
RYAN CHRISTOPHER'S BYOB
Narberth
A neighborhood gem in Narberth, Ryan Christopher's BYOB is a family-run establishment serving American bistro fare and fresh-baked desserts from in-house pastry chefs. Diners looking to break out a bottle of their favorite red can pair it with the Black Angus New York strip steak, cooked to perfection and topped with bleu cheese and grilled onions.