What started as an idle brag to his college buddies years ago has turned into a second career for Bob Shoudt of Royersford, Montgomery County.
"I'd be hanging out with friends and we'd be eating things like chips or whatever, and I'd say, 'I bet I can eat more of these than you can,'" Shoudt said. "And funny enough, I could!"
Armed with that knowledge, he began entering - and winning - eating contests.
"I'd win enough to buy a new sofa or something," Shoudt recalled.
Now, however, he has distinguished himself in the sport of competitive eating - and yes, it is a sport, overseen by the International Federation of Competitive Eating (IFoCE).
Contending under the name "Notorious B.O.B.," Shoudt has taken on challengers across the U.S. and Europe and has wolfed down everything from shoo fly pies to gallons of chowder.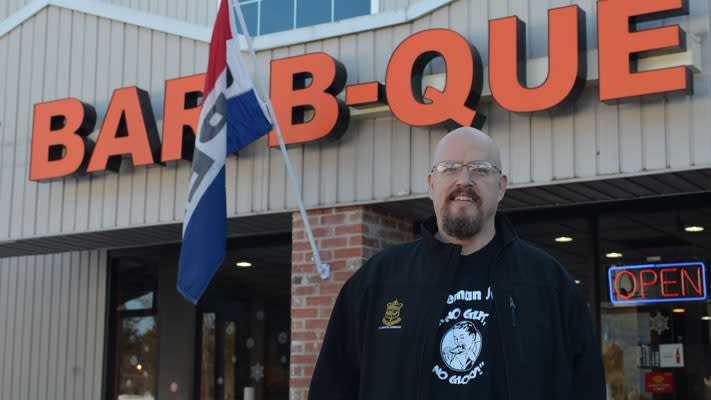 Shoudt's preparations for his sixth appearance at the upcoming Wing Bowl 24 brought him to Phamous Phil's BBQ and Grille in Limerick. Owner-chef Phil Schmidt and his wife Robin voluntarily backed the champion chomper - partnering with Clemens Meats in Norristown, donor of 400 chicken wings to the cause.
Shoudt is big (six-two, 278 pounds), but he's not chunky. On the contrary, his weight is well distributed on his frame, and he appears downright fit for someone who can down 54 cupcakes in eight minutes. He keeps himself fit with activities that include mountain climbing.
"It's all part of the training," Shoudt said. "I can't have a huge gut because I need to be seated during these competitions. Extra weight around my middle leaves less room."
Shoudt's pre-competition prep involves drinking massive amounts of water: three gallons a day over a two-hour period.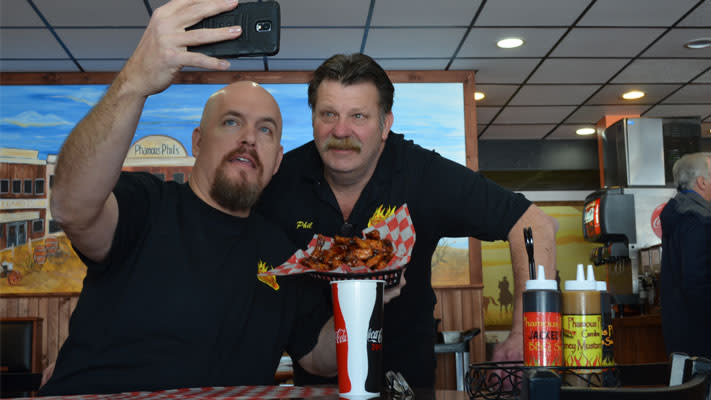 "Think of the stomach as a muscle," he explained. "It's like a balloon. If you try to blow up a new balloon, it's kind of stiff.
"But if you stretch it out, it becomes easier to blow up. It's the same with my stomach. I stretch it to enable it to take in more food."
The danger associated with consuming huge amounts of water leads Shoudt to work closely with his physician to ensure his ongoing safety.
Shoudt's wins rely on two aspects, technique and speed. Perfecting the one leads to success with the other.
With the freedom to experiment at Phamous Phil's, Shoudt tried several methods for turning a basket of savory wings into a pile of stripped bones. One involved pushing the wings against the table-top, making the meat easier to remove with his teeth. The other had Shoudt smooshing the chicken with his thumb into a quickly-eaten clump.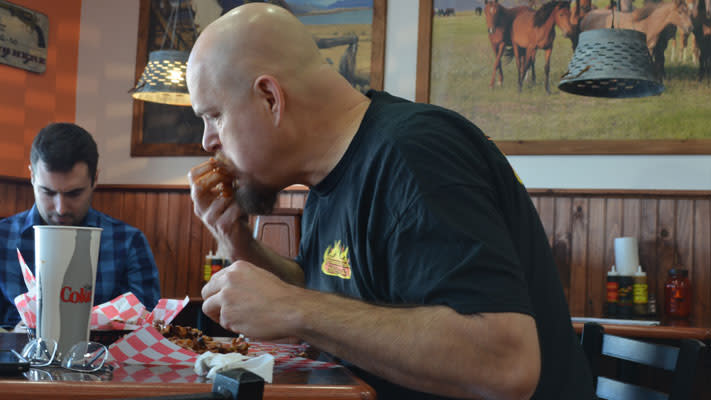 Although Shoudt was focusing more on process than time, he still managed to polish off 100 wings in about 15 minutes.
I asked Shoudt about his stage name, and he surprisingly turned introspective.
"It was a joke," he said, "taken from Notorious B.I.G., the rapper.
"But at one of my early competitions, I heard the announcer say 'Here's Notorious B.O.B!' And I thought, 'I've got to change that. I'm not Notorious Bob. I'm more Humble Bob.'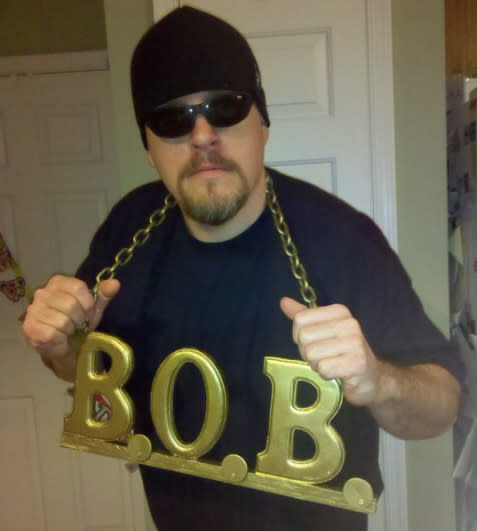 "Then one of my fans made me a huge necklace with B.O.B. on it. And I knew with that kind of bling, there was no way I could use a different name."
Fan selfies with Shoudt wearing the necklace have become a sought-after goal of many of his followers named Bob. He happily agrees to pose.
"For me," Shoudt reflected, "this is really just a way of supplementing my income." Stoudt is an IT professional at SEI Investments.
"The prize money goes to my kids' tuition, their books, stuff like that. It's all about supporting my family."
Wing Bowl fans who want a convenient method of attending the 2016 competition can avoid the hassles (and parking fees) of taking a hotel room downtown. Instead, check into one of the accommodations listed on our website, set an early wake-up call and commute via mass transit, leaving the stress to the spectators who choose to drive to South Philadelphia.