Happy Thanksgiving, Montgomery County! The time to reflect and give thanks for all the wonderful blessings in our lives is here. What better way to do so than by spending time with your loved ones at one of the many wonderful events coming to Montgomery County this week. Check them out below!
Special Events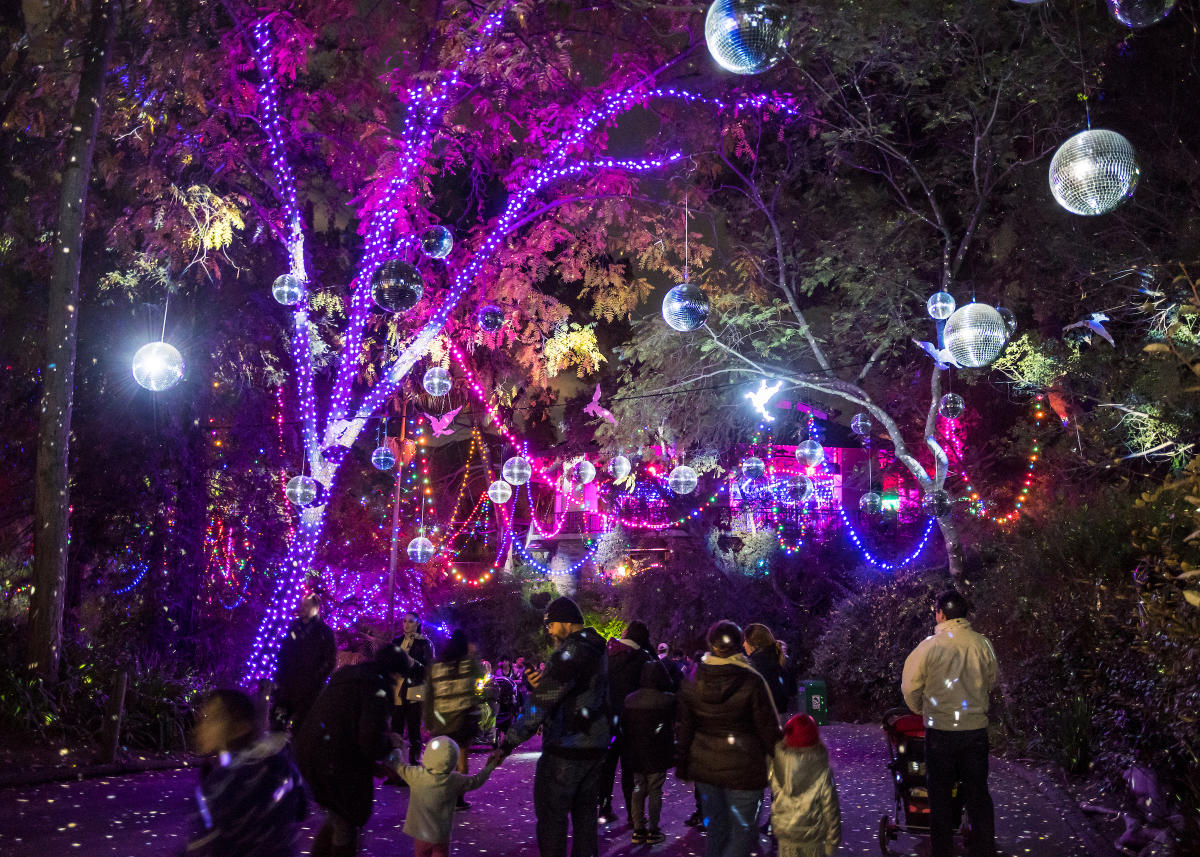 WILD LIGHTS
November 22 - January 5
Elmwood Park Zoo
Celebrate the holiday season with the return of Wild Lights to Elmwood Park Zoo! We're flipping the switch on millions of lights that will shine throughout the zoo.
You're in for a treat this holiday season as Wild Lights transforms Elmwood Park Zoo into a bright and stunning winter wonderland! Millions of lights will illuminate all of our 16 acres. You'll be dazzled by animated installations, interactive elements, and themed attractions. Follow the lighted path to visit Disco Ball Way and Candy Cane Lane, and be sure to stop by Santa's Workshop for photos with the big man himself. And don't forget, Santa's live reindeer will be returning to the zoo for photo ops as well!
Take a stroll through Snowflake Central and be dazzled by Rainbow Runway. Catch our giant video show in the giraffe yard, and marvel at the custom decorations in the Wonder Way Christmas Tree exhibit. And of course, be sure to visit Santa's Workshop for photos with the big man himself.
ILLUMINAIRE NIGHTS
November 23 - December 21​
Skippack Village
Don't miss this annual tradition in Skippack Village! Participating shops are open until 9pm for evening shopping on Wednesdays and Fridays. Starting November 23rd through December 21st
Montco Makers

Beer, Wine & Spirits Events 
Adventure Montco
Energizing Events 
'TWAS THE NIGHT BEFORE CHRISTMAS TRAIN
December 17
Colebrookdale Railroad
These special evening trains bring the storybook magic of the season to life Join us in your pajamas and sip complimentary hot cocoa as we read 'Twas the Night Before Christmas. Enjoy Christmas music and the comfort of our Edwardian-era cars, look for lights as the Secret Valley rolls past your window. Rumor has it Santa himself may appear with a gift for every child. Opt to have your photo taken with Santa and we'll print it out for you on-board! Merry Christmas! Approx. two-hour round trip.
Friday and Saturday evenings during December First Class Parlor passengers enjoy Holiday Music at our Grand Piano!
Parlor Car Tastings: all tastings include an hors-d'oeuvres plate.
SANTA'S POLAR BEAR EXPRESS
December 18
Colebrookdale Railroad 
Join Santa on a magical adventure into Christmas past on one of the most beautiful train journeys in the United States. Sip complimentary hot cocoa or enjoy Christmas cookies and, on some trains, sing favorite carols as the Secret Valley passes by your window. Santa brings a gift for every child, and every child has an opportunity to give their Christmas letter to him (we even provide the crayons!) The Victorian charm of our heated coaches makes Christmas memories to last a lifetime. Opt to have your photo taken with Santa and we'll print it out for you on-board!
"BURN OFF THE BIRD" FULL MOON HIKE
November 23
Norristown Farm Park
Now is your chance to burn off some of those Thanksgiving feast calories. Join a park ranger on a full moon hike that will be between two and three miles. Find out why the November full moon is sometimes called the "frosty moon."  Pre-registration is required; meet in parking lot #3.
Ages: adults & children 8 & up; free.
WATERFOWL WATCH
November 24
​Green Lane Park
Join us for a closer look at ducks, geese, swans and more at one of eastern Pennsylvania's best birding hotspots - Green Lane Park. Southbound waterfowl will be at or near peak numbers at this time, so come take in the sights and sounds. Participants in past years have seen Greater Whitefronted Geese, Northern Shovelers, Canvasbacks and much more. Meet at Tennis Court parking lot (2298 Green Lane Road, Green Lane, PA 18054). We will travel by car to two other hotspots in the park. Pre-registration required.
Ages 9 & up; free.
Patriot Trails
History Events 
BOB DRURY: "VALLEY FORGE" BOOK SIGNING
November 23
The Encampment Store at Valley Forge National Historical Park
"The #1 New York Times bestselling authors of The Heart of Everything That Is return with one of the most inspiring—and underappreciated—chapters in American history: the story of the Continental Army's six-month transformation in Valley Forge." -Simon & Schuster
Bob Drury, author of Valley Forge, will be signing books with 30-minute presentations at 12 & 1 p.m. at The Encampment Store at Valley Forge.
JEFF FINEGAN: "I KNEW GEORGE WASHINGTON" BOOK SIGNING
November 24
The Encampment Store at Valley Forge National Historical Park
Jeff Finegan, author of the I Knew George Washington children's book series, will sign books from 11 a.m. until 2 p.m. on Saturday, November 24 at The Encampment Store at Valley Forge.
A collector of George Washington manuscripts as well as other important early American documents, Jeff has gained a reputation as a noted speaker on the topic of the nation's first president through his three books on the topic; Colonel Washington and Me, 'Tis Well . . . The Life and Death of George Washington, and My Dear General – The Extraordinary Relationship between George Washington and the Marquis de Lafayette. The creator of the "I knew George Washington" Series, he is a member of the Washington Association of New Jersey, the American Friends of Lafayette, and is an honorary member of the Association of the United States Army.
CHRISTMAS IN THE COLONIES
November 25
Graeme Park
Join us for a candlelit holiday tour of the historic Keith House at Graeme Park. Carolers, The Tapestry Dancers and various costumed interpreters will be on hand to give you a taste of an 18th century Christmas. Refreshments, including beer tastings with Round Guys Brewery and hot mulled cider and wine with Hatboro Beverages will be offered. 
Arts Montco
Special Events 
PIFF THE MAGIC DRAGON
November 24
Valley Forge Casino Resort
The Venue | TWO SHOWS: 7pm and 10pm
The stand out star of NBC's America's Got Talent and Penn & Teller: Fool Us
Think Larry David in a dragon suit performing jaw-dropping magic tricks and you're on the right track.
With over 100 million online views, sold out shows across the US and Canada and a residency at the Flamingo Hotel and Casino on the Las Vegas strip now extended throughout 2018, Piff the Magic Dragon has proved he's here to stay.
Joined by Mr Piffles, The World's Only Magic Performing Chihuahua™, the dynamic duo have performed all over the world in iconic venues such as Radio City Music Hall, Shakespeare's Globe, the O2, London and Sydney Opera house. He was the opening act for Mumford & Sons on their 17 date UK tour and graces the cover of their Grammy award winning album "Babel".
STUDIO OPEN HOUSE
November 23 - November 25
Bradford Woodworking​
For over 20 years, Brad Smith and Royce Yoder have brought together a variety of artists and craftspeople for a fun filled weekend of art and craft. Held each year over Thanksgiving weekend, the Studio Open House has become a tradition among families and friends alike. This year Brad and Royce have invited Rachel Isaac and Thomas Mann to join them at the open house.
Arts Montco
Live Performances 
THE COLOR PURPLE
November 8 - December 23
Theatre Horizon
LAST WEEK
"I'll write you every day. Nothin' but death will keep me from it!" So goes the promise Celie's sister vows as the young sisters are stripped from one another's lives in this intensely moving chronicle of a Southern family in the twentieth century. With a Grammy Award-winning score of jazz, ragtime, gospel, and blues, The Color Purple stays true to Alice Walker's Pulitzer Prize-winning novel, following resilient Celie on her life's journey over half a century—through joy and despair, anguish and thrilling hope—to discover her destiny and the power of love. Helmed by local director and Broadway performer Amina Robinson, this uplifting production will stay with you long after its exuberant finish.
COMEDY CLUB PRESENTS: CHRIS COCCIA
November 23
Valley Forge Casino Resort
The Vault | 8pm (Doors open at 7pm)
Chris Coccia's act is a perfect combination of hilarious material and the ability to present it "in the moment".  Flowing seamlessly between material and improvised interaction with the crowd, Chris is able to open the audience up as he pulls them into a shared recognition of our own human-ness.
Chris keeps a full schedule working everything from the country's top comedy clubs to corporate events to colleges.  In addition, Chris Coccia won the 2008 Purina Pet Comedy Challenge, a national event with a $10,000.00 prize. He was also invited to be part of the Great American Comedy Festival in Johnny Carson's hometown, Norfolk, NE put together by the talent coordinator of the Late Show with David Letterman, Eddie Brill.  He has appeared on Comedy Central, The Game Show Network, and XM Radio. Chris is also a frequent and favorite guest on several Philadelphia based radio shows.  
COMEDY CLUB PRESENTS: YANNIS PAPPAS
November 23
Valley Forge Casino Resort
MAUREEN LANGAN is one of the smartest, most fearlessly funny comics working today. Her exceptional wit and honest rants on life's absurdities make her a comedy standout at clubs, theaters, and festivals across the U.S, Canada, and Europe. She was named one of the "Ten Standout Stand-ups Worth Watching" by Backstage Magazine.
Whether Maureen is lambasting celebrities, satirizing news, or joking about her father, a garbageman, and her mother, a blessed Irish immigrant, she will make you laugh. And she will make you think.