The summer season is fast approaching and what better way to celebrate its long-awaited arrival with a brand new batch of can't miss events? Check out some of our favorites below!
Special Events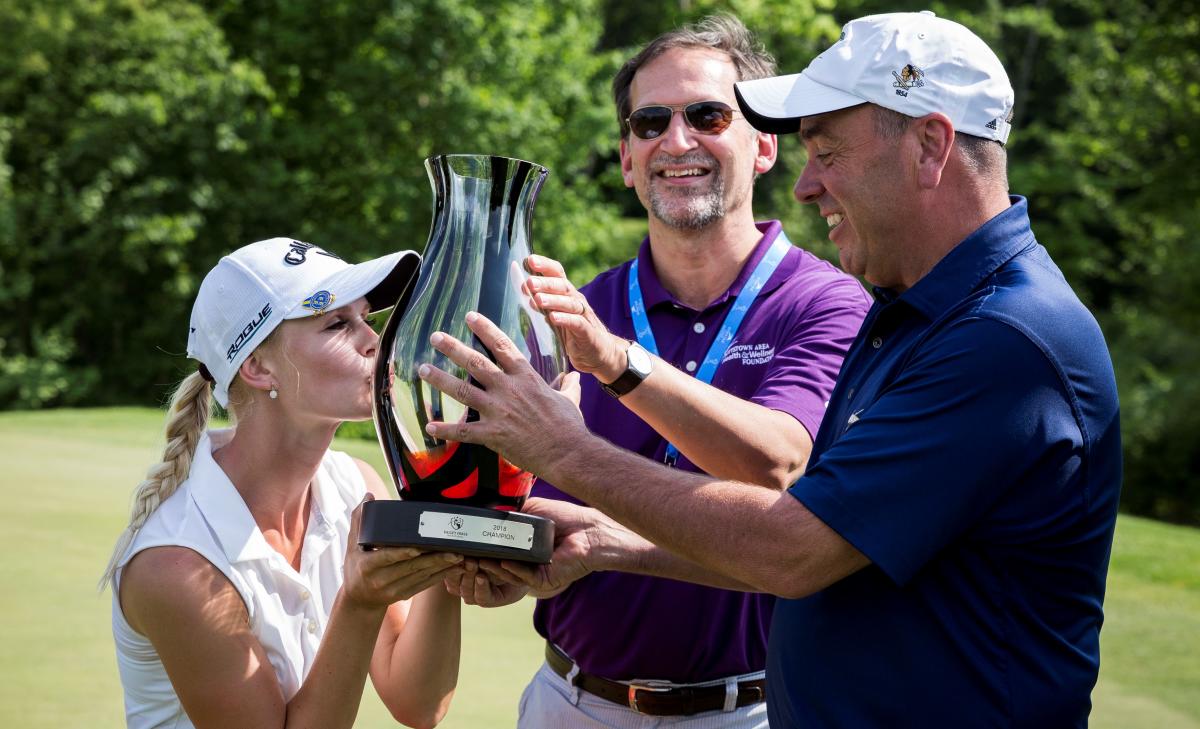 VALLEY FORGE INVITATIONAL - LPGA SYMETRA TOUR
May 31 - June 2
​Raven's Claw Golf Club
THE LPGA SYMETRA TOUR IS COMING BACK TO POTTSTOWN!
PUBLIC PLAY OCCURRING FRIDAY 5.31 - SUNDAY 6.2

RAVEN'S CLAW GOLF CLUB
3159 WEST RIDGE PIKE
POTTSTOWN, PA. 19464
CONSHOHOCKEN ARTS FESTIVAL AND CAR SHOW
June 1
Fayette Street and E. 5th Avenue
Original paintings, prints, drawings, photographs, and homemade crafts for sale. Unique cars, trucks, and motorcycles or display. Artisinal food vendors. Live local music. Family fun. 
Rain Date: June 8
All proceeds benefit: Conshohocken Art League and Destination Conshohocken 
ST. SOPHIA GRECIAN FESTIVAL
June 1 - 2
St. Sophia Church, Saints Faith, Hope & Agape
May 29 - June 2, 2019: Wednesday-Saturday 11am-9pm, Sunday 12 Noon-8pm
Celebrate Greek heritage and culture at the family-friendly St. Sophia Grecian Festival. Enjoy mouthwatering Greek food, traditional pastries, lively music and fantastic dancing done in our traditional costumes called Evzones and Amalias.
Don't forget to tour our beautifully painted Byzantine-style Church. Browse our shops and experience the traditional Greek Agora (Marketplace) for religious books and icons, t-shirts and imported items from Greece.
Our rides and amusements are open Wednesday-Friday 6pm-close, Saturday 3pm-close, Sunday 1pm-5pm. The Family Ride Special – Pay one Price, Ride All the Rides is Wednesday and Sunday.
Montco Makers
Beer, Wine & Spirits Events
Adventure Montco
Energizing Events 
PADDLE PENN'S LANDING
May 3 - September 29
Independence Seaport Museum
Paddle your way around the Penn's Landing basin in a kayak, rowboat, swan, or dragon for the perfect outdoor recreational activity.  Located near Spruce Street Harbor Park and the Hilton Penn's Landing, Paddle Penn's Landing is a unique afternoon adventure with family and friends or a memorable date with your sweetheart on the Delaware River in Philadelphia.
Patriot Trails
Historic Events 
EXTENDED HISTORIC SHIPS HOURS
May 23 - September 8
Independence Seaport Museum
Unable to visit our two National Historic Landmark ships, Cruiser Olympia and Submarine Becuna, during the day?  That's okay!  This summer you can visit both ships with our Extended Summer Hours on Thursdays-Sundays until 7 p.m. (last boarding is 6:15 p.m.).
ALUMNI REUNION (FINAL YEAR)
June 1
Eastern State Penitentiary Historic Site
Some of Eastern State's alumni – former officers and prisoners – return to the cellblocks one last time to share their memories with the public during a Q&A session.
It has been nearly fifty years since Eastern State closed its doors and ceased operations as an active prison. Decades have passed since this chapter in the penitentiary's story came to an end. For the last twenty years, at our annual Alumni Reunion, we have had the opportunity to learn from some of the people who lived and worked here until 1971.
Now, the continued passing of time means the end of another chapter. This year, we host our final Alumni Reunion. While the event is coming to an end, the legacy of our alumni lives on at Eastern State. Their stories are present throughout the penitentiary and heard every day by visitors from around the world.
Please join us as we host our final formal Q&A with Eastern State alumni. The Alumni Reunion is included with admission. Tickets are available online or at the door, subject to availability.
HEX SIGNS: SACRED & CELESTIAL SYMBOLISM IN PENNSYLVANIA DUTCH BARN STARS
March 1 - November 3
Bryn Athyn Historic District
 
Explores themes of sacred and celestial imagery in the traditional arts of the Pennsylvania Dutch, with special emphasis on the decorated barns of Southeastern Pennsylvania. This exhibition, which features actual examples of barn stars, decorated objects, and related images, is guest curated  by Patrick Donmoyer, director of the Pennsylvania German Cultural Heritage Center at Kutztown University. Donmoyer is the author of Hex Signs: Myth and Meaning in Pennsylvania Dutch Barn Stars (2013). The Heritage Center and Glencairn Museum will collaborate on a full exhibition catalog for the Glencairn exhibition. 
Arts Montco
Special Events
ROOTS PICNIC 2019
June 1
​The Mann Center for the Performing Arts
Celebrating its twelfth-year anniversary, the Roots Picnic expands to a larger location in the coveted Fairmount Park area in Philadelphia Saturday, June 1st. Using the Mann Center as its hub, the new festival grounds will include 3 stages of music, gaming, art, and dialogue.

The Roots will headline and celebrate the 20th anniversary of their seminal album Things Fall Apart. The day includes performances from artists such as H.E.R., 21 Savage, Tank & The Bangas, Lil Baby, and many more as well as a bevy of one-of-a-kind moments exclusive to Roots Picnic, including Black Thought's "Live Mixtape" featuring Yasiin Bey and a first of its kind Jam Session curated by Raphael Saadiq and Questlove, titled Soulquarian vs Raphael Saadiq, as well as a live podcast experience including episodes of The Joe Budden Podcast, The Read Podcast and Questlove Supreme.

The festival continues to align with music and culture and remains known for careful curation that unites music's hottest acts, influencers, tastemakers, and thought leaders for one unforgettable day—and this year proudly continues that tradition.

Tickets, including general admission & VIP packages, will be available Friday, March 15th at 12PM via Ticketmaster.com, (800) 982-2787, or the Mann Box Office.
SUMMER SOIREE AT THE MUSEUM
June 1
Glencairn Museum
We have put together a series of parking lot events for the community this year. Our first one kicks off the summer just right!

Join us on June 1st from 10 AM until 4 PM for an afternoon of fun! There will be plenty to do for everyone. With Food, Beer, Crafts, Games, and Live Music from Rebecca Zimmerman, Gabriele Guma, NIIC the Singing Dog, Laura K., and Bitchfork Unplugged!

Mark your calendars and get ready for a kick-ass summer with us!
APOCALYPTICA
May 29
​Keswick Theatre
Since they formed in 1993, Finnish orchestral rock band Apocalyptica has released eight studio albums featuring numerous cello-based instrumentals along with some vocal-based songs. Whatever styles they've explored - from atmospheric interludes to fast, battering rhythms - their music has been gripping, dynamic and full of melody.

On May 10, 1996 Finnish Rockers, APOCALYPTICA, released their epic debut PLAYS METALLICA BY FOUR CELLOS.  The instrumental cello-driven rock opus changed the landscape of heavy music for years to come. To celebrate the 20th Anniversary of the album, the group re-released and remastered the album in 2016 and added 3 bonus tracks.

Added to this new version are brand new / never-before-released instrumental recordings of "Battery," "Nothing Else Matters" and "Seek & Destroy." The album is available on vinyl (2 LP set) for the first time in many years.  

Upon its release, PLAYS METALLICA BY FOUR CELLOS was a new approach to the hits of the biggest metal band the world has seen. Even more APOCALYPTICA created their very own genre and laid the foundation to a career that has lasted for over 20 years so far with millions of records sold and sold out shows around the world. 
Arts Montco
On the Stage