Cirque Du Soleil has officially arrived and Montco is ready to experience the magic of Amaluna! Join in the fun at the Greater Philadelphia Expo Center at Oaks, now through August 24th.  
Special Events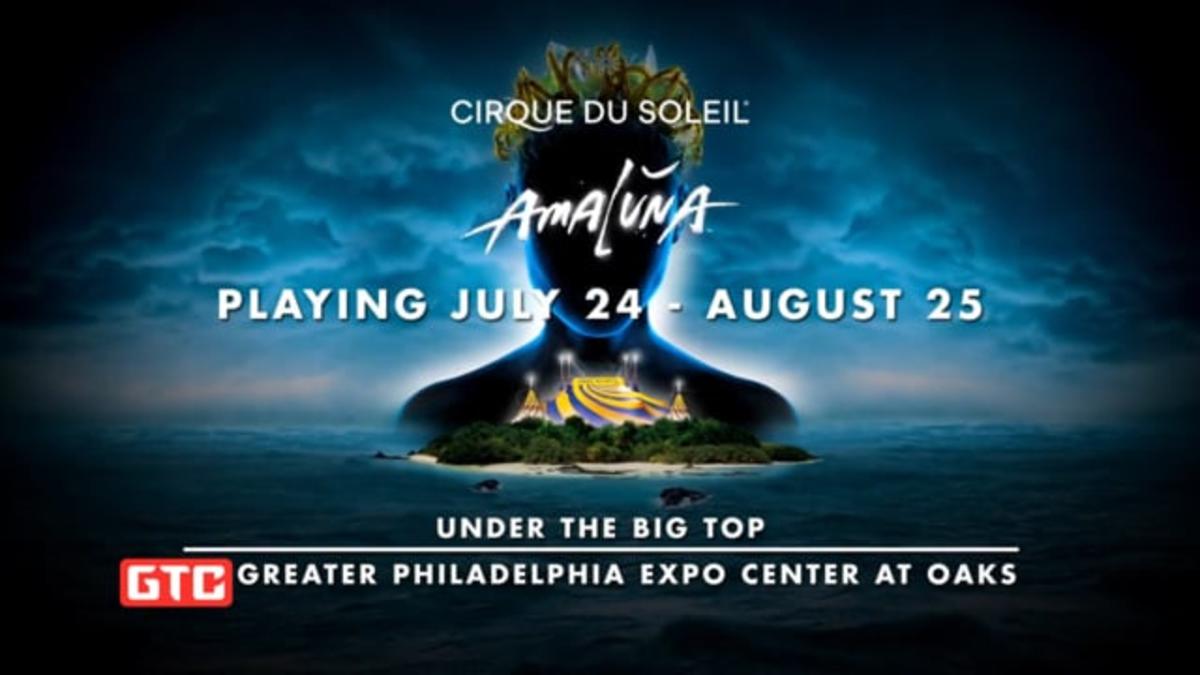 CIRQUE DU SOLEIL: AMALUNA
Premiers July 24
Greater Philadelphia Expo Center at Oaks
Cirque Du Soleil is almost ready to bring it's long-running hit show, Amaluna, to Montco starting July 24th! The big top tent will officially be raised this Friday, July 12th. 

See the hit show AMALUNA this summer under the Big Top on the grounds of the Greater Philadelphia Expo Center at Oaks. 
XPoential Music Festival 2019
July 26 - 28
BB&T Pavillion
The XPoNential Music Festival presented by Subaru features three stages, 30+ performers, and an eclectic line-up of established and up-and-coming artists heard on WXPN 88.5FM, the award-winning Philadelphia public radio station. We're proud to celebrate over 25 years of bringing the XPN community and true music fans together for a 3-day, family-friendly experience along the riverfront.
Check out our Arts Montco stage featuring tons of amazing artists!
Montco Makers
Beer, Wine & Spirits Events
ARDMORE RESTAURANT WEEK
July 15 - 28
Ardmore, PA
ARDMORE RESTAURANT WEEK RETURNS JULY 15-28, 2019 AT MORE THAN 20 RESTAURANTS NOW FEATURING SPECIAL PRICED LUNCH AND DINNER MENUS

* New Surprises for 2019 include Kick-Off Bastille Day Block Party and Six New Participants * 

Ardmore, PA - Ardmore Restaurant Week, the popular two-week celebration of Downtown Ardmore's exciting and diverse dining scene, returns July 15 through July 28, 2019. Diners can experience a variety of cuisines from the Main Line's top chefs as they enjoy two-course lunch menus for $10 and $15, and three-course dinner menus for $15, $25 and $35. Six restaurants will make their Restaurant Week debut this year, including Ardmore, Buena Vista Mexican, Green Papaya Asian Bistro, Nam Phuong Bistro, Not Your Average Joe's and SongSan Korean BBQ. They will be joined by Ardmore's most buzzed-about restaurants that include The Bercy, Bam Bam Seoul Kitchen, Delice et Chocolate, Ripplewood Whiskey & Craft, Tired Hands, Marokko, and many others. On top of new restaurant participants and new lunch service, Ardmore Restaurant Week will kick-off a day early with a new outdoor festival. Ardmore's Bastille Day Block Party will debut on Sunday, July 14, 2019, on Station Avenue, in between The Bercy and Delice au Chocolat. Look for a French wine garden, can dancers, live entertainment, music, food, pastries, family fun, games and much more.  View restaurant offerings, detailed menus, and make reservations at www.ArdmoreRestaurantWeek.comOpens a New Window... For more about Ardmore's Bastille Day Block Party, visit The Bercy on Facebook and stay tuned for the full website in early July. 
NATIONAL TEQUILA DAY
July 24
​El Sarape

Models featuring Caladores Tequila & free tasting and a tequila cart will be around with shots at 80% off.
SUNNYFEST
July 27
SunnyBrook Ballroom
Join us for our Third Annual SunnyFest!
SunnyFest is a family friendly outdoor music festival featuring refreshing brews, delicious SunnyBrook food, local vendors and fun & games the whole family can enjoy!  
TWILIGHT ON THE RIVER
September 11
Bridgeport, Pa
Something for everyone! Make it a family night out! Open-air market in a lovely setting along the Schuylkill River in Bridgeport, PA. Open May through September. Second and Fourth Wednesdays. 4:30-8:00 pm. A mix of local vendors, food, music, and games.
ADMIRAL'S TAVERN
May 10 - September 28
Independence Seaport Museum
Kick back on summer nights with stunning views of the Ben Franklin Bridge and a cold drink in hand, all while aboard the oldest steel warship afloat in the world.  The Admiral's Tavern beer garden (21+) is popping up again on Cruiser Olympia at Independence Seaport Museum every Friday and Saturday from 6:30 - 10:30 p.m.  
Gather your crew for drinks, snacks, fun, and games on the most historic ship in Philadelphia.  Food will be available for purchase.
Cover charge: $8 per person, includes on drink ticket. 
Adventure Montco
Energizing Events
Patriot Trails
Historic Events
HEX SIGNS: SACRED & CELESTIAL SYMBOLISM IN PENNSYLVANIA DUTCH BARN STARS
March 1 - November 3
Bryn Athyn Historic District
 
Explores themes of sacred and celestial imagery in the traditional arts of the Pennsylvania Dutch, with special emphasis on the decorated barns of Southeastern Pennsylvania. This exhibition, which features actual examples of barn stars, decorated objects, and related images, is guest curated  by Patrick Donmoyer, director of the Pennsylvania German Cultural Heritage Center at Kutztown University. Donmoyer is the author of Hex Signs: Myth and Meaning in Pennsylvania Dutch Barn Stars (2013). The Heritage Center and Glencairn Museum will collaborate on a full exhibition catalog for the Glencairn exhibition. 
TRAIL TUESDAYS
Recurring weekly on Tuesday
​Valley Forge National Historical Park
Join us for Trail Tuesdays, weekly walks in the park!
Walk. Talk. Get Healthy. Be Happy. 
Open to all fitness levels. Dogs and strollers welcome on Tuesdays from 10 to 11 a.m. Walk Starts at Valley Forge Park Alliance Table by the Canteen in the Lower Parking Lot.  In case of inclement weather, the walk will be canceled. 
Questions? Contact Molly Duffy at molly@vfparkalliance.org or 484.886.5853
Arts Montco
Special Events
Arts Montco
On the Stage
KALAMAZOO
​July 10 - August 4
Act II Playhouse, Ltd.
 
LAST CHANCE: You're never too old to be young at heart. When Peg and Irv try online dating, they discover love isn't any easier the second time around. A riotous romantic comedy about life's second act. Starring Carla Belver (Driving Miss Daisy, The Glass Menagerie).
COMEDY CLUB PRESENTS: DOUBLE HEADLINER KATINA AND KENDRA
July 26
​Valley Forge Casino Resort
Soul Joel Presents A Special Double Headliner Show with Katina Corrao and Kendra Cunningham Less Bitter, More Glitter!!!
T.J. MILLER
July 27
​Valley Forge Casino Resort
Valley Forge Casino Resort presents T.J. Miller as he brings his Touring in Perpetuity Tour to King of Prussia for two shows on Saturday, July 27. While performing his absurdist observational standup for over 15 years, Miller has also starred as the voices of your favorite animated characters in films Big Hero 6, How to Train Your Dragon, Hell and Back, and Ice Age: A Mammoth Christmas.
He is first and foremost, and always will be, a comedian and as he says, his standup is "Smooth Like Fire, Hip Like Lincoln." Don't miss your chance to see T.J. Miller, one night only, Saturday, July 27.