Montgomery County is packed with awesome events and things to do week after week. With so much to do and only so much time to do it all, why not book your stay now? Montco offers visitors indoor adventures, like Legoland Discovery Center in Plymouth Meeting, for those snowy winter days. Check out some of our most exciting new events, happening this week only in Montco!
Special Events
AN EVENING OF STAND UP COMEDY SETH MEYERS
February 22
​Keswick Theatre
Seth Meyers is an Emmy Award-winning writer and current host of "Late Night with Seth Meyers."

Meyers hosted the 66th Primetime Emmy Awards in 2014 and was Emmy nominated in 2017 and 2018 for Outstanding Writing for a Variety Series. In 2018 he hosted the 75th Golden Globe Awards, which was Emmy nominated for Outstanding Variety Special. In addition, Meyers was named one of the 2014 TIME 100, Time magazine's 100 most influential people.
Meyers began his TV career with "Saturday Night Live" in 2001, where he was a cast member for 13 seasons. Meyers served as head writer for nine seasons and "Weekend Update" anchor for eight. In 2011, Meyers won the Emmy for Outstanding Original Music and Lyrics for host Justin Timberlake's musical monologue. In all, Meyers has garnered 20 Emmy nominations for his work in television.
ARTZ PHILADELPHIA AT WOODMERE
February 22
​Woodmere Art Museum
Special programs for visitors with dementia and their care partners, friends, and family.
FREE, PRE-REGISTRATION REQUIRED
ARTZ Philadelphia and Woodmere Art Museum offer informal, interactive programs for visitors living with dementia. The programs are facilitated by ARTZ Philadelphia director Dr. Susan Shifrin, an art historian, independent curator and art accessibility advocate. Learn more about ARTZ Philadelphia at htttps://artzphilly.org.
Pre-registration for ARTZ programs is required to ensure an intimate, comfortable experience that is enjoyable for all. Programs are limited to six to eight visitors plus their care partners. Contact Dr. Shifrin at Shifrin@artzphilly.orOpens a New Window.g or 610-721-1606 to learn more about ARTZ Philadelphia or to pre-register for the program. Registrations are accepted on a first-come, first-serve basis.
Montco Makers
Beer, Wine & Spirits Events
THE BERCY WINE CLUB - ROADS OF RHONE
February 21​
​The Bercy
The Bercy is proud to introduce a series of wine classes. During each class, our sommelier, Steven Gullo will present a flight of six wines chosen around a specific theme. Each flight will be paired with small plates crafted by our Chefs and culinary team.
During this tasting, Steven will pour a variety of wines from the Rhône Valley of France. For centuries, vineyards along the Rhône River have produced some of the world's finest yet powerful reds and aromatic white wines. Guests will learn all about the history and culture of this region while Steven pours a variety of wines from across both the Northern and Southern Rhône. Famous reds such as Châteauneuf-du-Pape, Saint-Joseph, rosé from Tavel, and whites from Viognier and Roussanne will all be sampled. Each glass will be poured with pairings from our Chef and culinary team.
FIRESTONE WALKER BEER DINNER
February 21
The Lucky Dog Gastropub
On Thursday February 21st at 7:00 PM we have an incredible beer pairing dinner with Firestone Walker.  For $50 guests can enjoy an amazing four-course dinner paired with four of Firestone Walkers greatest beers. 
Tickets are selling fast so come in to reserve your spot or call us at (610) 941-4652.  
NATIONAL MARGARITA DAY
February 22
Black Powder Tavern
Stop by the historic Black Powder Tavern this Friday and celebrate National Margarita Day. Choose from a multitude of flavors and enjoy full size house margaritas, or even try a flight! $9 for full size & $12 for a flight. 
Adventure Montco
Energizing Events 
BIRDING PRESENTATION
February 21​
Garden Spot Village
Dan Hinnebusch, an ornithologist with Wild Birds Unlimited in Lancaster, will present on Thursday, February 21 at 1 p.m. in the Chapel. Mr. Hinnebusch has many years of experience as a professional wildlife biologist and environmental scientist, including four years with Hawk Mountain Sanctuary in Kempton, Pa.
This event is part of a month-long Bird House Display and Silent Auction. Through Thursday, February 28 the Indoor Park in the Village Square at Garden Spot Village will be filled with colorful birdhouses and bird-themed crafts and quilted items. This annual event includes a silent auction to benefit the Garden Spot Village Benevolent Fund.
SUNDAY FAMILY/PUBLIC SKATING
February 22 - March 30
Philadelphia Skating Club & Humane Society
Get the family together for Sunday afternoon skating!  We offer family/public skating on Sundays in February and March (excluding March 3rd) from 1:00 to 3:00 pm.  Admission is $10 per person (regardless of age) and $5 per skate rental.  Come join us!
EMBARK MONTCO
Time to get the tails wagging in Valley Forge and Montgomery County, PA. Home to 30+ pet friendly hotels, a plethora of dog friendly seating restaurants and 14 designated dog parks, there's something for everyone in Montco. Give your best friend the getaway s/he deserves.
Patriot Trails
Historic Events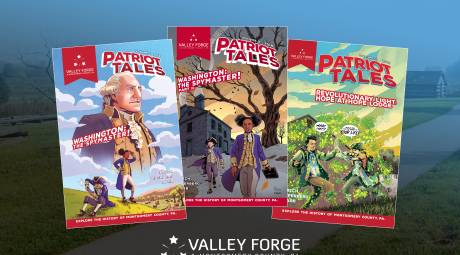 PATRIOT TRAILS
Take a journey back to 1777 with Patriot Trails, our history brand dedicated to exploring the sights and sounds of the Revolutionary War.

Follow in George Washington's footsteps from Valley Forge National Historic Park to the history and heritage woven throughout the towns of Montgomery County and feel the stories come to life around you as you tour through the historical homes and parks.
Arts Montco
Special Events
JON CLEARY
February 21
Ardmore Music Hall
Beyond Cleary's considerable skills as a tunesmith he is equally renowned around the globe as an accomplished keyboardist and guitarist, and a deeply soulful vocalist. Cleary's thirty-five years of intensive hands-on work on the Crescent City scene has made him a respected peer of such New Orleans R&B icons as Dr. John and Allen Toussaint.
KARL DENSON'S TINY UNIVERSE (2 NIGHTS)
February 22​
​Ardmore Music Hall
Highly regarded as one of the best live acts on the planet, Karl Denson's Tiny Universe brings elements of vintage rock, old school soul and classic funk to the Ardmore Music Hall. He will be performing two nights on February 22 and 23. 
FAMILY CIRCUS MAGIC AND ARTMAKING
February 24
Woodmere Art Museum
Celebrate Woodmere's fun Family Circus exhibition with art making fun and magic:
12:00-1:00 pm: Art Making
1:15 pm: Ran'D Shine, magician
Arts Montco
On the Stage
Montco Weddings
THE BIG KING OF PRUSSIA BRIDAL SHOWCASE!
April 7
The Bridal Event by Bouche Productions
Ticket Includes:
Our Signature Gift Bag for each bride
A chance to Meet and Mingle with the best local wedding experts
Indulge in fabulous food, wedding cakes, & bubbly
Collect brilliant planning advice- with a live appearance from "The Wedding Coaches"!
Score front row access to the hottest designer fashions
A fun time for your friends, your mom, and fiancé!
And, our personal favorites… the awesome prizes! Truly the best!