Its time to open up your calendars and call up your closest friends to make sure you get out to the newest round of awesome events. Concerts, world-class dining, and opportunities for adventure all await you, right here in Montco! Make it a weekend to stay up and stay over!
Special Events
WHO'S BAD: THE WORLD'S #1 MICHAEL JACKSON TRIBUTE BAND
February 15
Keswick Theatre
 
Who's Bad's live performance is an unrivaled celebration of pop music's one true King. Their power-packed performance of Michael Jackson's expansive catalog has ignited crowds on every continent and can only be described as a jaw-dropping, musical must-see. As the longest-running Michael Jackson tribute band, and the only one to predate his untimely passing.
SACRED ADORNMENTS - EGYPTIAN JEWELRY EXHIBIT AND WORKSHOP
February 16
Bryn Athyn Historic District
 
Glencairn Museum - a Custom tour featuring rarely seen ancient Egyptian jewelry from our vault, followed by a make-your-own beading workshop focusing on the symbolism of beads throughout history, with an emphasis on symbols that come from nature. There will be a bead marketplace for the purchase of special beads, in addition to the beads provided as part of the workshop.
Montco Makers
Beer, Wine & Spirits Events
HEARTS & HOPS
February 15
Bryn Athyn Historic District
Taste the finest local micro-beers paired with savory & sweet small plates; a great event to enjoy with your sweetheart!
Featuring craft beers by YARDS Brewing Co., Neshaminy Creek Brewing, and Crooked Eye Brewery
Refreshments sponsored by Sage Catering included
Indoor "lawn games" and activities
Live music by guitarist and vocalist, Anders Hyatt
Self-guided tours of the 2nd and 3rd floors included from 7 pm to 9 pm
SWEETHEART'S WEEKEND
February 13 - February 16
NaBrasa Brazilian Steakhouse
 
Join us during our Sweetheart's Weekend on February 13th, 14th, 15th and 16th and indulge in 15 different cuts of meat and fish, our gourmet salad bar and award-winning wine list with complimentary champagne and chocolate covered strawberries for only $49.95*! Reservations recommended. Seatings from 4-10pm.
VALENTINE'S WEEKEND
February 13 - February 16
Iron Abbey Gastro Pub

Get Hopped Up on Love with Rare IPAs on draft and our delicious featured Valentine's Menu!
Adventure Montco
Energizing Events
"THE ECOLOGY AND MANAGEMENT OF THE EASTERN BLUEBIRD"
February 15
​Garden Spot Village
Dr. Dean Rust, president of the Bluebird Society of Pennsylvania, will present "The Ecology and Management of the Eastern Bluebird" on Friday, February 15 at 2 p.m. in the Chapel. Dr. Rust is an active member of the North American Bluebird Society. He maintains bluebird trails in Lancaster, York and Chester Counties and was awarded the BSP's "Blue Feather Award" in 2012. Dr. Rust is also the author of "The Beloved and Charismatic Bluebird."
This event is part of a month-long Bird House Display and Silent Auction. Through Thursday, February 28 the Indoor Park in the Village Square at Garden Spot Village will be filled with colorful birdhouses and bird-themed crafts and quilted items. This annual event includes a silent auction to benefit the Garden Spot Village Benevolent Fund.
JACK HANNA
February 17
Keswick Theatre
Jungle Jack Hanna explores the corners of the globe as one of the most respected animal ambassadors. His enthusiasm and "hands-on" approach to wildlife conservation has won him widespread acclaim as a conservationist, television personality, author and Director Emeritus of the Columbus Zoo and the Wilds.
Recognized as America's favorite zookeeper, Jack has made countless television appearances on shows such as Good Morning America, CBS's The Talk, and The Late Show with David Letterman.
Jack took his infectious energy to the airwaves by creating three nationally televised programs.  Jack Hanna's Animal Adventures ran for 10 years and is still currently in syndication. Most recently, the Columbus Zoo and Nationwide Insurance have partnered to sponsor the Emmy Award winning Jack Hanna's Into the Wild and a new show on ABC, Jack Hanna's Wild Countdown.
Patriot Trails
Historic Events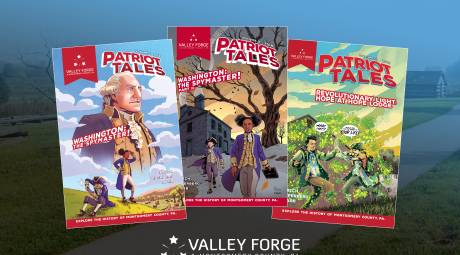 PATRIOT TRAILS
Take a journey back to 1777 with Patriot Trails, our history brand dedicated to exploring the sights and sounds of the Revolutionary War.

Follow in George Washington's footsteps from Valley Forge National Historic Park to the history and heritage woven throughout the towns of Montgomery County and feel the stories come to life around you as you tour through the historical homes and parks.
Arts Montco
Special Events
AN INTIMATE EVENING WITH JEFFREY GAINES
February 15
Steel City Coffee House

Jeffrey Gaines has been heralded for his soul-searching lyrics and his powerful live performances. With only his voice and a guitar for accompaniment, Jeffrey Gaines has earned a reputation as a captivating performer, entertaining audiences everywhere he goes.
NEAL MORSE BAND
February 16
​Keswick Theatre
As a young musician, Neal's dream was like many others—to find success in the pop music world. But after years of struggling in the Los Angeles singer-songwriter scene, he realized that this dream would not materialize. Rejecting conventional wisdom, Morse took a courageous step: He about-faced and devoted himself to progressive rock, the music truly in his heart. The obscure and fiercely competitive genre held little chance of commercial success.

Undaunted, he formed the quirkily-named Spock's Beard with his brother, Alan. They recorded The Light with what money they could scrape together. Against all odds, it was a breakout success, sending shockwaves through the small genre's community.
Arts Montco
On the Stage
ETC THEATER COMPANY'S VALENTINES SHOW: LOVE STINKS
February 14
Steel City Coffee House
An ETC Valentine, "Love Stinks", a la SNL with sketch comedy, music, and song parodies. Join us for an evening of lovingly ridiculous entertainment! Bring a dear friend, enjoy dinner and a great show, and laugh 'til it hurts!
COMEDY CLUB PRESENTS: MOODY MCCARTHY AND REGINA DECICCO
February 15
​Valley Forge Casino
Moody McCarthy's TV Credits include: TV Credits: Conan (TBS); Late Show with David Letterman (CBS, 2012 & 2014); Jimmy Kimmel Live (ABC); America's Got Talent (NBC); Last Comic Standing IV (NBC); Star Search 2003 (CBS); Gotham Comedy Live (AXStv); The Early Show (CBS); The Bob & Tom Show (WGN); MSG Network; Style Network; Comcast Comedy Spotlight; CTV (Canada)
THE KITCHEN WITCHES
February 1 - February 16
DCP Theatre
Dolly's cooking show has aired for the final time. She and her son (and producer), Stephen, are discouraged to have their careers end so soon. However, during the last show, Dolly's culinary nemesis, Isobel, makes an unexpected appearance which turns things around. While Dolly and Isobel cook, whipped cream flies as shocking facts about their pasts are revealed. Each woman thinks she is the better cook. Be a part of the audience that gets to decide. The Kitchen Witches is part of phillytheatreweek, a region-wide celebration of theatre hosted by @TheatrePhilly. Learn more at PhillyTheatreWeek.com
Tickets are $18 for adults, $16 for seniors, students, and children under 12. They are available at the door, online at www.dcptheatre.com or by calling (215) 234-0966. Groups of 10 or more may contact the box office by emailing boxoffice@dcptheatre.com for a reduced rate.
NUNSENSE
February 1 - February 17
Steel River Playhouse
Steel River Playhouse is excited to continue with its 10th Anniversary season by presenting the entertaining, musical comedy Nunsense, written by Dan Goggin and Directed by Drew Boardman. This show is a fantastically funny spoof about the misadventures of a group of nuns trying to manage a fundraiser. Sadly, the rest of the sisterhood died from botulism after eating vichyssoise prepared by Sister Julia Child of God. As a result, they put on a variety show to raise the desperately needed funds to bury their dearly departed. The performance takes place in the school gym where eighth-grade students are getting ready to perform Grease. An entertaining show with a wonderful cast will undoubtedly make for a fun evening.
Montco Weddings
"I DO!" PHILLY BRIDAL SHOW AND WEDDING EXPO
February 17
​The Event Center at Sugarhouse Casino
Ticket Includes:
Our Signature Gift Bag for each bride
A chance to Meet and Mingle with the best local wedding experts
Indulge in fabulous food, wedding cakes, & bubbly
Collect brilliant planning advice- with a live appearance from "The Wedding Coaches"!
Score front row access to the hottest designer fashions
A fun time for your friends, your mom, and fiancé!