Merry Christmas, Montgomery County! The most wonderful time of the year brings with it a new batch of wonderful events. Celebrate the season at these new events, right here in Montco!
Special Events 
HOLIDAY GARDEN RAILWAY NIGHTS
December 14 - December 22
Morris Arboretum of the University of Pennsylvania
In 2018, there will be seven Holiday Garden Railway Nights on Fridays and Saturdays, December 1, 7, 8, 14, 15, 21, and 22. Visitors may enjoy the Garden Railway all lit up in the dark of night from 4:30 to 7:30pm by separate timed tickets, available for purchase on the Morris Arboretum website or via Ticket Leap at http://bit.ly/HGR2018. To warm up your walk, hot cocoa and coffee will be available at the Compton Café, along with various tasty snacks to purchase
MORRIS ARBORETUM'S HOLIDAY GARDEN RAILWAY
December 17 - December 31
Morris Arboretum of the University of Pennsylvania
The Holiday Garden Railway Display, which will run daily from 10am-4pm through December 31 (closed Christmas Eve and day, and New Year's day), is one of the Arboretum's most beloved holiday traditions for many families. Photograph this precious time with your family as the Holiday Garden Railway makes the perfect backdrop for holiday cards and Social Media posts!
POP-UP MUSEUM: SPORTS AND LEISURE
December 22 - January 6
Eastern State Penitentiary Historic Site
LAST WEEK: The archives of Eastern State Penitentiary are packed with historic treasures that the public rarely sees. Thousands of photographs, stacks of prisoner-written magazines, and even shanks (homemade weapons) are numbered and tucked carefully into museum-grade storage in the site's administrative offices. Historic site visitors often see photographs of these treasures, but the building's lack of museum-quality climate control makes it impossible to exhibit the artifacts year-round.
Montco Makers
Beer, Wine & Spirits Events
Adventure Montco
Energizing Events 
WINTER SOLSTICE
December 19​
​Norristown Farm Park
Soon we will experience the shortest day of the year. Learn about the winter solstice and some of the traditions of other cultures surrounding this special time of the year. Some people celebrate a twelve-day holiday called the Yule. Many modern traditions, such as the Christmas tree, the Christmas wreath, and the Yule log were derived from winter solstice customs. The celebration of the day was interpreted as a reawakening of nature. Children will hear a seasonal story and make a winter solstice craft. Pre-registration is required; meet in the Salt Wing.
All ages; $5 craft fee for children only.
MORNING BIRD WALK
December 18
Norristown Farm Park
Come to the final bird walk of the year at Norristown Farm Park. A new monthly series will start in January.On the December walk you can expect to see winter resident species such as woodpeckers, seed-eating songbirds, and raptors.Join park staff in the Salt Wing (adjacent to the park office) after the walk for hot beverages and light refreshments.The bird walk starts in parking lot #3. Bring binoculars if you have them. Pre-registration is required.
All ages; free
SANTA'S POLAR BEAR EXPRESS
December 18
Colebrookdale Railroad 
Join Santa on a magical adventure into Christmas past on one of the most beautiful train journeys in the United States. Sip complimentary hot cocoa or enjoy Christmas cookies and, on some trains, sing favorite carols as the Secret Valley passes by your window. Santa brings a gift for every child, and every child has an opportunity to give their Christmas letter to him (we even provide the crayons!) The Victorian charm of our heated coaches makes Christmas memories to last a lifetime. Opt to have your photo taken with Santa and we'll print it out for you on-board!
FULL MOON HIKE
December 22
Norristown Farm Park
Enjoy an opportunity to be in the park past sunset. Take a hike by the light of the silvery moon. Find out why October's full moon is sometimes called the "hunter's moon." A park ranger will lead this evening adventure. Proper footwear is recommended. The hike will be about two miles. Preregistration is required; meet in parking lot #5.
Patriot Trails
History Events
TWELFTH NIGHT TOURS
December 17 - January 6
Pottsgrove Manor
Bring the whole family to learn about the little known holiday of Twelfth Night during Pottsgrove Manor's holiday tours.
LAST WEEK: Pottsgrove Manor is transformed for the yuletide season to reveal the traditions of an 18th century Twelfth Night party. Twelfth Night was usually a lively celebration held on the day of Epiphany which marked the end of the Christmastide season. Guided tours of the manor feature all aspects of the festivities, from the intense preparations to the differences between the ways the Potts and their household staff experienced the celebration.
Arts Montco
Special Events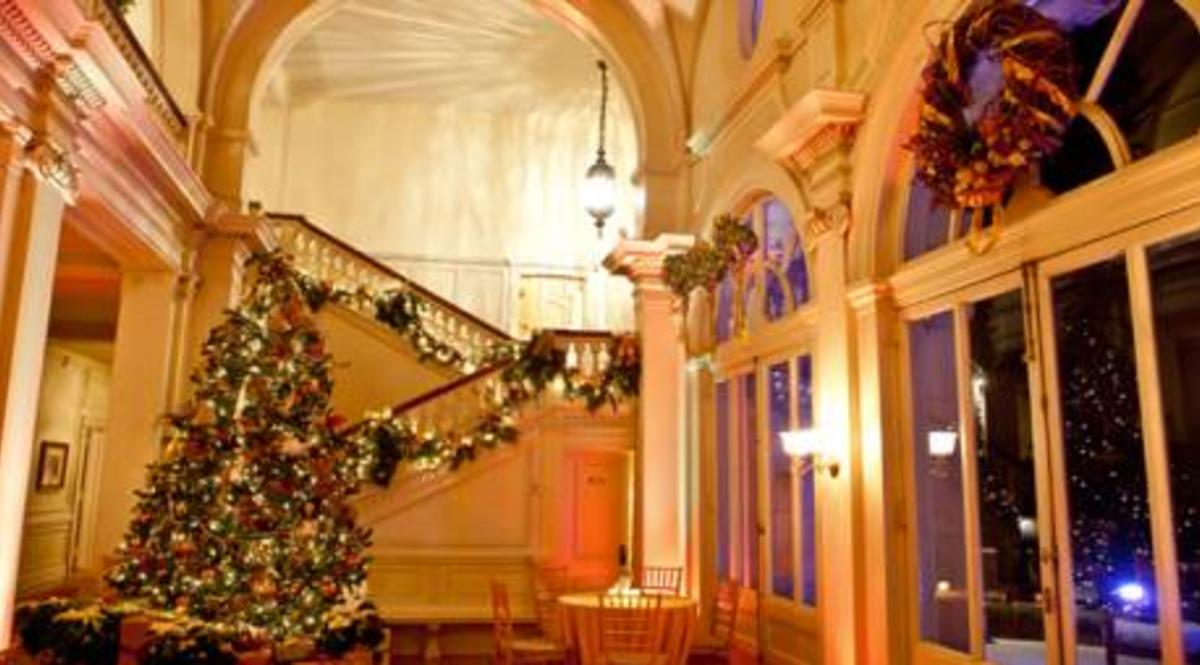 CHRISTMAS TOURS IN THE BRYN ATHYN DISTRICT
December 1 - January 6
Bryn Athyn Historic District
Tour Cathedrals and Castles all decorated for Christmas! 
Cairnwood Estate: Guided Christmas tours at 10:00 & 11:00 am Tuesday - Sunday; availability subject to change due to private events. Self-guided tours offered on select afternoons. Call 215-947-2004x31 for current information. 
Glencairn Museum: Guided "Christmas in the Castle" tour weekdays at 1:00 & 2:30 pm and weekends at 1:00, 1:30 & 2:30 pm. The World Nativities exhibition is self-guided and open daily 12:00 - 4:30 pm. Access is included with tour admission. 
Bryn Athyn Cathedral: Guided tours daily 1:00 - 4:00 PM. Availability subject to change due to private services. 
Arts Montco
Live Performances
ROSIE THE REINDEER AND THE CASE OF THE STOLEN SNOW GLOBE
December 9 - December 28
Act II Playhouse, Ltd.
A new mystery in Toyland ... and a new detective takes the case. Two actors play all the roles in this hilarious quick-change mystery for the family. Kids will help Rosie solve the mystery and save Christmas in our latest comedy for kids!
THIS WONDERFUL LIFE
December 4 - December 30
Act II Playhouse, Ltd.
You may have seen It's a Wonderful Life on the small screen... or even on the big screen. But you've never seen it like it's being presented at Act II Playhouse. In this slightly title-shifted version, all the roles are performed by actor Tony Braithwaite. Hee-haw, it's going to be fun to watch him tackle the entire town of Bedford Falls.
THE COLOR PURPLE
November 8 - December 23
Theatre Horizon
LAST WEEK
"I'll write you every day. Nothin' but death will keep me from it!" So goes the promise Celie's sister vows as the young sisters are stripped from one another's lives in this intensely moving chronicle of a Southern family in the twentieth century. With a Grammy Award-winning score of jazz, ragtime, gospel, and blues, The Color Purple stays true to Alice Walker's Pulitzer Prize-winning novel, following resilient Celie on her life's journey over half a century—through joy and despair, anguish and thrilling hope—to discover her destiny and the power of love. Helmed by local director and Broadway performer Amina Robinson, this uplifting production will stay with you long after its exuberant finish.