Goodbye April showers, hello May Flowers. As we transition into a brand new month and move closer to summer day by day, why not spend as much time as possible basking in the Montco sunshine? Check out our newest list of awesome events that'll have you wanting to stay out and stay over, all month long!
Special Events
NARBERTH DAY
May 4
​Narberth Park
Calling all who want to celebrate and save our dear Earth! The 30th annual NarbEarth Day will be held on Saturday May 4th, from noon to 4 p.m. Come connect with the EPA, Clean Air Council, and Citizens Climate Lobby, as well as local groups such as GMO Free PA, Providence Animal Center, and Roughwood Seed Collection.
Presented by the Narberth Civic Association, the event will be held outdoors in Narberth Park, right next to the Narberth Community Library. Walk over or ride your bike. A free bike valet will be provided! The rain date is Sunday, May 5th.
KENTUCKY DERBY RUN
May 4
Colebrookdale Railroad
The Colebrookdale Railroad has teamed up again with the Pottstown Carousel for the Kentucky Derby! 
An evening to remember with riding the rails to the carousel.  Sure to be a great time playing games, participating in contests, taking a spin on the carousel, having a great meal, delicious drinks and then coming back to Boyertown on the train!  Train departs Boyertown at 4pm for the festivities and then returns to Boyertown at approximately 9pm, leaving Pottstown at 8pm.
Montco Makers
Beer, Wine & Spirits Events
Adventure Montco
Energizing Events
 
PADDLE PENN'S LANDING
May 3 - September 29
Independence Seaport Museum
Paddle your way around the Penn's Landing basin in a kayak, rowboat, swan, or dragon for the perfect outdoor recreational activity.  Located near Spruce Street Harbor Park and the Hilton Penn's Landing, Paddle Penn's Landing is a unique afternoon adventure with family and friends or a memorable date with your sweetheart on the Delaware River in Philadelphia.
Patriot Trails
Historic Events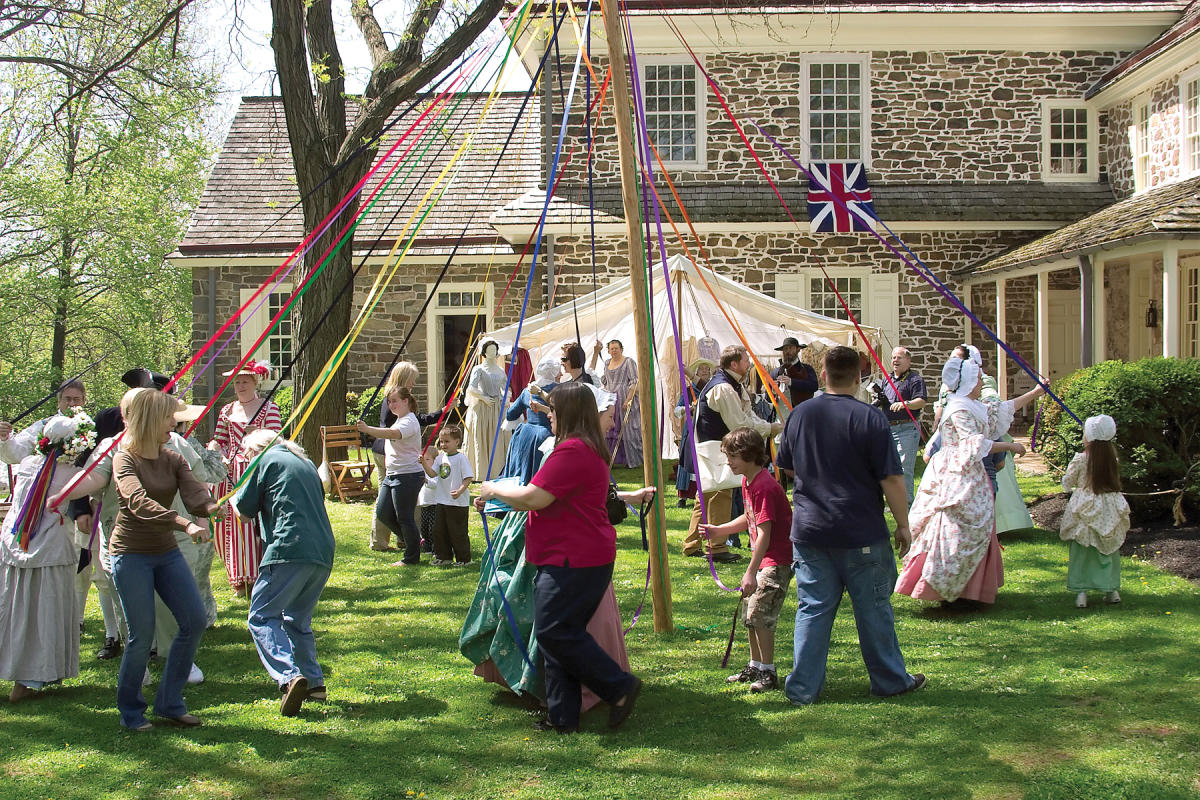 ANNUAL COLONIAL MAYFAIR
May 4
​Pottsgrove Manor
Dance, play, and be a part of colonial history at Pottsgrove Manor's Annual Colonial Mayfair, on Saturday, May 4th, from 11:00am to 5:00pm.
Start your spring season with the historic delights of Mayfair. Grab a ribbon and skip around the Maypole with the Amity Colonial Dancers and then take a lesson in 18th century dances. Discover the trades of the colonial life, from shoe making to tailoring, blacksmithing and woodworking. Kids can get into the spirit of the fair with make-and-take crafts and races around the Maypole. Gather the entire family and prepare to be amazed at the magic of Levram the Great. Sing and laugh with Tucker's Tales Puppet Shows. Hear the wonders about Dr. Balthasar's Magic Medicine and ponder if it can cure all your ails. Find the Ratcatcher roaming the grounds and stroll through the rows of vendors at the fair to discover local and handmade crafts and foods. Join the famous Dr. Benjamin Franklin in one of his historic science experiments. Indulge in a taste of history at the Tasting Tent, with beverage samples from Pottstown United Brewing Company, historic ciders from Pommel Cyder, sodas from Reading Soda Works, and historic hot chocolate, tea, and coffee. IDs will be check for samples of beer and cider. Snack on baked goods from The Georgian Kitchen or enjoy lunch options thanks to Boy Scouts Troop 7155 with baked goods from Troop 99. Entertainment shows, demonstrations, manor tours, and more are ongoing throughout the day, so be sure to listen for the Town Crier's bell so you do not miss a moment of Mayfair!
RECEPTION FOR THE 2019 SEASON
May 2
Eastern State Penitentiary Historic Site
Eastern State Penitentiary hosts a changing series of exhibits and artist installations as part of its ongoing programming. Join us as we celebrate our 2019 season with an after-hours reception, free and open to the public! You'll have the chance to preview three new artist installations and meet the artists themselves. Light refreshments will be served.
New artist installations include #BlackGirlhood by Dehanza Rogers; Airplanes by Benjamin Wills; and A Climber's Guide to Eastern State Penitentiary or, Eastern State's Architecture and How to Escape It by Alexander Rosenberg.
Arts Montco
Special Events
SON VOLT
May 1
​Ardmore Music Hall
Son Volt is an americana rock outfit founded by Jay Farrar (of Uncle Tupelo) in 1994.
VALERIE JUNE
May 3
​Ardmore Music Hall
Valerie June Hockett, known as Valerie June, is an American singer, songwriter, and multi-instrumentalist from Memphis, Tennessee, United States. Her sound encompasses a mixture of folk, blues, gospel, soul, country, Appalachian and bluegrass
LARRY CAMPBELL AND TERESA WILLIAMS
May 5
Ardmore Music Hall
Larry Campbell is a lauded multi-instrumentalist that has played with Levon Helm, Phil Lesh, and many other players. Teresa Williams is a singer-guitarist who has also played in Levon Helm's band.
Arts Montco
On The Stage