The 14th Annual Revolutionary Run at Valley Forge National Park is back again and ready to break more running records! Join in the fun at this incredible event and all of the amazing experiences happening this week only in Montgomery County! 
Special Events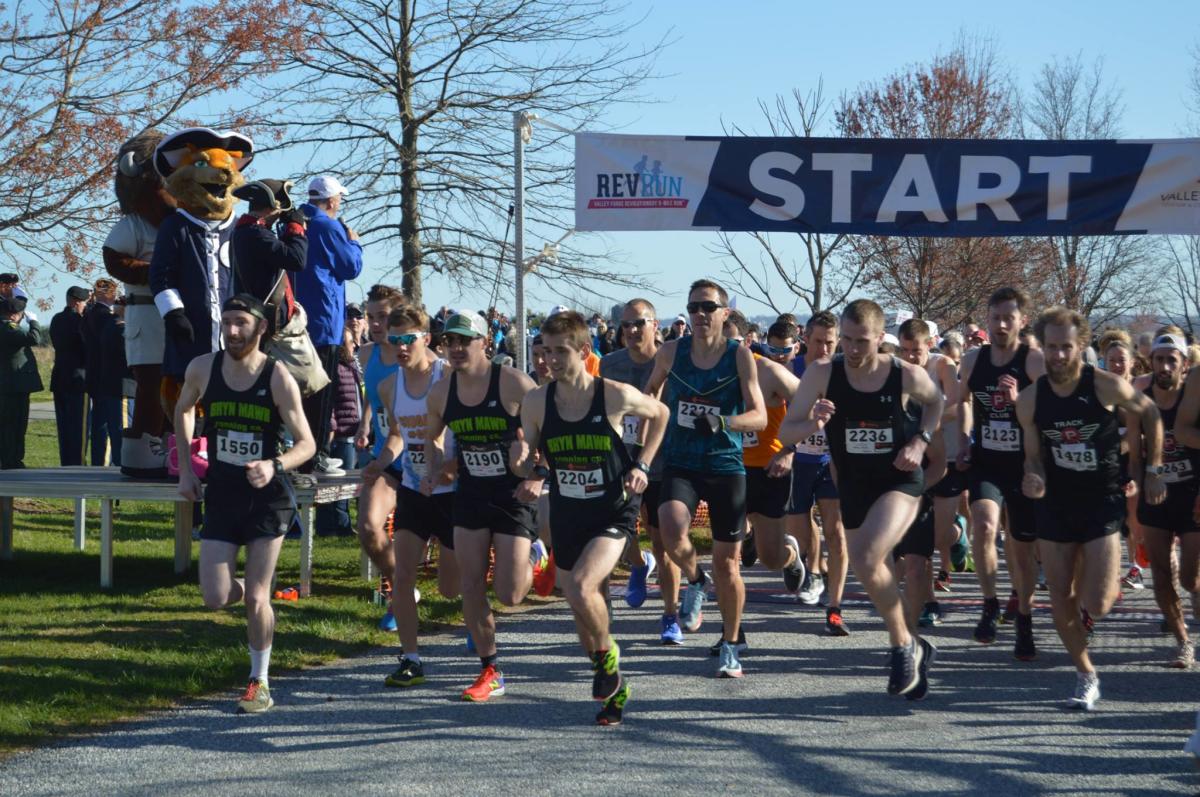 VALLEY FORGE REVOLUTIONARY 5-MILE RUN®
April 28
Valley Forge National Historical Park
To all the fitness fans who braved icy streets and slushy sidewalks to continue their daily runs throughout January and February, take heart: The trails at Valley Forge National Historical Park are guaranteed to be clear on April 28, the date of the 14th annual Valley Forge Revolutionary 5-Mile Run®. The USATF-certified course takes athletes through some of the most historic acreage in the area. The day is fully family friendly, too, with a Young Patriot's Fun Run of about a mile and a three-mile walk for those who prefer an easier pace. Rise to the challenge and register now to Conquer the Valley!
28TH ANNUAL INTERNATIONAL SPRING FESTIVAL
April 27
North Penn High School
28th Annual International Spring Festival to bring over 30 cultures from around the globe
The 28th Annual International Spring Festival will celebrate multi-cultural diversity through the visual, culinary, and performing arts of more than 30 countries and will also feature a Family Health and Wellness Fair. The ISF is one of the largest multicultural festivals in the mid-Atlantic region attracting thousands of people each year. The festival will be held on April 27, 2019, at North Penn High School, 1340 S. Valley Forge Road, Lansdale, PA 19446, from 11:00 a.m. to 5:00 p.m. Admission and parking are free! At 11:30am, a grand parade will kick off the festivities and at noon the main stage will feature appearances by U.S. Congressman Brian Fitzpatrick, U.S. Congresswoman Madeline Dean, Montgomery County Commissioners Val Arkoosh, Ken Lawrence, and Joe Gale; Montgomery County District Attorney Kevin Steele, Bucks County District Attorney Matthew Weintraub, Sheriff Sean P. Kilkenny, State Senators Bob Mensch and Maria Collett, State Representatives Steve Malagari, Todd Stephens, Marcy Toepel, Matt Bradford, Joe Webster, and Liz Hanbidge, Recorder of Deeds Jeanne Sorg, and other elected local and state officials; members of Law Enforcement, Community, Business, and Educational Leaders, who all come together to celebrate the rich culture of the region.
There will be dynamic and exciting multi-cultural entertainment on seven different stages throughout the day. Some of the highlights include Voloshky Ukrainian Dancers, Guang Hua Chinese School, Fitzpatrick School of Irish Dance, International Ballet, Red Hill Jazz Band, Latin Jazz Trio, West Philadelphia Orchestra playing Balkanese Music, Superheroes Unite, ArCoNet Youth and Chamber Orchestra, Phyllis Chapell (International singer fluent in 11 different languages), and the Harmony Theater performing an act from the play 101 Dalmatians. North Penn School District will also be holding a Black History Oratorical Contest and the Planetarium will be showing Constellations of the North Sky.
6TH ANNUAL DOWNTOWN GLENSIDE ARTS FESTIVAL
April 27
Easton Road & Glenside Avenue 
All are welcome to downtown Glenside to celebrate Earth Day!
Walk down Easton Road and stop by 75 Fine Art and Craft vendorswhile enjoying live entertainment including Arcadia's own Scarlet Steppers!  Eat at a local restaurant or the many food trucks and shop at the stores that make Glenside a "Classic Town."
SACRED ARTS FESTIVAL
April 28
​Bryn Athyn Historic District
Experience religious art in the making: witness demonstrators using metal, glass, sand, ink and movement to create beautiful expressions of faith. Hear live music, take our cell phone audio tour, see the temporary exhibition, Hex Signs: Sacred and Celestial Symbolism in Pennsylvania Dutch Barn Stars, enjoy self-guided time in the galleries, and rejuvenate at the Castle Cafe.
Montco Makers
Beer, Wine & Spirits Events
Adventure Montco
Energizing Events
SECRET VALLEY EXPEDITION
September 12 - 29
Colebrookdale Railroad Preservation Trust
Board one of our meticulously restored century-old rail cars for a two-hour expedition into one of the most scenic and historic regions in the northeast. Once the province of pioneers and patriots, the Colebrookdale is your ticket to a verdant land lost in time.
SUPER HERO TRAINING
April 27
​Colebrookdale Railroad Preservation Trust
Bam, crunch, pow, wham, smash, kapow!  Join the fun on board the Colebrookdale Superhero Training! Treat your special young one to a ride on the rails with their superheroes. Training will be conducted by Lasso Woman, Bat Hero, and Spider Hero! Join us when Superheros ride the Colebrookdale Railroad! The train's short ride will transport you to our Colebrookdale Superhero Training Site. Your little superhero will love the interactive story time on our open car, having his/her picture taken with the Superheros, superhero training at our training site, and a few surprises.
Be sure to wear superhero attire and bring your camera for the many photo ops! Snacks fit for heroes provided.
BE A SCIENTIST: BE A MAKER!
April 27
​Independence Seaport Museum
Science and art collide in this hands-on, interactive program!  Join Joy O. Ude, STEAM Educator, as she navigates you through the Museum's MakerSpace featuring demonstrations on a 3D printer and laser cutter.  Guests will also have the opportunity to explore the science of symmetry through Spirographs.
Part of the Philadelphia Science Festival.  
Patriot Trails 
Historic Events
MAKING MARATHON: A HISTORY OF WYNCOTE
April 25
Historical Society of Montgomery County
Join the Historical Society of Montgomery County for their next presentation in the Making History Greater Series when Thomas Wieckowski presents Making Marathon: A History of Early Wyncote.   
Facetiously called "Marathon" by a famous author and resident, Wyncote arose in the second half of the nineteenth century as wealthy industrialists and capitalists made it the first Gilded Age suburb. This lecture follows the development of the land from William Penn's green countryside, through Gilded Age resort, to the village for "the rest of us." Nationally known bee-keepers, international bankers, entrepreneurial congressmen and dabblers in the novel sport of professional baseball made the community we know as Wyncote today. They flocked to the new village for the clean air, lush landscapes, and picturesque rolling countryside that promised "calm contentment and restful influences of country homes".
BATTLE OF MANILA BAY COMMERATION
April 27
Independence Seaport Museum
Step on board with the Olympia Living History Crew as they explore the history of the American Navy and highlight society at the height of the Victorian age.  Visitors will experience what life was like aboard the vessel in 1898 through demonstrations of meal preparations, ship-to-ship signaling, artillery drills, and more.
Signal gun demonstrations will take place at 11 a.m. and 3 p.m.
HEX SIGNS: SACRED & CELESTIAL SYMBOLISM IN PENNSYLVANIA DUTCH BARN STARS
March 1 - November 3
Bryn Athyn Historic District
 
Explores themes of sacred and celestial imagery in the traditional arts of the Pennsylvania Dutch, with special emphasis on the decorated barns of Southeastern Pennsylvania. This exhibition, which features actual examples of barn stars, decorated objects, and related images, is guest curated  by Patrick Donmoyer, director of the Pennsylvania German Cultural Heritage Center at Kutztown University. Donmoyer is the author of Hex Signs: Myth and Meaning in Pennsylvania Dutch Barn Stars (2013). The Heritage Center and Glencairn Museum will collaborate on a full exhibition catalog for the Glencairn exhibition. 
Arts Montco
Special Events
BARNYARD TO BEAUX ARTS
April 26
Cairnwood Estate
The team at Cairnwood is partnering up with local non-profit, Friends of the Bryn Athyn Farm in an effort to preserve our beloved National Historic Landmark and to raise funds for educational farm initiatives within the Bryn Athyn community. Proceeds from this event will benefit the educational mission of Friends of the Bryn Athyn Farm and support Cairnwood's operations, public programs, restoration efforts, and improvements to the grounds.
This fundraiser will feature farm-to-table stations, live entertainment, silent auction, and surprises!
ARTZ PHILADELPHIA AT WOODMERE
April 26
Woodmere Art Museum
Special programs for visitors with dementia and their care partners, friends, and family.
FREE, PRE-REGISTRATION REQUIRED
ARTZ Philadelphia and Woodmere Art Museum offer informal, interactive programs for visitors living with dementia. The programs are facilitated by ARTZ Philadelphia director Dr. Susan Shifrin, an art historian, independent curator and art accessibility advocate. Learn more about ARTZ Philadelphia at htttps://artzphilly.org.
Pre-registration for ARTZ programs is required to ensure an intimate, comfortable experience that is enjoyable for all. Programs are limited to six to eight visitors plus their care partners. Contact Dr. Shifrin at Shifrin@artzphilly.orOpens a New Window.g or 610-721-1606 to learn more about ARTZ Philadelphia or to pre-register for the program. Registrations are accepted on a first-come, first-serve basis.
TIBETAN BUDDHIST SAND MANDALA
April 24 - April 27
Bryn Athyn Historic District
Witness the step-by-step creation of a traditional Sand Mandala, an ancient art form of Tibetan Buddhism. Mandalas are drawings in the sand of the world in its divine form; they represent a map by which the ordinary human mind is transformed into an enlightened mind. Watch as the Venerable Losang Samten (the first Buddhist given permission by the Dalai Lama to make Mandalas in the West) completes and then ritualistically dismantles a Mandala during our Sacred Arts Festival.
For more information about Losang Samten visit losangsamten.comOpens a New Window..
WE ARE ALL HOMELESS
March 9 - April 27
Saint Miriam Parish and Friary
Saint Miriam will be the next home for the WE ARE ALL HOMELESS project. The exhibit will feature a cross-section of the works from Willie Baronet on two levels of the parish. We will also tie into this exhibit our Lenten experience for 2019. We will sink more deeply into how we live a life of service and care for the marginalized and the lost and the lonely. We will try to deepen our own will, too, as we seek the homeless, the food insecure, and the forgotten. From the opening of the exhibit on March 9th to its closing celebration on April 27th, we will become homeless.
The WE ARE ALL HOMELESS project began in 1993 due to the awkwardness its founder, Artist, and professor, Willie Baronet, felt when he pulled up to an intersection and encountered a person holding a sign, asking for help. Willie has since purchased more than 1,300 homeless signs over the past 24 years, and he uses this collection to create installations to raise awareness about homelessness. Like many of us, he wrestled with whether or not he was doing good by giving them money or to simply ignore them or avoid their steely gaze. Mostly he admitted the internal struggle with his moral obligation, and how his own choices contributed in conscious or unconscious ways to poverty. Willie struggled with the unfairness of the lives people are born into, the physical, mental, and psychological handicaps. In his struggle, he avoided eye contact with those on the street, unwilling to really see them, and in doing so – like most of us – avoided seeing parts of himself. That changed once he began asking these people if they would sell their signs! Willie's relationship to the homeless has been powerfully and permanently altered and now, so has the world.
SEAN MURPHY NEW PAINTINGS
April 25 - May 11
Exhibit B Gallery
Our featured artist for April is Sean Murphy. See new and recent paintings in pastels and watercolors. Opening reception 4/19/19 5-9 with lite refreshments served. Sean has an incredible story of health, strength, renewal, and the pursuit of his art. Solo show hosted by Exhibit B Gallery in a restored 1901 cigar factory. Shows runs thru 5/11/19. www.exhibitBgallery.comOpens a New Window. for more info and hours. Souderton's 3rd Friday event is also right outside our doors.
Arts Montco
On the Stage
COMEDY CLUB PRESENTS: AUNT MARY PAT AND FRIENDS RETURNS
April 26
​Valley Forge Casino Resort
The Vault | 10pm (Doors open at 7pm)
Aunt Mary Pat and Friends Aunt to all, mom to some and wife to one! I love the Iggles, Wawa, and my coke & my smokes! DELCO!
COMEDY NIGHT HOSTED BY BUDDY HARRIS
April 25
The Underground
Pat House, Cassandra Dee and Eric Roth hosted by Buddy Harris!
DRAG BINGO: SAY SOMETHING HAT DAY!
April 27
​The Underground
Join Fanci and her girls for another fabulous Drag Bingo with 10 rounds of bingo and over $600 in adult toys up for grabs!!! Gear up for the Kentucky Derby and wear your best hat for your chance to win our Hat contest!