Chase away the last of these cold-weather blues with a fun-filled week in Montco. From live theater and concerts to car shows, comic fests and cherry blossoms, these 20 #MakeItMontco events are sure to bring the springtime.
MONTCO COMIC FEST
April 6
Montgomery County - Norristown Public Library
The Third Annual Montco Comic Fest will be taking place on Saturday, April 7 from 10 a.m. to 3 p.m. Guests will be local comics creators and other artists, along with cosplayers and gamers. There will also be feature panels on comics-related topics, artistic workshops and plenty of fun activities for children.
Gaming
This year's Gaming Room is once again sponsored by Phoenixville's Gamer's Heaven. We have an array of consoles to play for gamers of all ages, from Playstation 4s to the new Nintendo Switch. At noon, we'll be starting our Super Smash Bros Ultimate tournament! Battle your friends in one-on-one competition for the chance to win some new Amiibos!
Panels & Workshops
Title: Tips On Drawing Comics Characters
Time: 11:00am – 11:50am
Location: Magazine Room
Presented By: Keville Bowen
It's that time again for MontCo Comic Fest and with that another round of our Comic book contest. Come hone your skills with help from Keville Bowen. His 'Tips on Drawing Characters' workshop is focused on various face styles, simple body structure and position poses.
Title: Anime For The Whole Family
Time: 12:00pm – 12:50pm
Location: Children's Learning Center
Presented By: Nathaniel Hoover
Game designer and anime aficionado Nate Hoover walks old otaku and new fans alike through the world of family-friendly anime!
Title: Getting Started
Time: 1:00pm – 1:50pm
Location: Magazine Room
Presented By: TBA
This panel focuses on how to get your start in a creative industry. Hear from artists, writers, crafters and more! The last half of this panel will be devoted to audience questions.
Title: Art Showdown
Time: 2:00pm – 2:50pm
Location: Magazine Room
Presented By: TBA
The wild improv drawing game returns! Local artists will battle head-to-head in round robin art competition based on random audience suggestions.
MID-ATLANTIC INDOOR NATIONALS CAR, TRUCK & BIKE SHOW
April 6 - 7
​Greater Philadelphia Expo Center
If you are an automotive enthusiast, you'll want to clear your schedule for an extended weekend of nearly 300 high-end custom cars, bikes, trucks, and vendors at this incredible show. We hope you will be joining us, as a vehicle exhibitor, vendor, sponsor or spectator. If you are an automotive enthusiast you will want to clear your schedule for an extended weekend of automotive history, culture, and fun at the Greater Philadelphia Expo Center in Oaks, Pennsylvania. We hope to see you there on April 6th and 7th. Saturday 9am to 8pm;Sunday 9am to 4pm
JAPANESE CHERRY BLOSSOM FESTIVAL
April 7 & 14
Morris Arboretum
The history of the Morris Arboretum is rich with Japanese influences. Celebrate spring with beautiful blooming cherry blossoms and learn about the Japanese cultural influence on Morris Arboretum. The two-day event includes the thundering Kyo Daiko Drumming Crew and a traditional Japanese tea. All events are free with gardens admission.
PATRIOT TRAILS
HISTORY EVENTS
FIRST ENTREPRENEUR: HOW GEORGE WASHINGTON BUILT HIS - AND THE NATION'S - PROSPERITY
April 3
Presented By: The Valley Forge Park Alliance
Location: Washington Memorial Chapel
Presented by Edward Lengel, military historian and author of George Washington: A Military Life. Learn how George Washington's abilities as a businessman informed his leadership as a general and president and set the foundation for the nation's future prosperity.
SHOP MONTCO
SHOPPING EVENTS
VENDORS AND VINO
April 5
Boyd's Cardinal Hollow Winery
Join Boyd's Cardinal Hollow Winery for an evening of shopping, demos, raffle baskets and wine.  A variety of vendors will be there this Thursday, and admission is free. 
Comedy Night is also coming to Boyd's this week on Friday, April 6.
ARTS MONTCO
LIVE MUSIC, COMEDY, AND PERFORMANCES
SECRET VALLEY JAZZ ON THE PARLOR CAR
April 7
​Colebrookdale Railroad
The Colebrookdale Railroad presents Keli Vale, a Philadelphia vocalist and Nick Bucci, a Delaware master guitarist. Enjoy first class entertainment with some smooth, swinging jazz and blues in our elegant parlor car.
POINT ENTERTAINMENT PRESENTS AN EVENING WITH ACOUSTIC HOT TUNA
April 2
​Colonial Theatre
Hot Tuna began as an acoustic spinoff of the Jefferson Airplane by founding members Jack Casady and Jorma Kaukonen. For more than four decades now they've played, toured, and recorded some of the best acoustic and electric music on the cutting edge of American blues and roots.
Additional performances at the Colonial this month include Billy Cobham's Crosswinds Project on April 4.
TUESDAY NIGHTS AT THE MOVIES - THE UMBRELLAS OF CHERBOURG
April 3
Woodmere Art Museum
The Umbrellas of Cherbourg is director Jacques Demy's romantic, heartbreaking sung-through musical by Michel Legrand about the love affair between seventeen-year-old Catherine Deneuve and auto mechanic Nino Castelnuovo. 
Also at Woodmere this week are Friday Night Jazz - Old Tunes Made New on April 6 and Classical Saturdays - Leonard Bernstein: A Celebration of Life and Music on April 7.
CRY CRY CRY
April 6
​Keswick Theatre
Cry Cry Cry, the folk supergroup of Richard Shindell, Lucy Kaplansky, and Dar Williams will perform on Friday, April 6.
Also at the Keswick this week, The Fab Faux, a phenomenal Beatles tribute band, will perform Saturday April 7, as well as An Intimate Evening with David Foster on April 8.
GARRETT THOMAS MAGIC
April 6 - 7
Smoke & Mirrors Magic Theater
This modern master of close-up magic will astound you with his incredible sleight of hand when you enter his world of impossibilities. Garrett Thomas is a professional close-up, sleight of hand magician based in Western New York. 
HONEYCHROME
April 7
​The Underground
A little over one year since his last show in the region, HoneyChrome returns to his hometown of Lansdale for one night of pop-tronic performances.
ARTS MONTCO
ON STAGE AND SCREEN
THE EMPEROR'S NEW CLOTHES
April 7 - 15
Steel River Playhouse
Opening Week: The incomparably imaginative creators of Seussical, Lynn Ahrens and Stephen Flaherty bring one of Hans Christian Andersen's most beloved tales to life in The Emperor's New Clothes. This winsome musical is a crowd-pleaser for all ages.
Showtimes this week are Saturday and Sunday at 2 p.m.
I WILL NOT GO GENTLY
Wednesday - Sunday
People's Light
"Philadelphia's Queen of Comedy" Jennifer Childs brings her acclaimed one-woman show I Will Not Go Gently to the stage at People's Light. The show centers around a faded rock-and-roller who reclaims the spotlight.
This week's performances are Tuesday through Friday at 7:30 p.m., Saturday at 2 p.m. and 8 p.m. and Sunday at 2 p.m. and 7 p.m.
MONTCO WEDDINGS
BRIDAL EVENTS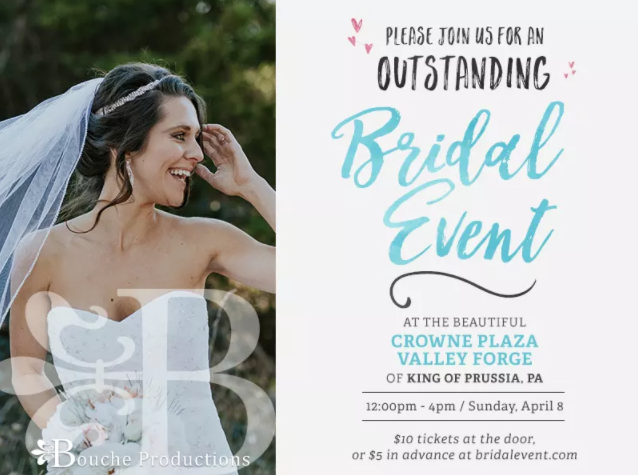 THE 11TH ANNUAL KING OF PRUSSIA BRIDAL SHOW BY BOUCHE PRODUCTIONS
April 8
Presented By: The Bridal Event by Bouche Productions
Location: Crowne Plaza - Valley Forge/Liberty Conference Center
The 11th Annual King of Prussia Bridal Show at Crowne Plaza Valley Forge gives the PA Bride everything she needs to say "I do" in style! This event is a wedding planning extravaganza, packed with 60 of the best local vendors, a fantastic runway fashion show, must-have planning tips and money saving secrets from the top wedding planners in town.