This is a story about a story.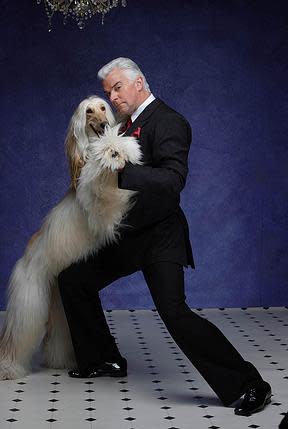 Actor John O'Hurley has been the host of the Kennel Club of Philadelphia's National Dog Show for the past 13 years. Each November, he flies into Philadelphia and is whisked to the Greater Philadelphia Expo Center for two days of canine competition.
During his trip in 2012, he was flying eastward with his son. An offhand conversation between them sparked an idea. O'Hurley jotted down a quick but heartfelt poem about finding "the perfect dog," concluding that the ideal pet is always close at hand.
The simple verse was turned into a picture book, The Perfect Dog, which hit the stands in 2013.
And now, thanks to O'Hurley's theatrical connections (he has toured in both Chicago and Spamalot), The Perfect Dog is now a fully staged children's musical, produced by B Sharp Productions. It will have its Pennsylvania premier on November 7-8 at the Towamencin Volunteer Fire Company, 1590 Bustard Road, Harleysville, with the curtain rising at 4 p.m. on both days. 
Expanding a 48-page book to a full-fledged children's musical was the task of brother-and-sister team David and Jill Abbinanti of New York. He is a composer/lyricist who also works for Theatrical Rights Worldwide; she is a writer who is currently penning scripts for TV's Law & Order SVU. They spent summer 2014 collaborating, expanding the story to focus on Sam, a 12-year-old perfectionist who yearns for her pet, Max, to crush the competition at the Town Dog Contest.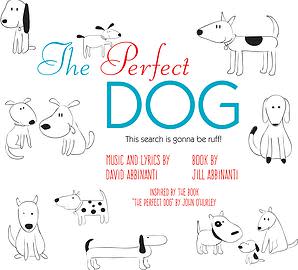 Jill describes the development, saying, "We loved the sentiment at the end. And we started from there: The dog that is perfect is the one next to you."
As writer, she was then challenged to relate the theme to kids. "There are many kids today that are obsessed with being perfect," Jill explains. "So we created this character who really believes that people love her because she is 'perfect.' And then we showed how this backfires as she tries to be all things to all people. She then gets so off-course that it's up to her dog Max to teach her the lesson that she is perfect for him and he is perfect for her.
"That's how we wove the theme of the book into the musical. We thought it was just so beautiful and so sweet," Jill concludes.
David made sure the musical palette he used would sit well with his audience. "I'm a huge Sesame Street fan," he says. "So I made sure to use a lot of those music tones: xylophones, glockenspiels, trumpets, things like that. Musically it has to sound like kids' music. It can't sound all orchestral."
Director Lisa Eskin had a number of challenges to overcome in bringing The Perfect Dog to life.
First was a short timeframe, which gave her cast only a few weeks to learn the dialog, staging, dances and songs. Casting involved tapping resources who were known to her from prior shows produced locally - including her son, Sam.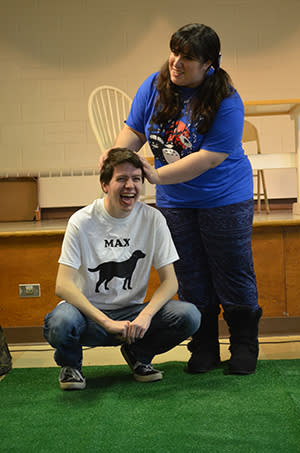 "He wanted to play the Labrador," she laughs. "But then decided that he was a good size to play the Yorkie."
The crew, too, is peppered with previous creative collaborators.
She also flexed her artistic muscle in trying to keep the action moving. Scene changes from indoors to outdoors are accomplished seamlessly by using a kitchen set on the stage and an array of trees in rocks on the floor.
"I've never been a director who does things that people typically do," Eskin says. "I saw the existing stage and wondered how it would work. And so I just created two stages."
That nontraditional thinking was also applied to the costuming. Eskin explains: "Everybody thought, 'You're casting dogs; how are you going to dress them?' People said, 'Dog ears and a costume with a nose...'
"And I said, 'No. They're people playing the dogs. Kids'll buy into it.'
"I got them all t-shirts; they have the silhouette of their dog; they're color coded; and they all have a matching baseball cap to the color of their dog. So there's pink for the Poodle, red for the Bulldog. The Yorkie is yellow. And the black Lab.
"Each one fits their character, and when they come out, kids will know: That's the dog. And it's believable to them."
Eskin summarizes the experience in very easy-to-understand terms. "It's love," she admits. "It's a love of theater; it's a love of friends and family; it's a love of dogs. We do this because we love telling the story."
The Perfect Dog company is as follows:
Cast:
Sam Brown - Amanda Steckerl
Max, The Brown's Dog - Matt Enters
Mr. Brown - Danny Scott
Mrs. Brown - Sandy Yozviak
Charlie, Sam's Best Friend - Tyreese Kadle
Diesel (Yorkie) - Sam Eskin 
Cyclone (British Bulldog) - Bill Murray 
Klaus (German Shepard) - Clark Van Hekken
Carla (French Poodle) - Meghan Wahl
Alex (dog walker/student) - Joseph Laskowski
Ideal Ida (Idol) - Ann Fleischer
Ms. Hayes (teacher) - Lisa Harner
Becky (student) - Nancy Watson 
Party Kid (student) - Jeff Wu

Crew:
Director - Lisa Y. Eskin
Producer - B Sharp Productions
Stage Manager - Lauren Franz
Choreographer - Dee Brown
Sound - Keith S. Clattenburg
Costumes - Karen Roundy
Props - Lisa Harner
They are scheduled to give a command performance at a gala pre-show gala at the Valley Forge Casino Resort, with O'Hurley in attendance. Excitement is high that he will lap it up.
Proceeds from the red carpet cocktail reception and sit-down dinner benefit the Philadelphia Ronald McDonald House (therapy dog program) and the Philadelphia Animal Welfare Society (PAWS).
To purchase tickets or simply make a donation, go to: nationaldogshowcharities.org.