The next two weekends are full of events designed to prepare for the celebration of Thanksgiving and then, in the wake of the turkey and stuffing feast, jump start holiday season 2014. We at the Valley Forge Tourism & Convention Board wish you a bountiful time with your families and invite you to take the fullest advantage of all that Montgomery County, Pa., has to offer in terms of seasonal celebrations.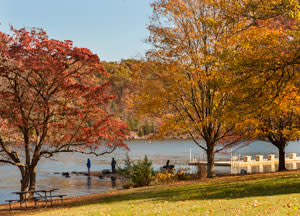 Green Lane Park has two opportunities to beautify your home for Thanksgiving, both on November 22. At 10 a.m., crafty crafters lead a session on creating a natural centerpiece for your turkey-day table; it fits perfectly in the rustic style that has become a popular decorating trend. Similar material - cones, nuts, seeds and pods - will be the basis of a cute woodland creature created at 1 p.m. If you've got a glue gun, the organizers ask that you bring it, along a healthy dose of creativity.
If you can't make it to Green Lane Park, a separate session on Thanksgiving centerpieces is being held at Norristown Farm Park on November 23. Ample supplies of colorful pressed leaves, acorns and other nuts, grasses field-dried flowers and berries will be on hand for you to assemble your masterpiece. Bring clippers and a special container, opaque vase or basket to hold the arrangement.
For 54 years, the Hatboro Holiday Parade has gotten the area's December off to a rousing start, and the 2014 edition on November 23 promises to do the same. This year's theme "A Holiday Dream," was submitted by Warminster resident Amanda Williams, and to recognize her for her inspiration, she will ride in the same car as the Grand Marshall. The dreamy theme is sure to be carried out with much emphasis on sugarplum fairies, snow-dazzled floats, small children's wish-lists and plenty of toe-tapping music. The parade starts at 2 p.m. at York Road and Summit Avenue and will proceed, rain or shine.
As dusk settles in on Skippack Village on November 28, the excitement level will culminate in a countdown that flips the switch on the huge holiday tree. Then, it's time to ooh and ahh at the electrified glory of thousands of lights adorning a huge evergreen. The Annual Christmas Tree Lighting festivities begin at 6 p.m. in the Floral and Hardy Parking Lot. Celebrate the joy of the season with carolers, tree lighting and visit from Santa. Post-lighting, get a start on your shopping with a visit to Green Wolf's Village Barn Shoppes.
All-holiday playlists have taken over commercial radio for a while, now, but nothing beats the sounds of the season when presented live. The Colonial Theater's concert on November 30 uses the big sounds of a pipe organ, built to accompany silent films, to present a musical program that will blow the roof off. The afternoon includes music for Thanksgiving, fall, winter, Christmas, Chanukah, and New Year. It is followed by a showing of the Laurel and Hardy classic Big Business (1929), in which the boys attempt to sell Christmas trees in sunny California.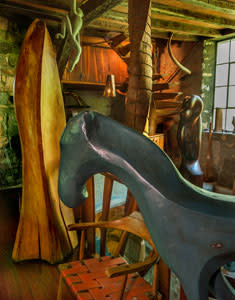 The Wharton Esherick Studio is a local arts and culture treasure: If you haven't seen it, the museum's Thanksgiving Tours are a prime opportunity. Encompassing the weekend of November 29-30, the event opens the doors to discovering Esherick's genius with wood and natural materials, which remains as inspirational now as during his lifetime. Hot cider and a free copy of Gourmet magazine featuring the museum are included in the admission for these special openings.
Thanksgiving is a time for togetherness. The events encompassing the next two weekends are perfect for your immediate family, as well as any relatives or friends arriving from out of town. If you find your spare bedrooms insufficient to handle all those aunts, uncles, cousins and friends, scan the listing of accommodations on our website. The professionals who staff our hotels and B&Bs will treat them as if they are their own family.