Father's Day weekend is here and it's time to celebrate with Dad. Make this Father's Day one to remember at any of the incredible events coming this week in Montco!
Special Events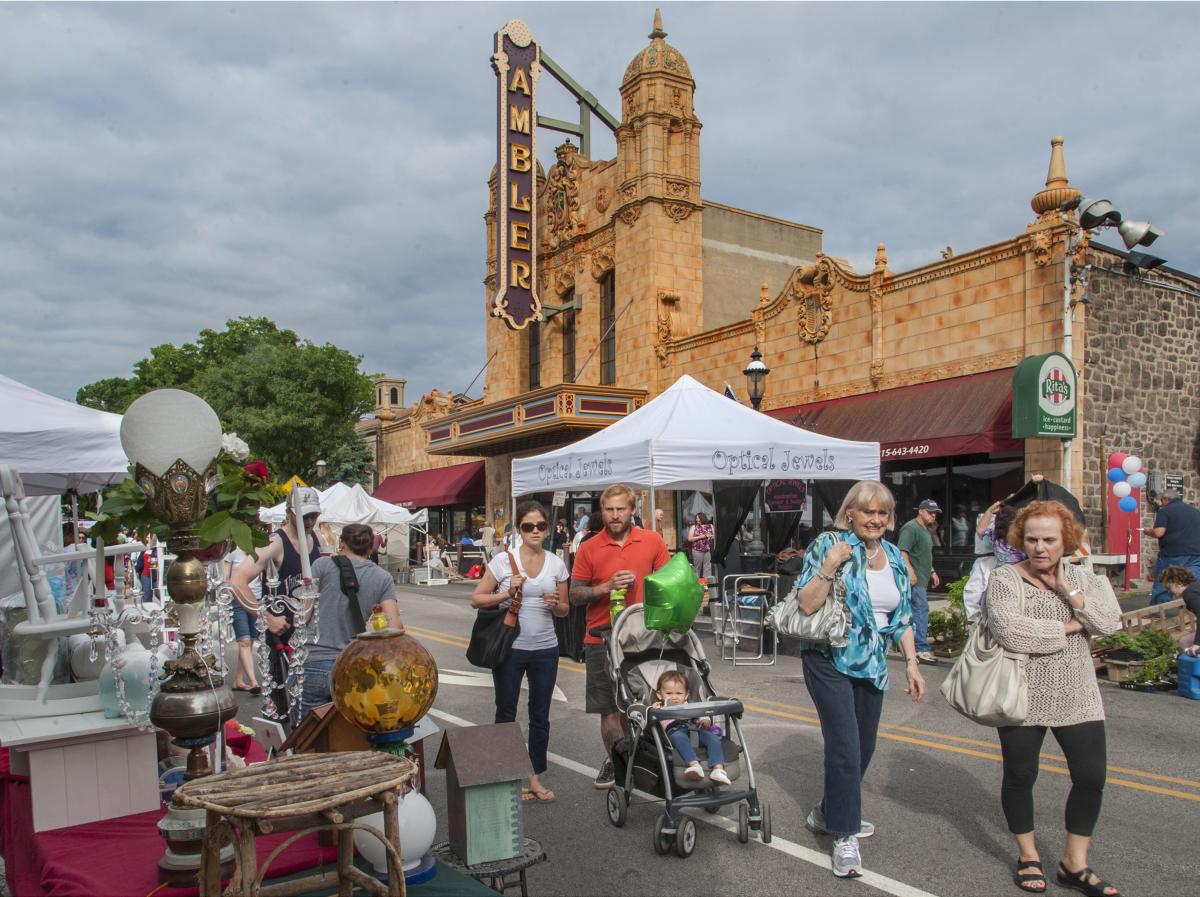 AMBLER ARTS & MUSIC FESTIVAL
June 14 - 15
Ambler Main Street
Welcome to the 2019 Ambler Arts Festival! Over 70 exhibitors will be showcasing their original art and personally hand-crafted items.
Butler Avenue will be closed to allow the artists to fill the streets and for you to enjoy the day in the arts and crafts marketplace. The festival will feature a wonderful array of exhibitors including fine art, acrylics, watercolor, sculpture, photography, pottery, fiber, wood work, jewelry and more!
TWILIGHT ON THE RIVER
September 11
Bridgeport, Pa
Something for everyone! Make it a family night out! Open-air market in a lovely setting along the Schuylkill River in Bridgeport, PA. Open May through September. Second and Fourth Wednesdays. 4:30-8:00 pm. A mix of local vendors, food, music, and games.
Montco Makers
Beer, Wine & Spirits Events
Adventure Montco
Energizing Events
FATHERFEST
June 16
​American Helicopter Museum & Education Center
West Chester's American Helicopter Museum and Education Center (AHMEC) offers another unforgettable Father's Day during its annual FatherFest on Sunday, June 16, from 10 a.m. until 3 p.m. This year's theme is "Autogyro Fly-In" featuring several autogyros and demonstrations.
The variety of rotary and fixed wing aircraft includes a Magni M-16 Gyrocopter, 2016 Cavalon Autogyro, home-built RotorWay 162-F helicopter, RV-12 home-built airplane, Piper J-3 Cub airplane, and Pitts S-2B airplane. Additional static displays consist of the Atlantic City Coast Guard Flotilla's HH-65 Dolphin helicopter, MedEvac helicopters from JeffSTAT and PennSTAR, a Pennsylvania State Police helicopter and more!
The now legendary FatherFest offers something for everyone. The fun day has classic cars and motorcycles; the Mobile Mess Hall, Haute Wheels and Zac's Burgers food trucks; Malvern's Locust Lane Brewery beer garden; sweet treats from Kona Ice and Baked Cookies and Dough; sports-oriented inflatable games; and helicopter rides (additional cost). An interesting, informative talk by Captain Scott Anderson, Commander of U. S. Coast Guard Sector Delaware Bay, occurs in the theatre, and The Falconry Girl, Sean Young, presents a birds of prey demonstration and exhibition in the gallery.
Additional entertainment entails DJ music by Full Moon Entertainment, Larry Smythe's M.A.S.H. military collection, Out of the Box Robotics Team demonstrations and even special appearances by Wonder Woman and Captain America! Dogs from Paws for People™ Pet-Assisted Visitation Volunteer Services are available for petting, and items Concord Pet Foods & Supplies are available for sale.
Admission is $10.00 per person. Helicopter rides cost $60.00 per person and are scheduled on a first-come, first-served basis beginning at 11:00 a.m. until 2 p.m.
SECRET VALLEY EXPEDITION
August 15​
​Colebrookdale Railroad Preservation Trust
Board one of our meticulously restored century old rail cars for a two hour expedition into one of the most scenic and historic regions in the northeast. Once the province of pioneers and patriots, the Colebrookdale is your ticket to a verdant land lost in time.
Prices may vary when there is a tasting in the parlor car.
EXTENDED HISTORIC SHIPS HOURS
May 23 - September 8
Independence Seaport Museum
Unable to visit our two National Historic Landmark ships, Cruiser Olympia and Submarine Becuna, during the day?  That's okay!  This summer you can visit both ships with our Extended Summer Hours on Thursdays-Sundays until 7 p.m. (last boarding is 6:15 p.m.).
Patriot Trails
Historic Events
HEX SIGNS: SACRED & CELESTIAL SYMBOLISM IN PENNSYLVANIA DUTCH BARN STARS
March 1 - November 3
Bryn Athyn Historic District
 
Explores themes of sacred and celestial imagery in the traditional arts of the Pennsylvania Dutch, with special emphasis on the decorated barns of Southeastern Pennsylvania. This exhibition, which features actual examples of barn stars, decorated objects, and related images, is guest curated  by Patrick Donmoyer, director of the Pennsylvania German Cultural Heritage Center at Kutztown University. Donmoyer is the author of Hex Signs: Myth and Meaning in Pennsylvania Dutch Barn Stars (2013). The Heritage Center and Glencairn Museum will collaborate on a full exhibition catalog for the Glencairn exhibition. 
Arts Montco
Special Events
THE NATIONAL WITH COURTNEY BARNETT
June 11
​The Mann Center for the Performing Arts
The National are back at the Mann this summer with Courtney Barnett to tour in support of their newest album, I Am Easy To Find, which follows their Grammy-winning 2017 album, Sleep Well Beast. All tickets purchased for this show will include a digital copy of the new album.

On September 3, 2017, Mike Mills emailed Matt Berninger to introduce himself and in very short order, the most ambitious project of The National's nearly 20-year career was born and plans for a hard-earned vacation died. The Los Angeles-based filmmaker was coming off his third feature, 20th Century Women, and was interested in working with the band on... something. A video maybe. Berninger, already a fan of Mills' films, not only agreed to collaborate, he essentially handed over the keys to the band's creative process
RAIDERS OF THE LOST ARK™ IN CONCERT WITH THE READING SYMPHONY ORCHESTRA
June 15
​The Mann Center for the Performing Arts
The film that gave the world one of its greatest movie heroes, Indiana Jones, is back and better than ever before! Relive the journey of Raiders of the Lost Ark while the film plays on a 40-foot screen and two jumbo lawn screens, with John Williams' epic score, performed live to picture by the Reading Symphony Orchestra.

The year is 1936, and professor of archaeology and "obtainer of rare antiquities" Indiana Jones (Harrison Ford) is tasked by U.S. Army Intelligence to recover the legendary Ark of the Covenant before it falls into the hands of the Nazis. Indy's quest takes him to Nepal and Egypt, reuniting him with an old friend (John Rhys-Davies), an old foe (Paul Freeman), and an ex-flame (Karen Allen) who falls somewhere in between. Armed with his hat, whip, and wits, our intrepid hero must face formidable enemies – and impossible odds – to save the day and the world.

Tickets are available now via Ticketmaster.com, (800) 745-3000, or the Mann Box Office.
THE BAND OF HEATHENS + WILL HOGE
June 16
​Ardmore Music Hall
The Band of Heathens
American rock and roll band, formed in 2006 by Gordy Quist, Ed Jurdi and Colin Brooks (5).
Will Hoge
"Took a whole lot of miles to know what I know now," sings Will Hoge on"Growing Up Around Here," the opening track off of his tenth studio album, Small Town Dreams. "I'm kinda proud of growing up around here." It's been a whole lot of miles, indeed: miles on the road, driving the bus himself from venue to venue since the nineties; miles to and from Nashville writing rooms, where he's spent countless hours penning songs – some for him, some for others; miles exploring lands outside of his native Franklin, Tennessee, chasing the spirits of his musical heroes. Roads meet, roads split, roads led to home. This is the album that follows them all, every twist and turn in Hoge's American journey – a journey that's positioned him as one of our keenest, most honest modern storytellers, telling both his tale and ours.
COMEDY CLUB PRESENTS: LOUIS KATZ
June 14
​Valley Forge Casino Resort
Louis Katz's comedy deftly combines the highbrow and the lowbrow, creating a style that is truly unique. An internationally headlining comedian, Louis' numerous television appearances include NBC's "Late Night with Jimmy Fallon," HBO's "Down & Dirty with Jim Norton," and most recently, Comedy Central's "This Is Not Happening." His own half-hour stand-up special also aired on Comedy Central.
SHAKESPEARE IN HOLLYWOOD
June 14 - June 29
DCP Theatre
One could hardly call this a typical Shakespeare play. Cameras are rolling on the 1930's Hollywood set of A Mid Summer Night's Dream.  Actors are in place and German director, Max Reinhardt, is barking direction at them.  During the commotion, who should appear on scene but Shakespeare's very own characters, Oberon and Puck! The film actors not only find themselves switching in and out of scenes with the jesters, but also discover that the real Puck has found a way to utilize his love potion! What else will this otherworldly encounter have in store for them? 
BILOXI BLUES
June 7 - June 22
The Village Players of Hatboro
SHOW DATES: June (2019) 7, 8, 9, 14, 15, 16, 21, 22
Biloxi Blues centers on the experiences of a young army recruit, Eugene Morris Jerome, during World War II. At basic training in Biloxi, Mississippi, Eugene is determined to use his army experiences to help his writing career, and keeps detailed memoirs about his experiences. Eugene and his fellow soldiers-in-training suffer under a hard-nosed drill sergeant, attempt to stomach the terrible army food served up in the mess hall, and bond over an adventure to visit the local prostitute. Along the way, Eugene is forced to learn about authority, danger, sex, assimilation, bigotry, homosexuality and love. In the process, he discovers that life can be both ugly and tender.