In the name of full disclosure, I know nothing about wine.
I cannot distinguish a Bordeaux from a box wine, which makes me the perfect candidate for the series of wine education classes at Boyd's Cardinal Hollow Winery, Lansdale.
Five two-hour sessions are scheduled throughout the winter: January 15, 23 and 29, and February 13 and 19. The program covers how grapes are grown, harvested, processed and handled on the way to becoming wine. Attendees enjoy an informal casual tasting class and the gift of a souvenir glass.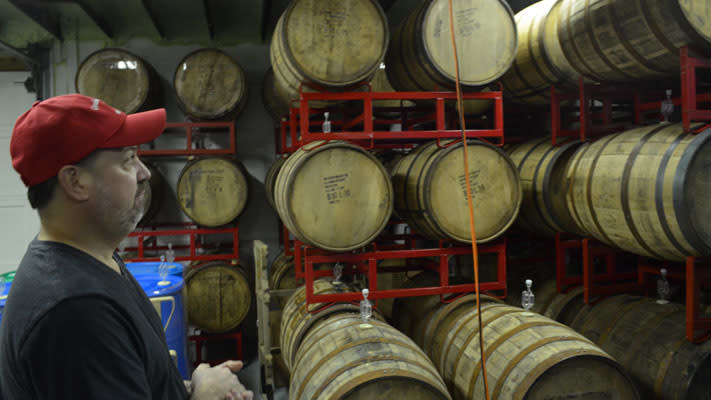 The instructor is Chris Boyd, Vice President of the winery. He has turned a onetime hobby into a second career, atop his position as Director of Sales for a wastewater equipment manufacturer in New Jersey.
"With my regular job, I was traveling all over the place," Boyd remembers. "When I was traveling, I was going out with customers, eating at some fine restaurants across the country. In doing that, you don't order a beer. You order a glass of wine."
Based on his exposure to various vintages, Boyd started to develop a discerning palate for wine. His appreciation sparked an interest in making his own, bolstered by his minor in Chemistry from Widener University.
"I started with one little gallon in the basement," he says. "Try this. Try that. Make one gallon. I enjoyed it. So let's make a bigger batch. I then went to five gallons."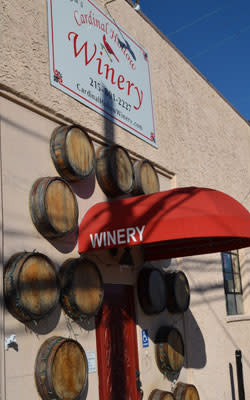 Boyd quickly realized that spending two years aging a five-gallon yield of wine wasn't the best use of his time. "It was absolutely delicious. But it was only two cases; that's 24 bottles. Where was the payback in that? I spent years making this, and in a matter of months, it was gone."

Five gallon carboys turned into 55 gallon barrels. Which soon exceeded the capacity of his basement.

"I was down in the basement one day, pumping wine from one barrel to another, and I looked around the room. And the realization hit me: If my home were threatened by fire, flood, theft, I had 3,000 gallons of wine in the basement. So I made it official."

Boyd started his company, filed the name, took out insurance, got his federal alcohol permits, obtained a Pennsylvania winery license and opened his storefront in Lansdale. The business took off like a cork leaving a shaken bottle of Champagne. He now oversees five retail stores and 13 employees.

"It just went nuts," he says.

The Lansdale location - his center of operations - is in the former West Point Supply House. "They did air gas products. So, compressed oxygen, acetylene, nitrogen, that kind of thing. Mainly supplied it to Merck. Until, of course, Merck went to air products for their national contacts and put the little guy basically out of business." The original building dates back to 1900, with expansions in the 1950s and the 1970s. The exterior of the building retains its original industrial use, but inside, the tasting room evokes a cozy, Italian grotto.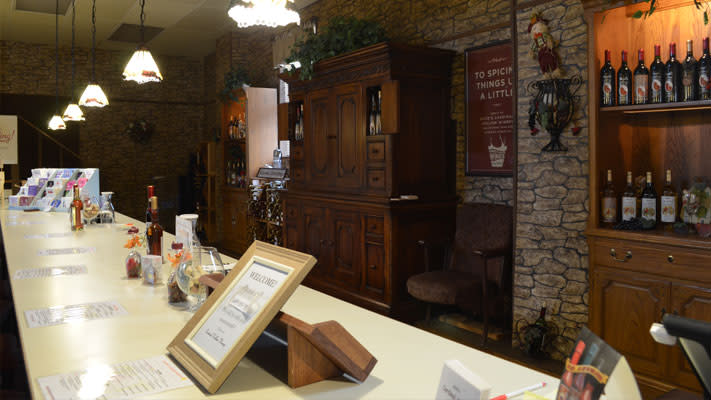 A set of twin houses sits adjacent to the winery. Boyd has purchased them and is using the backyards as additional parking. Longer term visions for the sites include the possibility of a B&B or a brewery. He is interested in sparking overnights, associated with the Montgomery County Wine Trail, which he founded. At present, visitors to Boyd's Cardinal Hollow often stay nearby at the General Warren Inn or Normandy Farm.
The curriculum for the wine education class covers many of the basics behind production. He also answers many common questions such as those surrounding storage and corkage.
The one topic he does not address - not from a lack of knowledge but from a lack of time - is food pairings.
"My class is wine 101. Food pairing is a 400-level college class. Because you've got to start talking about salt and pepper, spices, fats, oils, greases, the weight of the food versus the weight of the wine. Do you combine them? Do you contrast them? That's way over almost everyone's head."
Boyd does, however, have a commonsense approach to matching an entrée with a glass: "I tell people this all the time: Drink what you like, and eat what you like. Have a red wine with fish. Or pair a white wine with a meat.
"In general, yes, heavy food like steak needs a wine that is also heavy. Because if it's too light, it'll just get washed away. And fish that are light in body go with a light-body wine. But it's not a hard-fast rule. For a good cedar-planked salmon, I have two or three reds that would pair perfectly. Whereas, I also have a white that would go great with a burger and fries."
The classes are open to groups or individuals, but registration is capped at 25 participants. No food service is included, but the tastings that follow Boyd's PowerPoint presentation include a wide array of local cheeses, supplied by a local Amish farmer. The cost is $50 per person and the program runs 7-9 p.m.
Until Boyd decides for sure about his next-door B&B, wine lovers can enjoy a full weekend of discovery in Montgomery County by sampling local vintners. Staying at local hotels along the way - using the accommodation roundup on our website - ensures a complete getaway that is both relaxing and safe.