Now that the leaves are beginning to turn, button up your flannel and set out to explore the shopping, dining, entertainment and autumn festivals that abound in towns around Montgomery County. Taste of Autumn in Montco Part II takes you through the lively towns of Ardmore and Narberth.
Ardmore
Downtown Ardmore has become a magnet for millennials as well as locals and visitors of all ages for its blend of breweries, ethnic restaurants, eclectic shops and a top entertainment venue.
Check out Bam Bam Seoul Kitchen for Korean favorites, The Bercy for a taste of France, Marokko for authentic Mediterranean Moroccan cuisine, PokeOno for surf-inspired Hawaiian Poke' bowls, or Ripplewood Whiskey & Craft, a classic American whiskey bar with sophisticated pub fare. 
On any given evening, the 600-capacity Ardmore Music Hall offers a lineup of  musicians from Grateful Dead tribute bands to disco to funk to jazz to rock and roll for grownups and kids. See the October and November calendars for upcoming acts.
Unique boutiques abound along Lancaster Avenue and in Suburban Square, the nation's first outdoor shopping center founded in 1930. Step into Past Present Future for handcrafted jewelry, ceramics, glass and so much more. Or, for toys that bring out the child in us all, visit pucciManuli in its grand new space at the corner of Cricket and Lancaster avenues. For contemporary women's clothing, Styche is where you will find pieces for any occasion.
And for movie lovers who still love to browse in video stores, Viva Video touts itself as the Last Picture Show for good reason: A knowledgeable staff guides patrons through a selection of over 10,000 titles.
Hungry or thirsty? Check out the array of eateries and breweries in Ardmore at https://menupages.com/restaurants/pa-ardmore.
Narberth
There are few downtowns like Narberth, where the blocks of shops and restaurants have a cozy, timeless feel that draw visitors and locals alike throughout the year.
Among the fun family festivals upcoming is the annual Witches of Narberth tour Saturday, October 27 from 1 to 4 p.m..  Halloween season kicks off with a kids' (of all ages) scavenger hunt during which witches – 13 of them – await discovery in shops around town.  The event is free.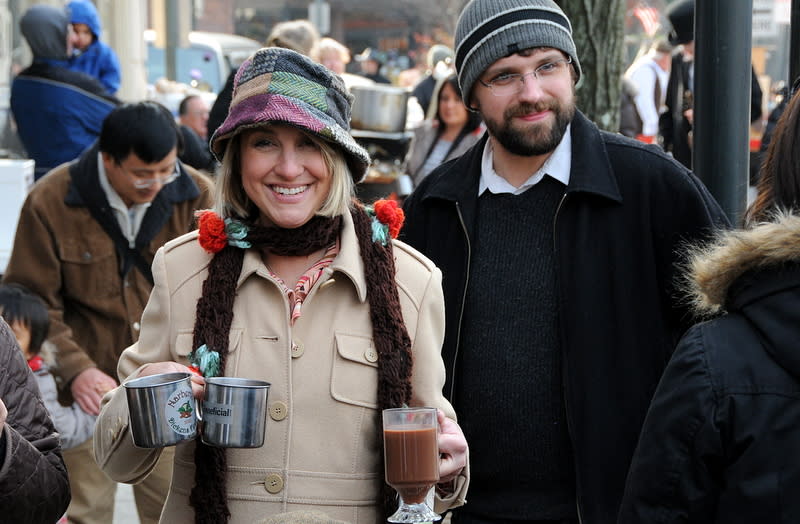 And one of the top events of the year is the Narberth Dickens Festival Sunday, December 2, from noon to 4 p.m. where the streets are transformed into 1840s London and your favorite characters from A Christmas Carol, including Ebenezer Scrooge, roam the streets for the afternoon.
You can't beat the shopping in Narberth. Among the plethora of stores are boutiques like Rowen for urban boho chic; Revivals, a high-end consignment shop unlike few others; Wallach's Shoes for that personal and knowledgeable touch in finding just the right style and fit; A Brandt & Son, a jewelry consignment shop for finding the perfect statement piece; Character Development Books, for toys, books art supplies, music, stationery and more; Nannygoat Antiques & Vintage, for affordable and unique home décor; Twice As Nice, a consignment shop specializing in clothing and home accessories; Sweet Mabel Art & Craft, hosting the work of local and regional artists with a host of handmade paintings, pottery and jewelry for sale; Swan Dancewear, for everything a dancer needs; and Danny's Guitar Shop, a guitar-players paradise for all skill levels.   
Hungry for a snack? Stop in for coffee and a delectable French pastry (the best cheese or almond croissants, hands down) at Le Petit Mitron, then grab an outdoor bench to people watch. The Cheese Company, a few doors down, is the go-to shop for cheese aficionados. The longtime Narberth favorite also offers pastries, breads and prepared foods.  Village Treats offers desserts made fresh daily and ice cream. And Buy the Dozen, is another top bakery for sweets.
For dinner, there step back in time at The Greeks (Arcadia Chios Tavern), a favorite dining and drinking spot for locals that's been a Narberth institution for generations. The newer The Greeks Next Door carries over 950 domestic and imported brews.  McShea's Restaurant & Bar offers classic American and Irish food. Great American Pub is another spot to grab great beers on tap, as well as burgers, salads and much more. Moving from the pubs is Coco Thai Bistro, a BYOB for top Thai offerings. And several blocks away from downtown Narberth is Ryan Christopher, another BYOB serving up classic comfort foods.
Fall Festivals
Don't miss out on what's happening this fall in and around Montgomery County, as well as all the info you need for restaurants, towns, shops and the maps to get you there.