Explore Your Freedom for Girls' Night, Bringing Luxury to the Ladies
The Pursuit has been following a line of topics related to the multiple ways visitors to Valley Forge and Montgomery County can "Let Freedom Reign." Past blogs have addressed county-wide opportunities for history, arts and culture, treasures made in Montco, shopping, family fun, unplugging, staying over and food and dining.
The one category I knew I needed help on, however, was Girls' Night.
To properly convey our many options for girlfriends to connect and have a good time, I therefore reached out to someone more qualified than I am. I asked my friend Susan - who lives in Royersford with her husband, two children (one teenager; one pre-teen) and four dogs (three Viszlas and a Lab) - if she would be interested in experiencing a session of pampering, with an interview to follow.
Her response took only a second or two: "Boy, would I ever!"
I arranged to send her and her friend Kristin to Lily Laser and Beauty, Collegeville, for an evening of pampering.
Susan's perspective is rather unique, as she's never had a spa experience before.
"We walked in and were greeted," she says, recounting the visit. "And everybody was really nice. There were no other clients there, but plenty of staff to take care of us."
The visit started with a tour: "Everything is decorated in red and white, and it's super-clean," Susan described. "The staff explained the options available and what their services are, showing us the equipment and the different rooms for different treatments."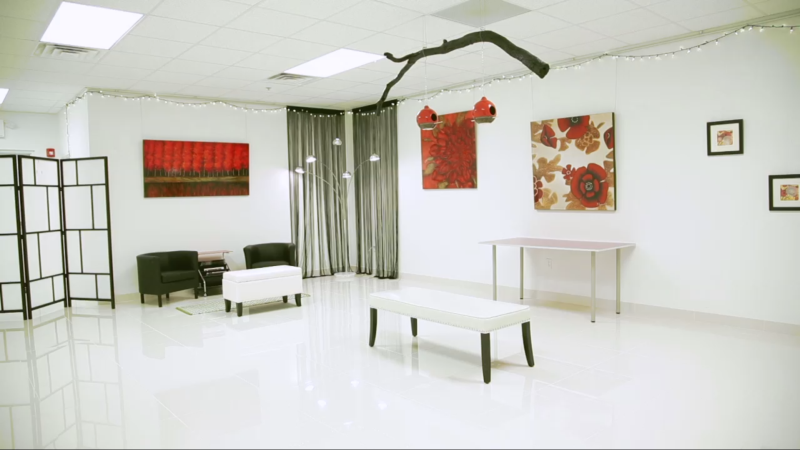 The two friends began with a facial and a massage. They split up, retreating to separate rooms for individual attention.
"I did the facial first, and Kristin had the massage. They offered a choice of oils and creams we could use, and I got to smell them and feel them - they wanted me to make sure the products they were going to use worked with my preferences and skin type."
After a quick change into robes and slippers, Susan settled into her customized facial. "It was 30 minutes, and the room was lit with candles. And there was relaxing music playing. The facial started with a little steam to open up the pores, and each phase was explained in detail so I would know what was being done."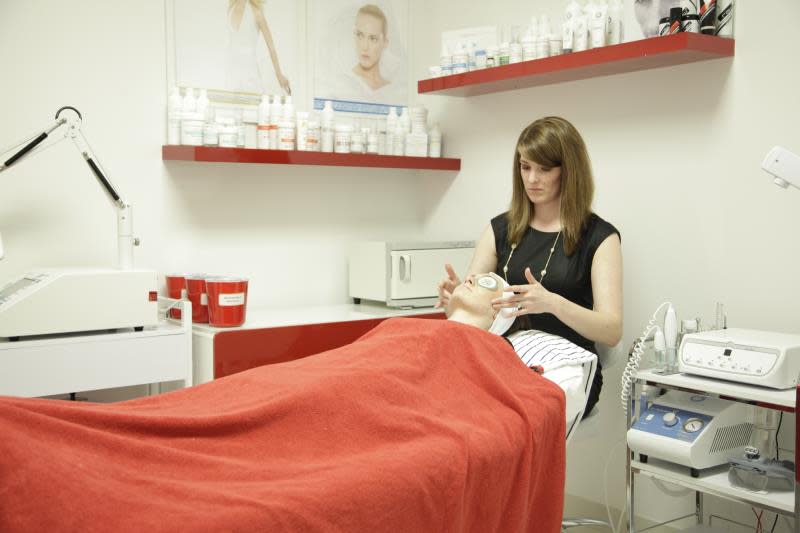 At the midway point in the evening, Susan and Kristin rejoined one another. "We went back to a room where they hold group events and receptions," Susan said. "The staff had set up a chocolate fountain and strawberries and vegetables and dip. And there was raspberry beer and two different kinds of wine." They sipped some wine and indulged in some fruit, chatting both among themselves and with the staff. "They became part of our Girls' Night," Susan said, describing the friendly atmosphere. "They were all fun and talkative."
It was then time for Kristin to experience the facial and Susan to get her massage.
"My masseuse told me that Kristin was kind of a wimp when it came to kneading her muscles, that she really didn't want a vigorous, deep-tissue massage," Susan said. "But I said, 'Oh, no, not me! You can beat me up!' And she sure did that. She made sure I was comfortable and wasn't hurting or anything like that. But it was definitely hearty."
When both women's second treatment was finished, they redressed, chatted some more and departed.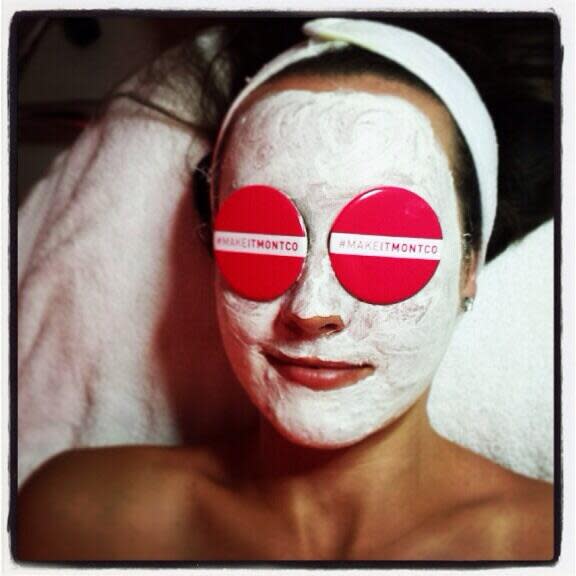 The "Lily" of Lily Laser and Beauty is Liana Grigoryan, Owner, Esthetician and Certified Laser Technician. She is highly educated in this field, earning her certification in Esthetics from the Center of Cosmetology and Plastic Surgery in Armenia. She moved to the U.S. in 2002 and established Lily Laser and Beauty to share her passion for skin health.
Susan was very enthusiastic about the treatment she received but did offer one insider tip: "The GPS coordinates are correct. Use the address as a locator and you'll get there fine."
Would she go back?
"I sure would," she said, no longer a first-timer to the kind of relaxation that spas like Lily Laser and Beauty offer.
A round of primo pampering can be just the start of an incredible full weekend with your girlfriends in Montgomery County, especially when followed by a stay in a luxurious hotel. Our website lists numerous accommodations, including those in our "Let Freedom Reign" packages that provide special rates and a bag of giveaways.