As a pre-teen, Harry Nothacker first started running competitively in 1960, the year in which John F. Kennedy was still a senator; Lucy and Desi divorced; Domino's Pizza was founded; and Best Picture went to Ben Hur.
Now 67, Nothacker is still running - as well as swimming, biking and surfing. He is also a veteran of the Valley Forge Revolutionary 5-Mile Run®, one of 16 athletes who has risen to the challenge of every edition of this daunting race.
From the number of competitors who return to Valley Forge National Historical Park for the Rev Run year after year, this much is clear: Once this course captures your competitive spirit, it doesn't let go.
Nothacker's connection to the run is deep-seated: "My ties to the park go back a ways," he says. "I recently discovered a photo of my grandparents in Valley Forge Park on July 4, 1908. I guess they started the tradition, riding the train out from Philadelphia. Nothacker has been using the park's trail system for running since the early 1970s. He and his wife are also frequent walkers there.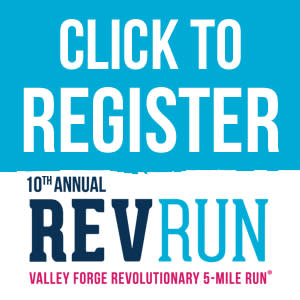 He explains the appeal: "We enjoy the water, even when frozen, and all the different scenes nature provides."
When the Rev Run debuted in 2006, providing an officially sanctioned race within the footprint of the historic park, Nothacker's participation was a no-brainer. "Signing up was a natural," he relates, "having spent so much time there. Racing on my 'home turf' is a very comfortable feeling. You get to know and enjoy the course."
Nothacker's support of the Rev Run goes beyond competing; he has an eight-year tenure on the race's organizing committee. "It's a good opportunity to give back to the park," he summarizes.
Sandy McHugh, another 10-year Rev-Runner, expresses a similar sentiment about the Rev Run: "I love running and training in Valley Forge Park. I still remember the first time I ran the park loop. It was a milestone in my running life, much like finishing my first 5k. Running those challenging hills makes you feel like a badass!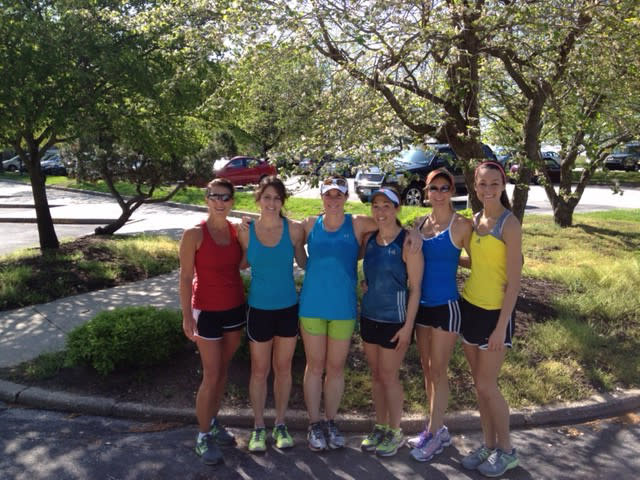 "So when the first VF Rev Run came to be, it seemed a fitting way to celebrate it."
For McHugh, contributing to the ongoing vitality of the park is a large motivator in getting her to sign up. "Being here every year is a long-term goal of mine for many reasons: I want to support the place where I have put down my blood, sweat and tears in training.
"And it's beautiful; it's peaceful; it has history; it's challenging. I like to salute General Wayne up there on his high horse when I get to the top of that beast of a hill. No matter what mood I'm in when I arrive, I always leave feeling happy and accomplished." 
If area runners are interested in attempting the Rev Run for the first time in 2015, McHugh encourages them to answer the call to Conquer the Valley, part of the rebranding effort in this anniversary running. "First timers! This is a 'must do' on your running bucket list," she enthuses.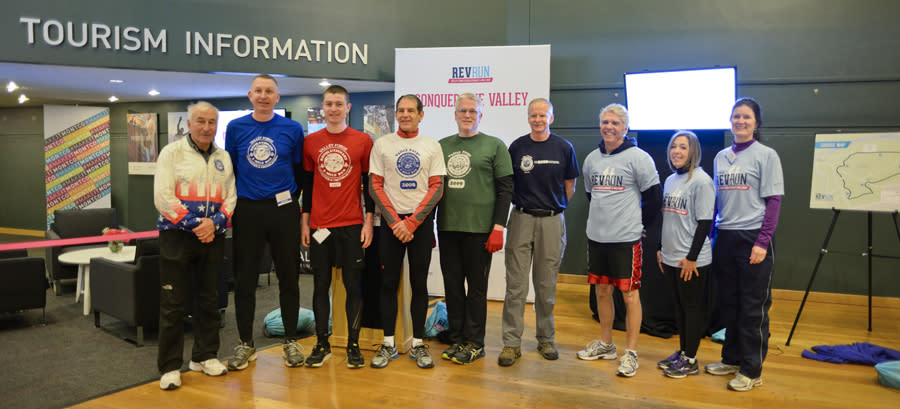 Dan Rooney will also be pounding the trails of Valley Forge on April 19, making his record a solid ten-out-of-ten Rev Run iterations. He comes back year after year because "...it was my first-ever competition run."
Like Nothacker, Rooney has a long-term, personal connection with the grounds: "When I was a child in the 1960s, my friends and I use to play all over the park.
"We would ride our bikes to the park and play in the cabins, walk through the chapel area, go up to the observation tower (now gone). We knew every inch of the park. We'd ride through an orchard on the way (and 'borrow' a few apples in the fall), and there was a general store in Port Kennedy that had a penny candy counter. With a few cents, you could fill your pockets.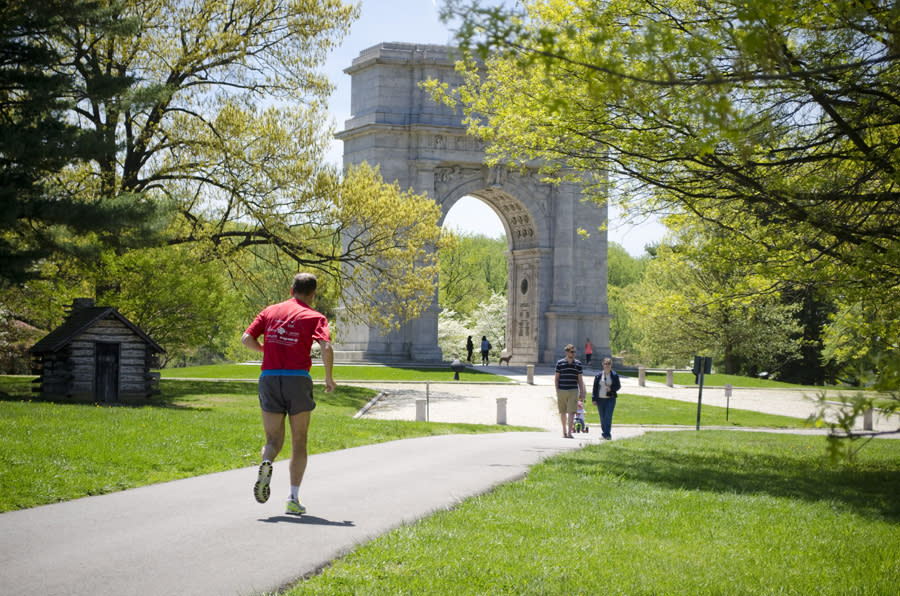 "In high school, we would hang out in the lower park area and sunbathe or throw Frisbees around. After baseball practice, we would occasionally go down the water fall on Valley Creek to cool off.
"As an adult, my wife and I would bring our kids (grown now) to play," he recalls.
Rooney still enjoys the trails for walking - and training. "I run there three times a week, either the five-mile loop or down along the river trail," he states.
Rooney's advice for novice Rev-Run runners? "You're really going to like this run. The runners are friendly; the atmosphere leading up to, during and after the run is outstanding; the course is challenging for all levels. You can't help but have a good time."
Philadelphian Bernadette Geller has a wide variety of scenic spots to run within the borders of the city, but she chooses the Rev Run specifically for the sights.
"I fell in love with the view from the start," she says. "There's nothing like it anywhere in the Philadelphia area.
"The Rev Run is my first race of the season after winter doldrums. No matter how cold, I feel spring has finally arrived. It also helps prepare me for the Broad Street Run - another favorite. And now, having participated in every Rev Run to date, I feel a commitment to keep this race on my calendar for as long as possible."
She advises newbies: "Enjoy the view. And take the hills in stride," she laughs.
Details on participating in the Valley Forge Revolutionary 5-Mile Run® are:
5-mile Run: $35 until March 28 ($33 for USATF members); $40 March 29 through April 18 ($38 USATF).
3-mile Walk: $20 until March 28; $25 March 29 through April 18.
1.776 kilometer Young Patriots Fun Run: $10 through April 18.
There is no race day registration on April 19, 2015.
Packet pick-up is at the Valley Forge Tourism & Convention Board office, 1000 First Avenue (Suite 101) in the Maschellmac Office Park in King of Prussia. Registrants can pick up their packets from 4 to 6 p.m. on Friday, April 17, or 9 a.m. to 3 p.m. on Saturday, April 18. Packet pick up is also available on race day at the Packet Pick-Up tent in the park.
Registrations are online, through the Valley Forge Tourism & Convention Board site, here.