You Gotta Go
The plot is somewhat familiar: Oppressive economic policies and political overstepping inspire a group of young visionaries to dream of a better day. Taking their destinies in their own hands, they spark a revolution that, despite some early successes, eventually leads to a tragic ending.
In traditional musical theater vernacular, this is Les Miserables.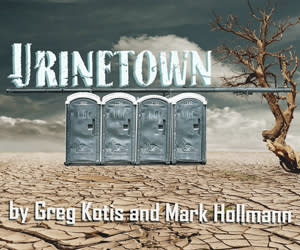 But outside the mainstream, it's also Urinetown, which is currently being presented by Playcrafters of Skippack, with a run that goes through July 29.
Audiences unfamiliar with this 2002 Tony Award Winner, or those who feel a little put off by the title, will quickly have any reservations relieved. The Skippack cast and crew plumb the sharp, satiric script for all its possibilities, and if opening weekend is any indication, they are clearly on a roll.
The plot opens with the tongue-in-cheek song "Too Much Exposition" from police officer Lockstock, whose initial monologue breaks the fourth wall. This conceit humorously repeats itself throughout the show.
"Ordinary musicals usually have a happy ending," Lockstock warns. "But this is no ordinary musical."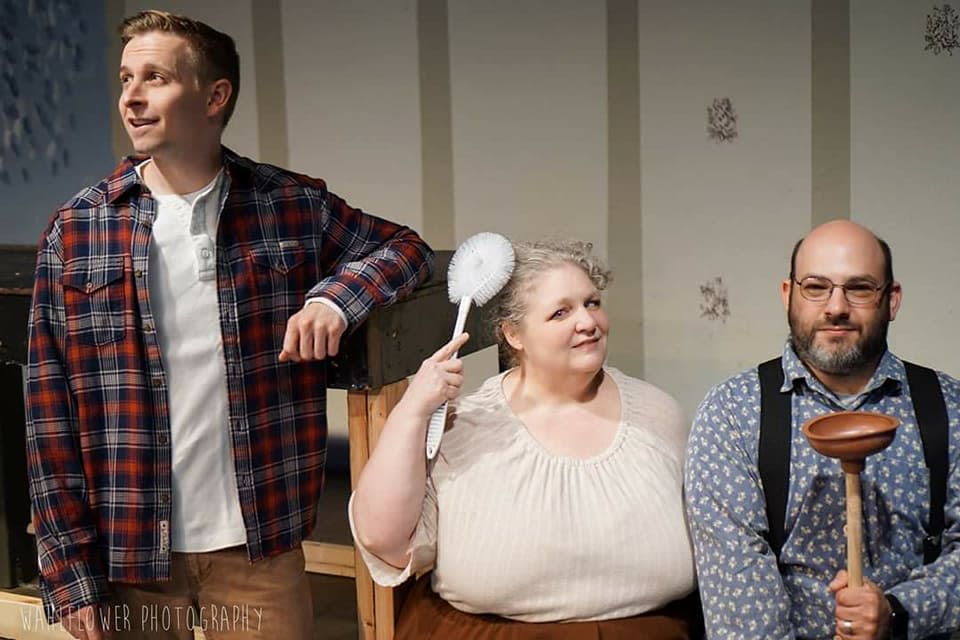 He explains that in this futuristic city, a 20-year drought has taken water rationing to the extreme. The depletion of local reservoirs has forced the government to ban private bathrooms, replacing them with public accommodations.
And where there's a shortage, there are usually people ready to capitalize on it.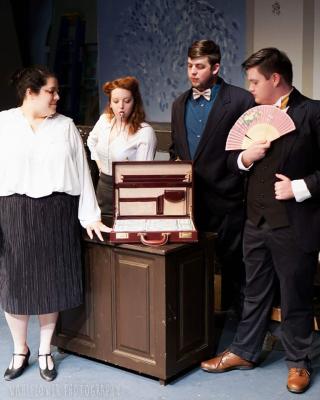 In this case, it's the UGC, the Urine Good Company corporation, whose tightfisted CEO (Mr. Cladwell) not only sets the prices to potty but also isn't above gouging them.
Cladwell controls the facilities and local law enforcement, a position he uses to eliminate the competition. Anyone found using anything other than the sanctioned bathrooms is carted off to Urinetown, never to be heard from again.
His plan at financial domination eventually springs a leak. A grassroots countermovement, led by hero Bobby Strong, springs up, declaring the government's drought solution and resulting corruption wholly revolting.
Things get complicated when Cladwell's daughter, Hope, falls in love with Bobby.
If all this sounds a bit heavy handed, know that both the script and the Playcrafters cast keep things from becoming too murky.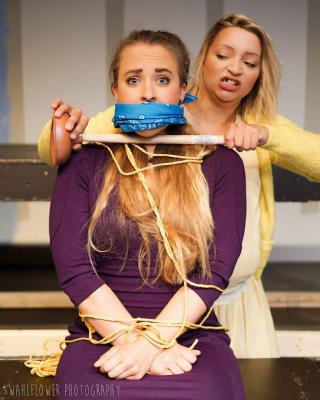 The score includes everything from boy-meets-girl love songs ("Follow Your Heart") to gospel anthems ("Run, Freedom, Run!"). The choreography includes a series of sly winks to the audience, parodying moves from the aforementioned Les Miz, Fiddler on the Roof and West Side Story.
Edward Honan handles the centerpiece role of Officer Lockstock with great skill. His dialogue is delivered staccato-style, very much in the vein of 1960s TV crime shows (think Dragnet). Ben Long's Bobby Strong has nice arc to the performance, going from reluctant participant to full-fledged revolutionary. His love interest, Hope Caldwell, starts out as a sweet and pure ingénue, but she eventually finds her moral compass; the transitions – and the vocals – are wonderfully handled by Brianna Marsh.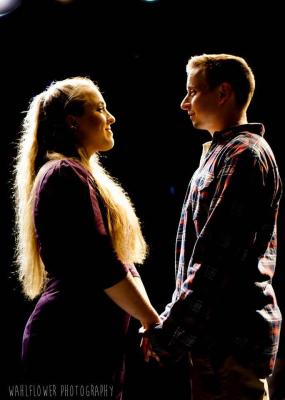 The small ensemble gives each performer a chance to shine. Emma Mueller is memorable as Little Sally, who often partners with Lockstock as narrator. Max Gorman's portrayal as Mr. McQueen, a corporate toady, benefits from his dance skills and a series of hilarious withering glances. Sebastian Antonio (Hot Blades Harry) opens Act 2 with a show-stopper, "Snuff that Girl."
The talented pit orchestra resides up in the rafters, with Music Director Mindy Rubinlicht's tempos and cues projected via monitor to the cast, keeping everything in synch. The pit was spot-on but somewhat over-enthusiastic in an early performance, blurring some of Mr. Cladwell's patter singing.
The Playcrafters production staff has gone to great lengths to turn Urinetown into an immersive experience. A row of plumber's helpers decorates the staircase between the lobby and the house. The performance is also supporting an ongoing collection drive of toiletries (wholly appropriate) for local homeless shelters.
If you're considering Urinetown at Playcrafters of Skippack, you might be initially reluctant.
But once you see this production and fall under its snarky charm, you'll leave flushed with excitement.
If You Go
Urinetown: The Musical
Playcrafters of Skippack
2011 Store Road
Skippack, PA
610.584.4005
July 21-23 and 27-29
All seats $20
The cast and crew of Playcrafters' Urinetown is collecting toiletries for the Keystone Opportunity Center, Souderton, and its network of area homeless shelters. Audiences are asked to drop items such as shampoo, conditioner, body wash and yes, toilet paper in the collection bin at the theater.