Antique Car Race from Maine to Florida Pulls into Valley Forge
It's common for young boys at play to reenact scenes from their favorite action movies, taking on the roles of Luke Skywalker or Iron Man and playing out the conquests of good vs. evil.
It's another thing for grown men to bring a movie adventure to life for themselves, but that's exactly what happened in 1983. Antique car owners who were fans of the 1965 comedy The Great Race got together to see if they could bring the film's story of an intercontinental road rally to life. The logistics of the movie's route - New York to Paris - were too difficult to surmount, so the organizers decided to stick to the continental U.S.
When the checkered flag fell at the conclusion of the first edition of the Hemmings Motor News Great Race, 69 classic cars had traveled from Knotts Berry Farm in California to the Indianapolis Motor Speedway, vying for a $250,000 purse.
Thirty-one years later, the 2014 Great Race is revving its motor for a June 21 start, when 100 driver/navigator teams will zoom from Maine to Florida, including a June 23 stop in Valley Forge. The competition is not a speed race, owing to the age and condition of the cars on the course; instead it is a road rally where teams are scored as they pass designated check points. A pass that is either too early or too late warrants a penalty, and the winners at each leg is the team with the lowest score.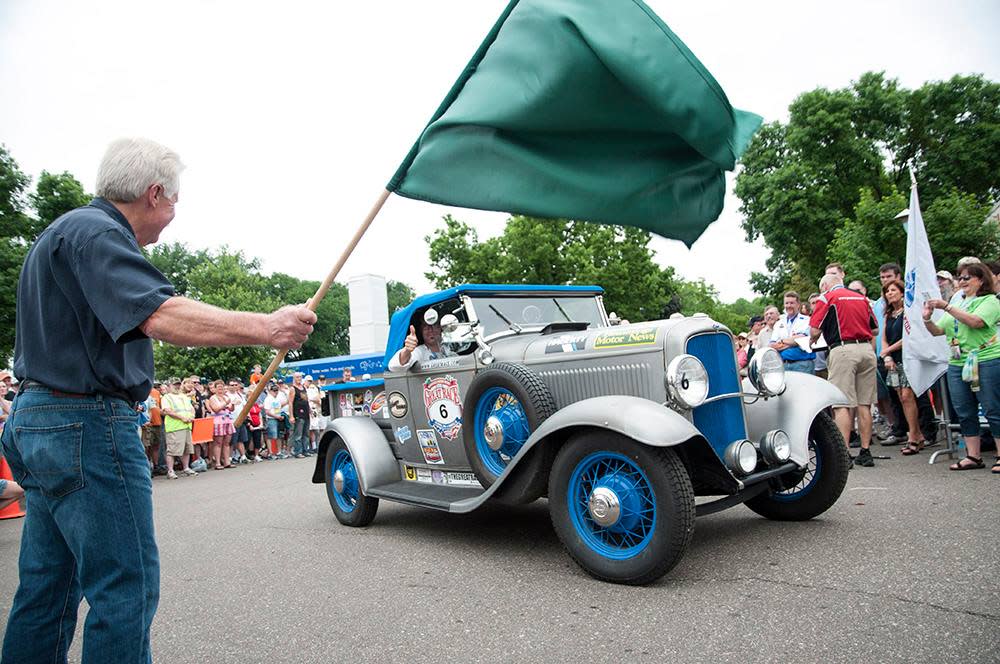 Joe Alackness, of Royersford, Pa., is a Great Race veteran, and although he will not be competing this year, he will be onsite at the Valley Forge Casino Resort when the cars screech to a halt there. Alackness spent his career as a local garage owner, which sparked his interest in classic cars and their restoration to road-worthy condition. After a quick hello, he is eager to introduce me to his 1932 Buick Convertible, which he has in storage at a lot across from his home.
"The Great Race has used various routes and distances to keep the challenge interesting," Alackness says as we stroll across the street. "At one time, it was coast-to-coast. Once it went from Disneyland in Anaheim to Disney World in Orlando. All kinds of various destinations."
He continues: "I've driven when they were out-and-back: East Coast to West Coast and back to East Coast. You're talking 4,500 miles round-trip over 13 days."
Since then, Alackness tells me, the organizers have decided that one-way journeys are best from an organization and logistics standpoint. I ask about how that works: How to get a classic car to the starting line when it's in another time zone.
"We tow it out and then drive it back," he replies, a plan Alackness used on last entry from Ottawa, Canada, to Mexico City, Mexico.
The Great Race has changed in other ways as well. Originally, eligible cars had to have been manufactured in the Pre-WW2 to 1946 timeframe. Over the years, the threshold has been raised to include cars no younger than 1959 models. It now stands at 1972 automobiles. Faster cars are handicapped by the race organizers to level the competition.
We arrive at Alackness' garage. It is a treasure trove of cars and other collectibles.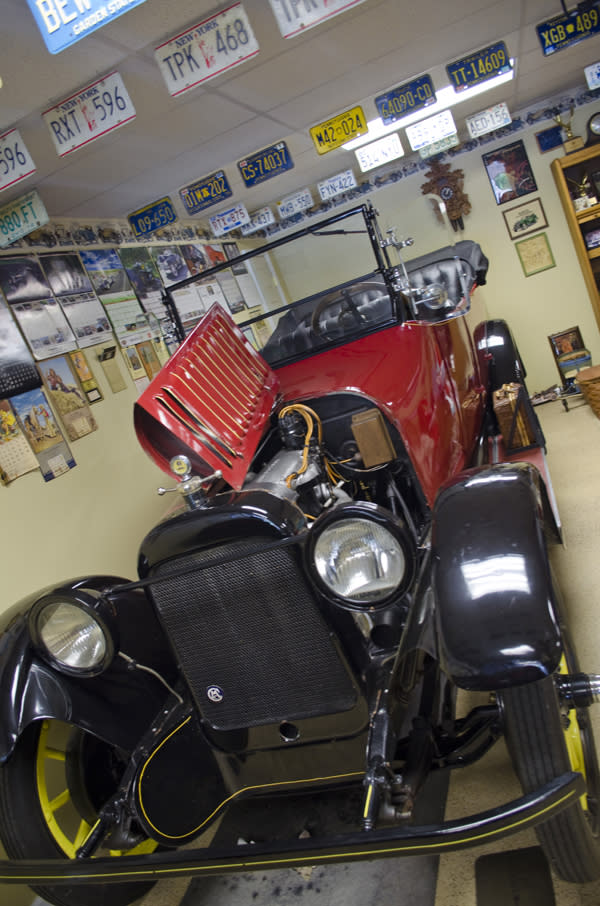 Parked behind the space designated for the Buick is an open-air 1915 Chalmers, a roadster that was produced in limited quantities between 1908 and 1923. In the heyday of the Chalmers manufacturing plant in Detroit, 250,000 cars were produced; today, fewer than 300 remain.
Alackness bought the Chalmers from the son of a Chalmers employee, after its restoration in the 1940s. The collector had so many cars that he stored them on-end, bumpers in the air, in a warehouse. Alackness shows me a picture, and indeed, the cars are stacked like books on a library shelf.
This year's Great Race competition has cars leaving from Poughkeepsie, N.Y., the morning of June 23 and stopping at East Stroudsburg University before rolling into Valley Forge 92 miles later. The public is invited to see the cars jockey for position and cross the finish line at the casino at around 5:15 p.m. The horseless carriages will then be viewable in the parking lot, with plenty of opportunity for photos and conversation among the teams.
Scheduled to appear is also the "Leslie Special," one of four cars specially built by Warner Bros. for the 1965 movie. Patterned after the Thomas Flyer car that won the 1908 New York to Paris trek that inspired the film, the vehicle's white paint and gleaming gold accents make it immediately identifiable.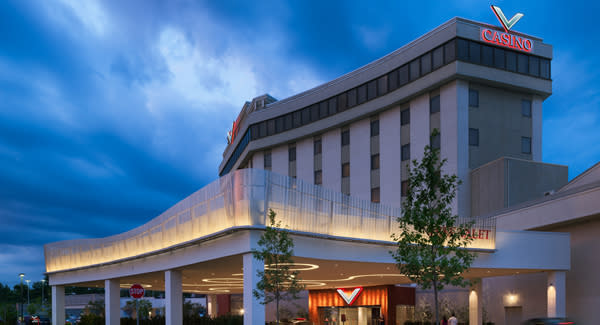 If all this motorizing brings to mind the retro-style fun of a good, old-fashioned road trip over the course of a few days, you'll need accommodations for the Montgomery County portion of your drive. See our website for a list of spots where you can take off your duster, goggles and driving gloves and get a good night's rest. If it's fuel you're after, try the menu at Sullivan's Steakhouse. The film version of The Great Race may have included an epic pie fight, but once you've tasted the key lime pie at Sullivan's, you'll be much more inclined to eat it than throw it.