Walk the 21st century pathways of Chestnut Hill College, and it's not a stretch to imagine the real world melting away.
In place of students in shorts and flip-flops, it's easy to picture them in black tunics and scarves of scarlet and gold. And a far-off maintenance building could effortlessly house a half-human, half-giant Keeper of Keys and Grounds. And side conversations could easily address the challenges of living among Muggles.
The wizarding world that seems to lie just under the surface of the campus comes to the fore this weekend, with the fourth annual Harry Potter Conference and Festival, October 16-17.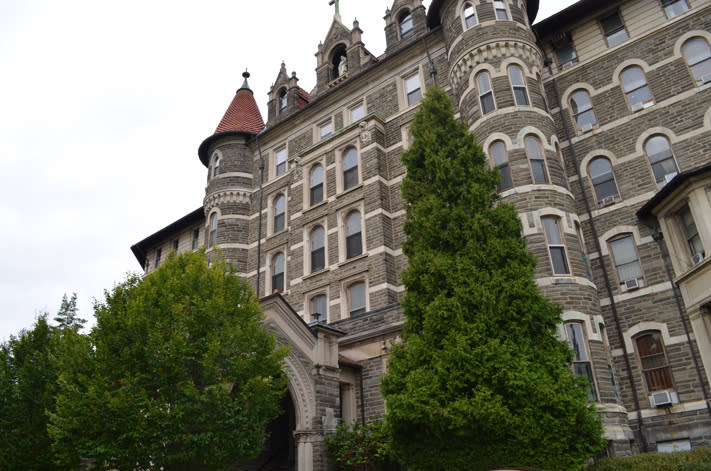 The two-day celebration evolved over time, according to the Chestnut Hill College professors who not only watched it happen but also contributed a key component. Dr. Karen Wendling, Assistant Professor of Chemistry, and Dr. Patrick McCauley, Assistant Professor of Religious Studies & Philosophy, explain the genesis.

Wendling and McCauley were asked to teach an Interdisciplinary Honors Course that addressed both of their specialties: science and religion. The challenge proved daunting, according to McCauley, because "...we had to find a middle ground where we could talk about major issues that weren't tilted toward science or tilted toward religion. And so what we did was pick up epic literature. Big works that were accessible for undergrads. So we could talk about character and morality without being on the science or the religion side."

Harry Potter became an obvious centerpiece.

"The class culminates in a major paper that comes from the reading of the entire seven-book Harry Potter series," explains McCauley. "Those papers were of such high quality, that we thought 'It's a shame that we're the only ones reading them.' So we needed to figure out a way to present this content to an audience. And that's where the idea of a conference originated."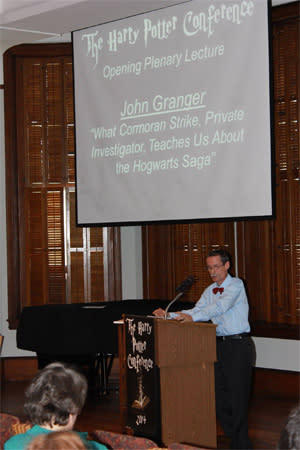 Four years later, McCauley and Wendling are now capturing the attention of serious academicians who eagerly delve into the science, philosophy, ethos, psychology and mythology of the epic tale. The conference has gained such notoriety that one of the plenary speakers is Skyping in from Italy (his wife is scheduled to deliver a baby), and another is traveling from the ivy-covered halls of Harvard to present.
This year's topics include examination of a corollary between readers of the books and reduced instances of prejudice. The conclusion has Wendling particularly excited.
"[The research reflects] legitimate, scientific study that documented a statistically significant increase in tolerance and empathy in children who had read Harry Potter," she explains. "All of a sudden we've moved from, 'Well, we think it does this' to 'We have evidence that it is actually helping young people.'"
Positioning the discussion as a serious academic endeavor has been something of a challenge for the Chestnut Hill faculty. "Because the books have a reputation for being children's literature, all the serious academics looked away," cites McCauley.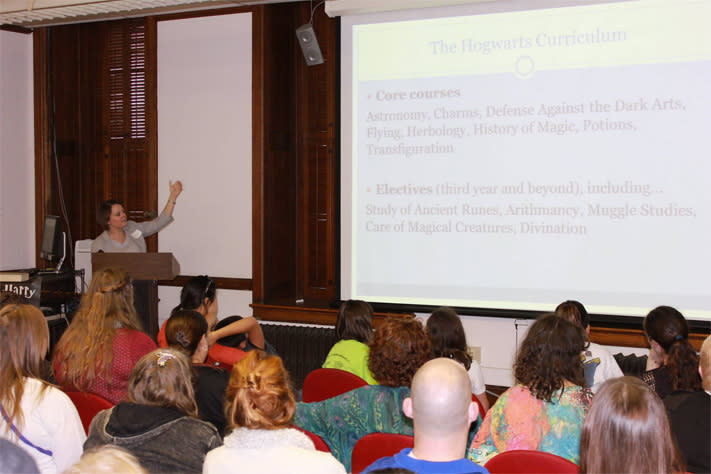 He says that when legitimate explorations of the series' more serious implications started to be explored, efforts were dismissed. An early conference in 2008 drew derision from the BBC. But McCauley persists in his effort to present this content as "...real academics." He continues: "There's a lot of conventions and fan events, but there's not really a forum for serious analysis of the story."
The conference is part of what McCauley calls a "three-legged stool" of a Harry Potter-themed celebration.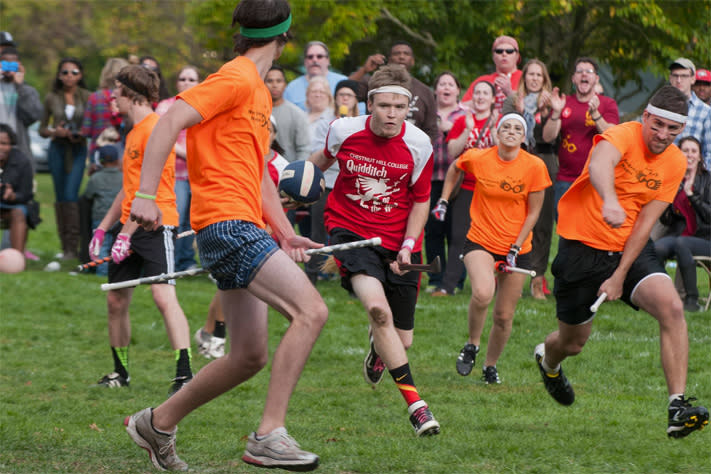 The college already featured an annual Quidditch tournament, the result of wanna-be Beaters, Chasers and Keepers working through the Student Activities office to bring the sport to campus. Yes, there are official rules, and yes there are broomsticks, but in general, play is something of a combination of rugby, flag football, tag and dodgeball.
The local village of Chestnut Hill, getting wind of the tournament and the interest it attracted, piggybacked a Potter festival onto the sport. "Every storefront is converted," says Wendling. "They change their names to something Harry Potter-related. And they do activities out on the street. There's scavenger hunts, readings of the books, showings of the movies, haunted-house tours. All the restaurants get a Harry Potter-themed menu; they had dragon wings last year It's really fantastic for kids. It's huge."
The critical mass of these two events provided the perfect platform for the conference.
The 2015 event begins with the academic exploration of the novels on Friday, followed by the Quidditch match and festival on Saturday. Bringing the magical weekend to a close is a concert back on campus - at the appropriately named Griffin's Den - that features Harry and the Potters and The Nargeleptics. Tickets are ($15) at the door or online.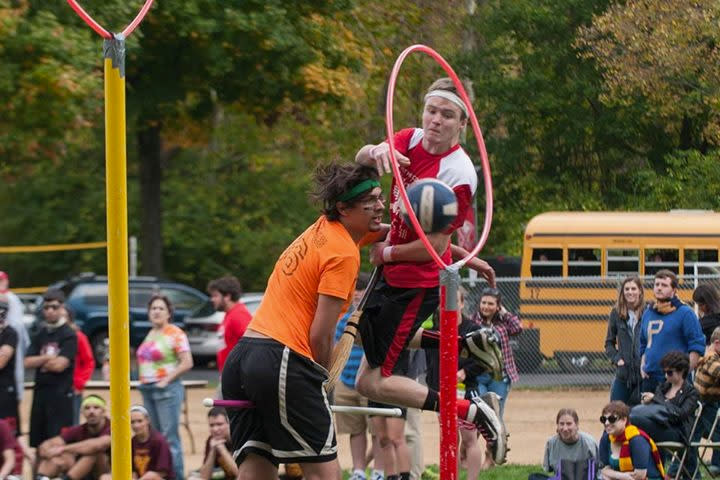 All the programming is free, with the exception of some of the festival events that feature a nominal charge. And the general public is welcome to come.

McCauley and Wendling believe the conference is age-appropriate even to the books' younger fans. "We have a whole portion that are academics, you know, tweed and worn-out leather briefcases. And we have a cohort of college students. We also have a cohort of high-school students. We even have grade-school kids," says Wendling.

Full details on the Harry Potter Conference are on the college's associated site.

Conference presentations all take place in St. Joseph Hall; its Greco-Roman rotunda exudes a decidedly magical feel.

In fact, standing before its array of staircases, it would not at all seem odd if several of them began to move and slide, ebbing and flowing into different configurations as students navigated without even pausing to notice.