Catching Pokémon at the national park or the zoo is always a good idea.
Unless it's pouring outside.
Luckily, we found an easy solution here at Valley Forge, other than an umbrella.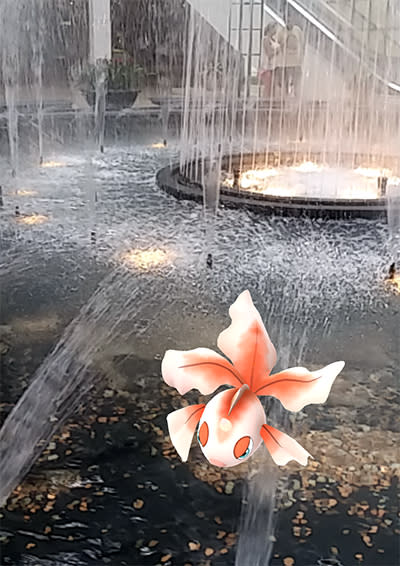 When the weather is less than ideal, but you still gotta catch 'em all, head to the malls.
With over two million square feet of indoor egg-hatching retail space (and an expansion coming soon), the King of Prussia Mall is a no-brainer for PokéMontco trainers.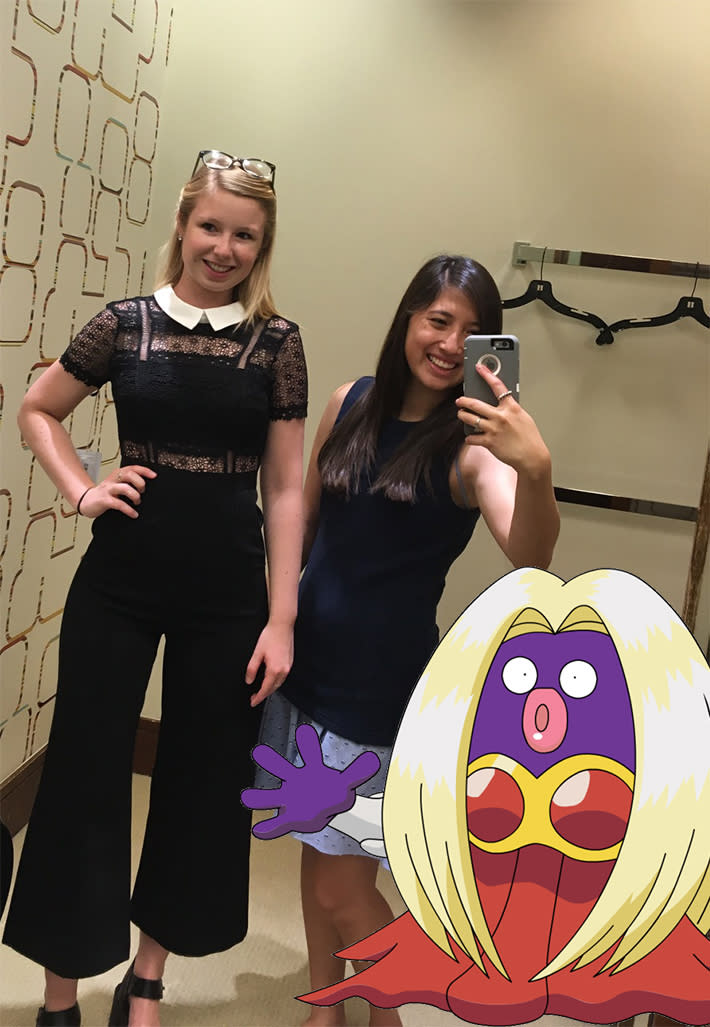 On a muggy Tuesday morning, I was grateful to be mall-walking (sadly I forgot my velour tracksuit).
My first stop of the day was Nordstrom's. Not necessarily a strategic decision, it was simply where I parked.
As I perused the Pokémon and the jewelry, a Raticate informed me that Kate Spade earrings were on sale.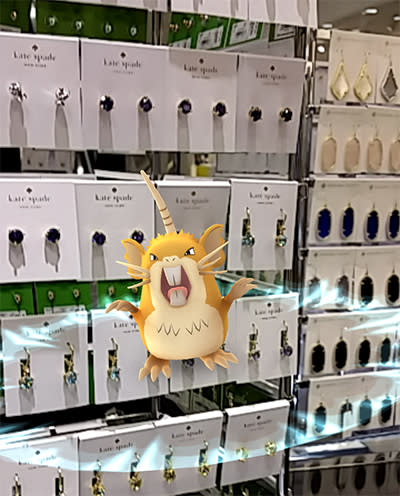 I continued my Pokémall tour walking the long corridors lined with high-end storefronts and beautiful boutiques.
I meandered through maze-like department stores, from Macy's to Neiman Marcus.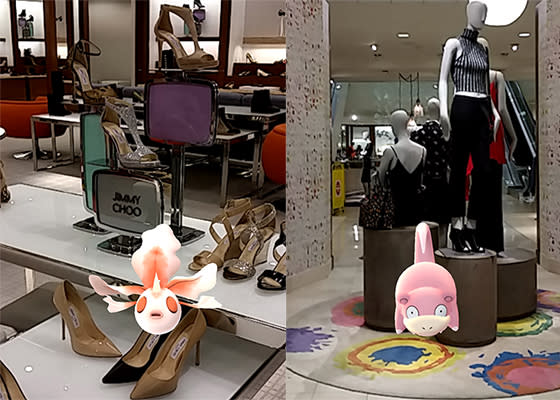 The KOP mall has a handful of Pokéstops featuring art installations from the tile mosaics to the Victoria's Secret PINK dog.
My personal favorite is "Suddenly Unicorn!" which I encourage you to seek out.
If you're feeling competitive, there is a Gym at the mall fountain and another just outside the building. A third Gym is within reach of the Cheesecake Factory.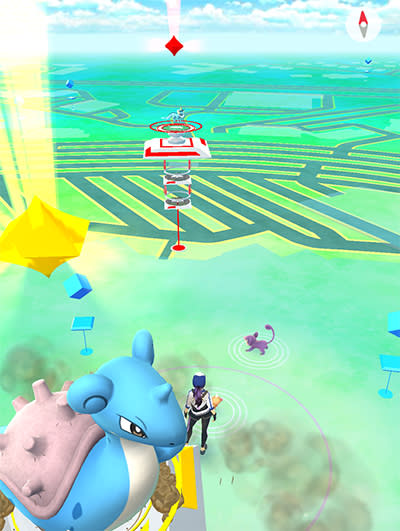 The Gyms here appear cutthroat, as I witnessed the icons change from yellow to blue to red within the short time I spent at KOP.
Long gone are the Pigeots and even Vaporeons spearheading Gyms (the latest Pokémon Go patch balanced the water Eevee-lution's overpowered stats).
As I left the mall, a duo of Dragonite swooped in to paint KOP yellow.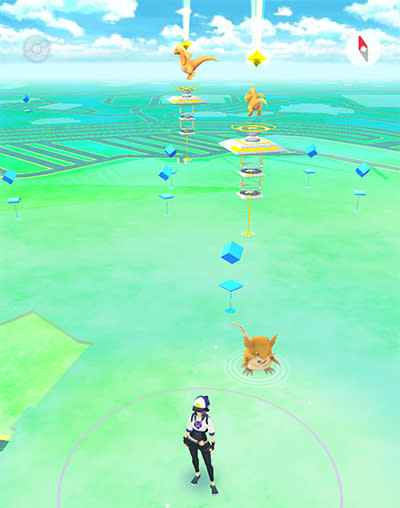 Following my stint at King of Prussia, I took a short drive to the Plymouth Meeting Mall.
My lunch for the day?
Rooftop tacos.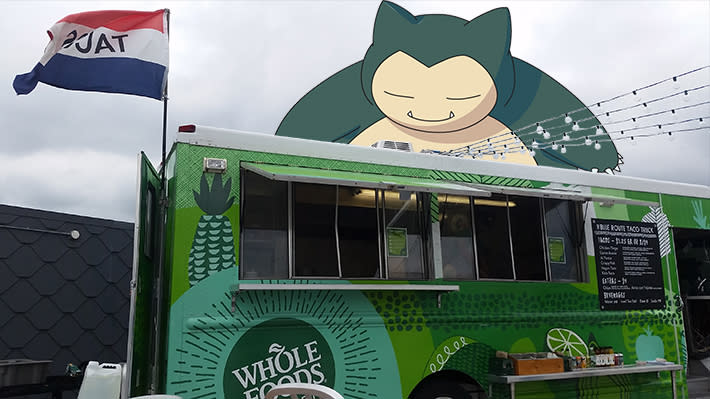 Boasting Philadelphia's largest Whole Foods Market and Cafe (including the Blue Route Taco Truck), the Plymouth Meeting Mall does not disappoint.
Case and point: these tacos.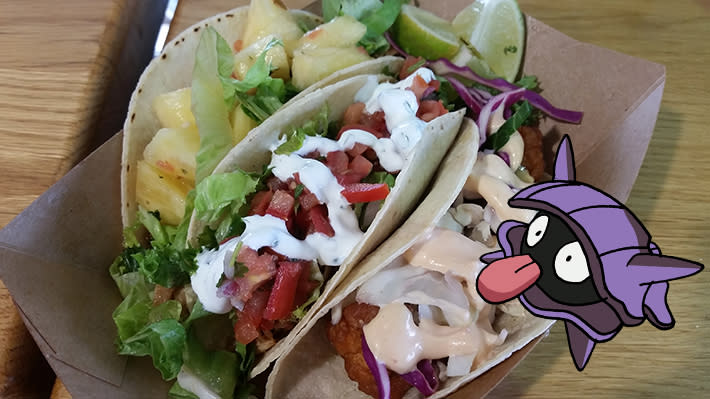 Still dreaming about tacos, I continued my Pokémon Go journey to Charming Charlie's, an adorable boutique for budget-friendly accessories.
The color-coded jewelry paradise had a few more gems than usual: a wild Staryu appeared! 
The Plymouth Meeting Mall has a Gym at the fountain, as well as one in the parking lot, and a Pokéstop at the carousel. A few other Pokéstops are scattered outside the mall.
What the mall lacks in Pokéstops, it makes up for in Pokémon density.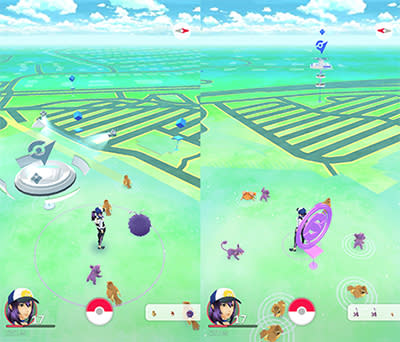 The spawn rate here is insane.
If you're in the mood to catch and you have a bag full of Pokéballs, then you're going to have a field day at the Plymouth Meeting Mall.  
I attempted to add my Flareon to the gym at the fountain, but someone sneaky added their own Pokémon just after I raised the prestige.
Please don't be that guy.
Anyway, the malls are perfect indoor locations for playing Pokémon Go on a rainy day (or any day that ends in 'y').
Happy hunting, and stay safe Trainers!
Use #PokeMontco to share your journey to becoming the very best in Montgomery County!