Farm-to-table has become a major food trend.
But in the northwestern corner of Montgomery County, a family has established a 20-year history with an interesting variation on farm-to-table: It could be called farm-to-tee.
Macoby Run Golf Course in Green Lane was the long-term dream of patriarch Floyd G. Hersh. Hersh, who passed away in 2000, was the owner of an excavating company. But he was also a farmer, using his expansive property to raise soy, hay, beef and pork. And atop that, he was a golf fan.
As farmers in the 1960s sought a less rigorous means of making a living, they began began converting their acreage into golf courses. Hersh toyed with the idea before finally driving ahead in 1990.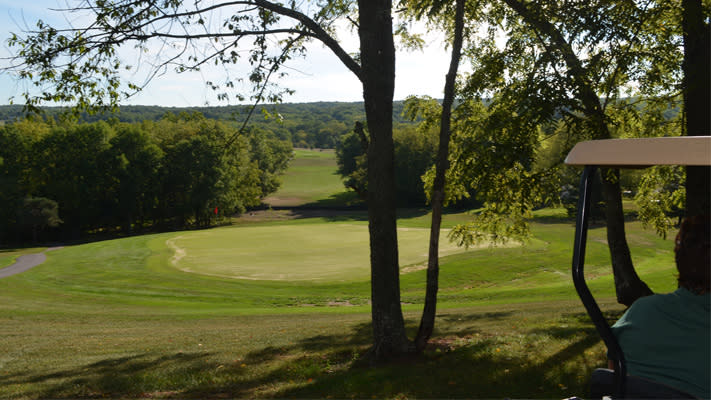 He employed Boyertown designer David E. Horn to transform his pastures and fields into 18 holes of challenging golf. And Macoby Run, using a native American name for "red crater," was born.
Hersh passed away in 2000, but his family - second and third generations - have worked to maintain both his legacy and his picturesque course.
"We wanted to maintain as much of the natural topography as possible," explains Missy Peart, course manager. "This is some of the highest elevation in the county. We knew these views were important. So we made the effort to not change the lay of the land."
Peart, Hersh's daughter, grew up onsite. She remembers present-day fairways as onetime fields filled with cattle and pigs. "We used to make pets out of them," she remembers. "And in summer, with some of the neighbor kids, we'd have these massive rotten tomato wars."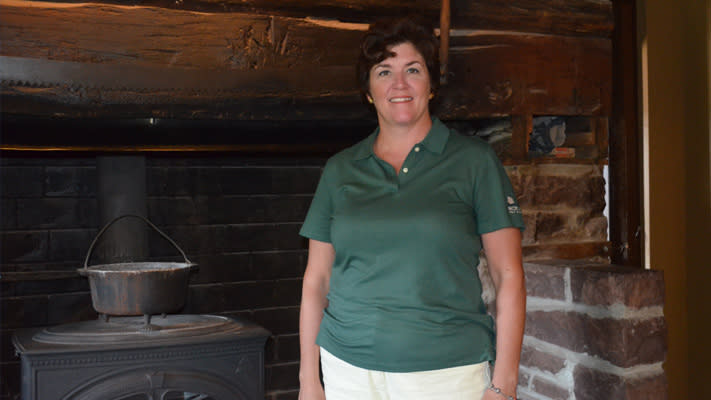 Peart takes me by her childhood home, passing by the barn that once contained livestock. We pause by a flat stretch of turf that runs perpendicular to the house.
"This was the bed for former Perkiomen Railroad," she says. "And over there" - she nods a few yards away - "was the Macoby Station. I remember waving to the cars as they went by. This was real Mayberry RFD stuff."
When the tracks were eventually abandoned in the 1980s, Peart's dad claimed the station, and it became a playhouse for her and her sisters. "Dad used it for storage, but we played dolls in it," she laughs.
Nestling a golf course into the wide-open landscape may have seemed like an easy task, but it had its challenges.
Peart describes the difficulty presented by an aging bridge that connects McLean Station Road over Macoby Creek.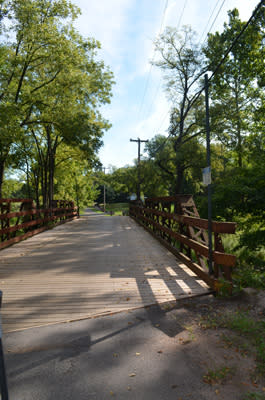 "This bridge was abandoned for 27 years," she says. "It was officially declared unsafe, and we couldn't use it. But I knew it was essential to our play. Without it, we were a course with 17 holes of golf!"
Peart and her family repeatedly launched attempts to buy it, but got bogged down in administrative details.
"It was a borough-owned bridge on a county-owned road over a state-administered creek," she says, describing the difficulty.
Finally, a face-to-face meeting with the Montgomery County Commissioners cleared the way. "I remember making our case to Josh Shapiro, (then-Commissioners) Leslie Richards and Bruce Castor. Commissioner Shapiro got it right away. But Commissioner Richards couldn't believe it. I remember her asking me: 'You want to buy a bridge?!?!'"
Yes, indeed, Peart wanted to buy a bridge. Desperately.
So a deal was hammered out, and Macoby Run got its access route. An extensive renovation - handsome wooden decking replacing cracked blacktop over a rusting, lattice roadway - ensures the safe passage of carts and walkers.
It is not only functional, it is attractive; bridal parties love it as a unique, photogenic backdrop.
Macoby Run's wedding and event business is healthy, having gotten a boost from a new, open-air pavilion. It will be the site of a bridal marketplace on November 6.
As attractive as the grounds are on a late-summer morning, Peart says they will be even more spectacular as the foliage begins its fall transformation.
"When we built the pavilion," she admits, "we chose colors that match the tree line behind it. The idea was to compliment all those reds, oranges, yellows and tans."
Macoby Run is a public course. Weekday rates (Monday-Thursday) are $31 to ride, $22 to walk. Discounts are available to golfers teeing off after 3 p.m., and rates drop again after 5 p.m. On weekends, a round of golf with a cart is $49 and without is $39. Again, these rates sink like a putt after 3 p.m. and 5 p.m.
The course also features a driving range and Wetlands Bar & Restaurant, which occupies a former home originally built in 1868.