There was something wildly ironic about my trying to find Bill McGeeney.
We had agreed to meet at dusk at Wilson Park, Trediffryn Township, to talk about the Star Parties he runs as president of Delaware Valley Amateur Astronomers (DVAA).
He was bringing telescopes to introduce me to heavenly bodies millions of miles away in space.
And yet, we couldn't locate each other in an area of less than a quarter square mile.
In trying to locate my guide, I called his cell. "We're here," he explained. "Looking at Orion and Betelgeuse."
"Well, I can see Orion, too," I laughed, raising my eyes well above the horizon. "But that's not helping me find you."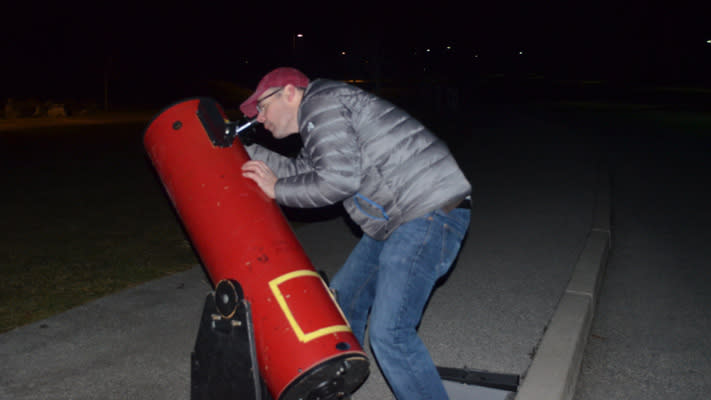 Eventually, I located him and his fellow DVAA member Rob Becker. They had brought a pair of sophisticated telescopes and were peering at the nighttime show unfolding above us.
McGeeney told me that his fascination with space began when he was a child, growing up in Limerick Township, Montgomery County.
"Back then, Limerick was all cows and fields and not a lot of people, so the stars seemed especially bright," he remembered. "I was always curious about the night sky. I thought it was really cool that, when the moon was out, it was practically bright enough to go out and play baseball.
"But when the moon wasn't out," he continued, "you had these amazing stars up there, and to me, they always had a story to tell."
His parents fed his interest with the purchase of a telescope, and before long, he was locating planets like Saturn.
"If you've never seen Saturn, it's one of the most amazing sights," he described. "And some of the stars with their different colors; some stars have a white-blue hue; others have yellow; others are crimson, you know. It just depends on the makeup, what kind of star it is, the age, like where it's at during its life-cycle. So I got into it that way."
McGeeney and Becker explained that the skies in this current, late-winter period reflect an interesting transition.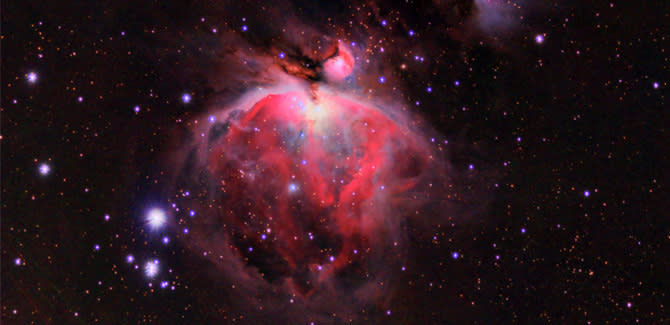 "We're seeing the end of the winter constellations," McGeeney said. "Orion and Canis Major are moving out. These are the two most popular constellations seen in the winter sky. Plus Taurus is over here."
He swept his hand to the right. "And then we get over to there and that's where we see our traditional parade of Cassiopeia, with Perseus coming up underneath it."
He indicated another section of the sky: "And we'll get to our northern constellations like the dipper and Draco."
As spring continues, McGeeney said that the constellations Virgo and Leo will gain prominence in the sky. "They are excellent constellations for an astronomer because once you find them, you get to see a whole bunch of galaxies," McGeeney explained. "The Virgo cluster, which has five or six galaxies in there, is easily visible. Leo the same way. You can see a lot of galaxies. It's one of the coolest times of year."
I pointed to a white dot off to the East. "What is that?" I asked.
"Jupiter," McGeeney responded.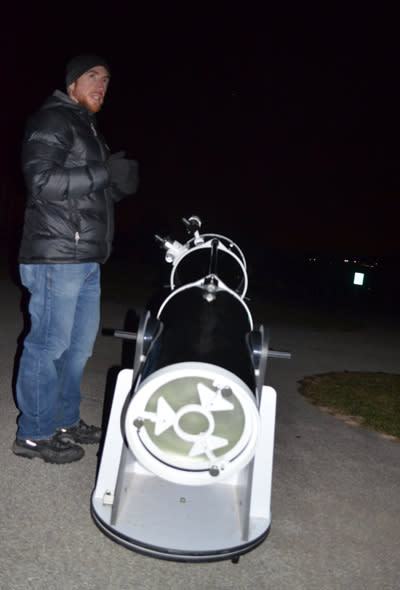 Becker then invited me to take a look in his telescope. What appeared as just a dot to the naked eye was actually a gathering of the planet itself - including its textured surface - and four moons nearby.
I mentioned my own casual interest in Astronomy, instilled by my father who was in the U.S. Navy. When my brothers and I were young, he would describe the ease of star-spotting while out on the open sea, where light pollution was virtually zero.
Becker comments that the Navy is actually re-training officers to navigate by the stars, as a guard against a single point of failure in the extensive guidance technology onboard military vessels.
"We're back to third-century BC navigation," I chuckled.
"Yes," said McGeeney, "but it's just as reliable now as then. The planets and the sun march across the southern portion of the sky, and they always follow each other, east to west. And the dipper is always going to be in the north. It never changes."
Locating the treasures of the nighttime sky is easier with a guide. For that reason, the DVAA hosts a series of Star Parties from March to November at the model airplane field of Valley Forge National Historical Park (on Route 252, just as it enters the park after crossing over I-76). They are free to the public and run from sunset to 11 p.m.
The 2016 schedule is as follows:
March 12
April 16
May 14
June 11
July 09
August 13
September 10
October 08
November 05
Bad weather will cancel a particular session, and star-gazers are advised to call the DVAA hotline (484.238.0960) to confirm an evening's particular program.
Although high-tech equipment will be onsite, attendees can come with something as simple as a pair of binoculars.
And a healthy dose of curiosity and wonder.
A Star Party that ends at 11 p.m. can leave an astronomer feeling a little fizzled out. After learning all about the universe, why not get some shuteye at a local hotel? Our website can recommend plenty that are near to Valley Forge and whose amenities are downright heavenly.