This weekend brings a flourish of fall festivals and an outpouring of October occurrences. Whether you're after some family fun or a little seasonal art & culture, it's a weekend of monstrous #MakeItMontco memories.
Scream Mountain, the Halloween overlay at Spring Mountain Adventures, opens October 3. Brave visitors have a variety of ways to experience grisly ghouls, including a walk in the haunted woods and a hayride visit to a former mining camp. Those seeking a trifecta of thrill can combine the walk, the hayride and a thrilling zipline through the darkness. The Scream Mountain experience may be too intense for younger children; however, a sunset hayride option is available that is monster-free.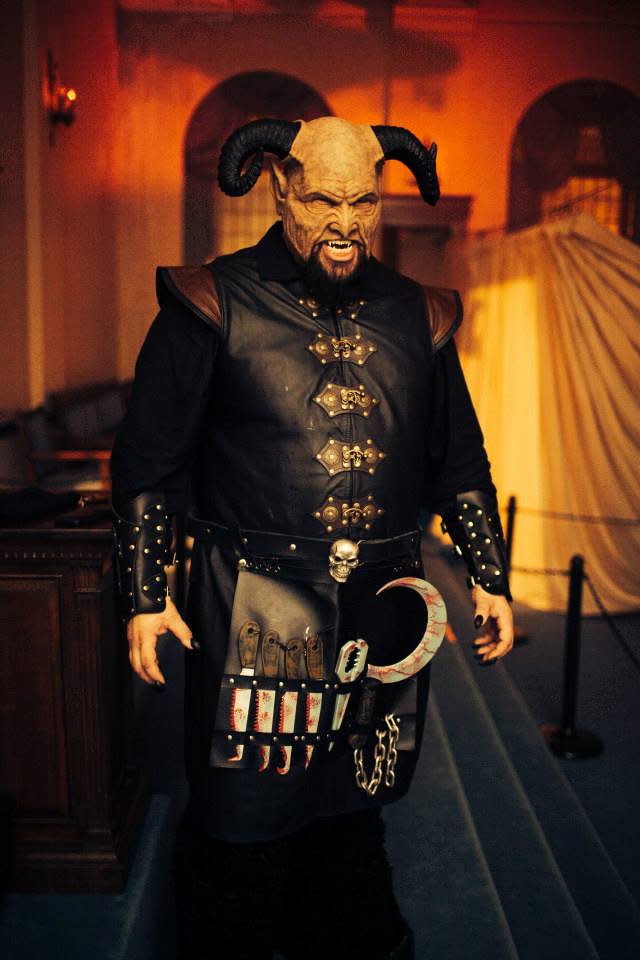 The Temple of Terror swings its creaky doors wide for the season on October 3. This walk-through attraction, not recommended for little ones, creates a legend of jealousy, envy and a love affair gone horribly wrong. On October 19, the heart-pounding rush takes on deeper significance with the Monster 5k at Montgomery County Community College (West). Runners will no doubt score record times, fleeing from a multitude of mindless marauders. Later that day, Riverfront Park is setting for the first annual Zombie King and Queen Pageant.
Maybe a bit of theatrical grand guignol will give you a seasonal kick. Ursinus College presents the Gothic classic The Picture of Dorian Gray at the Kaleidoscope Performing Arts Center, nightly from now until closing on October 4. This Oscar Wilde's story - a clever variation of the Faust tale - has been given a new stage adaptation. If you are unfamiliar with the Dorian Gray story, suffice to say that what is unveiled at the end is sure to elicit a gasp.
All weekend long, October 4-5, Morris Arboretum offers a gentler celebration of the season. Fall festivities include pumpkin painting, apple tasting, animals from Elmwood Park Zoo and the chance to stuff a scarecrow. These masterpieces then go on display at the Scarecrow Walk until October 19, after which visitor votes determine the best dressed. The backdrop to the festivities is the spectacular variety of trees that are gradually changing into their autumnal grandeur.
And what would an October weekend be without picking a pumpkin? The following sites are the best the county has to offer:
Merrymead Farm's "Great Pumpkin" greets visitors at the entrance, but the welcome is all the more festive at dusk, when his jolly face beams a gigantic grin. After you find your perfect Jack-o'-lantern-to-be and tackle the five-acre corn maze, a snack might be advisable. Good thing the apple cider donuts are in season.
Freddy Hill Farm goes all-out-orange for Halloween. Plenty of perfect pumpkins can be purchased precut or plucked right from the patch.
The adventure of selecting a pumpkin at Kohler Farms begins with a hayride to the fields to find a gorgeous gourd. The farm also sells straw, scarecrows and other Halloween-themed decorations.
Pumpkins abound at Little Acre Farmstead but better still, so does pumpkin pie. Visitors can also watch the cider mill in action, as it gushes forth with frothy fresh apple cider.
Maple Acres Farm boasts an impressive approach to its agribusiness, a minimal use of chemicals around its produce and poultry. Visitors can leave with a pumpkin already gathered from the field, knowing that it has been grown in an environmentally friendly manner.
Have a blast at Northern Star Farm this October. New this year is a giant air-cannon that will launch anything from apples to water bottles to small pumpkins. Ready, aim, fire!
If the fall chill sets in during the Fall Harvest at Varners' Farm no worries: The hot chocolate and warm cider are free. One of the notable aspects of visiting Varners' Farm is being transported to the pumpkin patch by way of a pair of stunning Belgian draft horses.
Whichever of these recommendations you choose, be sure to share your photos and updates online by using #MakeItMontco.
The autumn chill these days can set in rather quickly once the sun sets. Escape it with a warm meal and a plush room. For the former, we recommend Famous George's Pizza Pasta and More, where the baked ziti will definitely satisfy. For the latter, see the list of hotels and B&Bs on our website. Nestle in and remain carefree and comfortable as the autumn winds sigh outside.