With its preview opening today, Naf Naf Grill joins the restaurant scene in the King of Prussia Town Center. Its new location is a long way from the restaurant's beginnings - both in distance and vision.
"This all started in Naperville, Illinois, a suburb about 30 miles west of Chicago," describes David Sloan, CEO. "The original restaurant was a little hole-in-the-wall place in a former Taco Bell. Purple décor and everything. The store didn't even have heating or air conditioning."
But, as Sloan discovered as a customer, it had amazing food.
"I went there for lunch one day, and it blew me away how good it was," Sloan recalls. "I knew about shawarma and falafel and other Middle Eastern dishes from my travels in Europe, where it is one of the most popular cuisines on the market. I was convinced it would succeed in the States because it's not a food you can just get anywhere."
The concept took off. With Sloan's inspiration and business savvy, Naf Naf broke from its simplistic shell for a classier location that thrived.
"We were in every publication in Chicago; we were on TV shows; we had lines out the door; it was crazy. And to me, it was just going to be this one little restaurant that I liked having near the office of my money management company because I loved this food so much."
But demand increased. Sloan and his three other partners expanded the chain from one site to 20.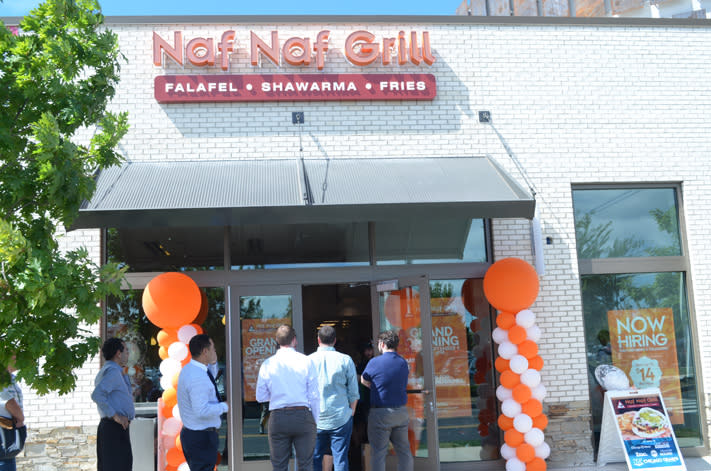 Naf Naf's continued success now brings it to the King of Prussia Town Center, representing the restaurant's first venture outside the Midwest.
Why here?
"We just kind of fell in love with Philly," he says. "It reminded us somewhat of suburban Chicago. A great town with a deep love of food; an opportunity for us to introduce a Middle Eastern restaurant to a public who may not have encountered it before."
Naf Naf takes its name from an Arabic-Hebrew expression to "fan the fire." Sloan explains, "It's kind of a call: Let's go grilling. Let's go barbecue."
The cooking style matches the invitation to experiment with some bold flavors.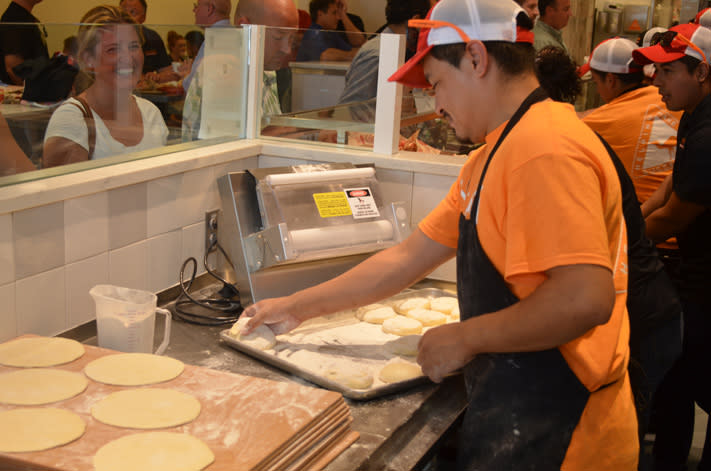 Naf Naf's shawarma, for example, is a savory column of chicken or steak that is piled high on a skewer and roasted. Before it is served, a robotic knife - unique to Naf Naf - shaves the meat into tender chunks. The results are nested in the restaurant's hand-baked pitas, where additions like chopped salad and tahini round out a robust flavor profile.
Meals may also start with a bowl of basmati rice or hummus. Naf Naf also serves falafel (a deep-fried ball of ground chickpeas and fava beans), hummus and signature fries.
"We want to define this food for people," Sloan says. "We want to give them a new experience and get to travel to another part of the world and taste those flavor profiles that they may never get a chance to taste in their life. If they don't travel to the Middle East, which is such a wonderful culinary part of the world, we want them to explore it here in King of Prussia.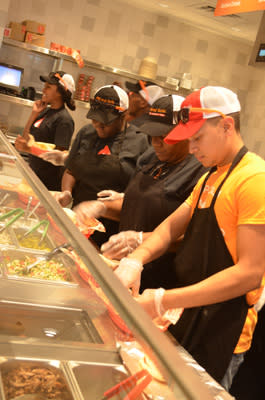 "We're giving them an authentic, real experience of fantastic food.
"When you walk into our restaurant, we don't hide anything. We have a bakery in each restaurant. So you see flour going into the mixer as we're making our own dough, we're making our own pita right in front of you.
"We're cooking these huge cones of seasoned meat. We're making falafel by hand - no machines. And then we have these beautiful vegetables and sauces that really add a different flavor profile to your dish.
"So it's just a whole experience, looking at the food and going through that line. And you see that we're not taking any shortcuts. We're doing it right."
Opening day crowds lined up outside the restaurant, tempted by the delicious scents wafting from the kitchen. Inside, the attentive staff kept lines moving efficiently, while taking the time to ensure that every order was perfect.
My lunch of choice for this initial outing was beef shawarma, topped by red cabbage salad and a spread of baba ghanoush. Biting in, the experience is something like eating a steak sandwich but the meat is tender, juicy and expertly seasoned.
One of the cornerstones of the brand is Naf Love, a belief that customers - like Sloan himself - would connect with this culinary outlook in a deep and satisfying manner.
If opening day is any indication, the King of Prussia dining scene will find Naf Love in a big, big way.