Once upon a time...
...a cute Montgomery County, Pa., couple got engaged.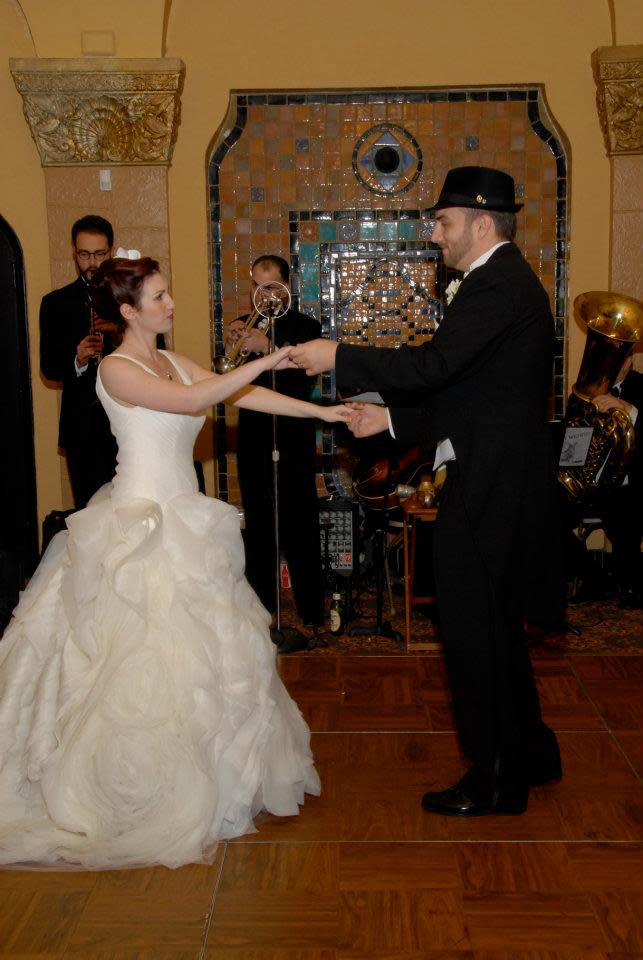 The date when Davis Beam asked Erica Stanley to marry him was carefully chosen: Groundhog's Day. The latter piece of information doesn't speak as much of their love of animals as their sense of fun and whimsy. Those aspects of their personality guided many of the wedding details that followed, including the venue.
"We considered Longwood Gardens," Erica says. "But they aren't set up to host weddings."
So they continued looking.
They thought hard about what they had in common: Both were artistic. She is a photographer with fashion design skills and, as a sideline, creates custom wind chimes. Her fiancée makes his living as a painter.
Early in their relationship, in addition to falling in love with each other, they fell in love with Ambler, where they were living. "We loved walking there," she remembers.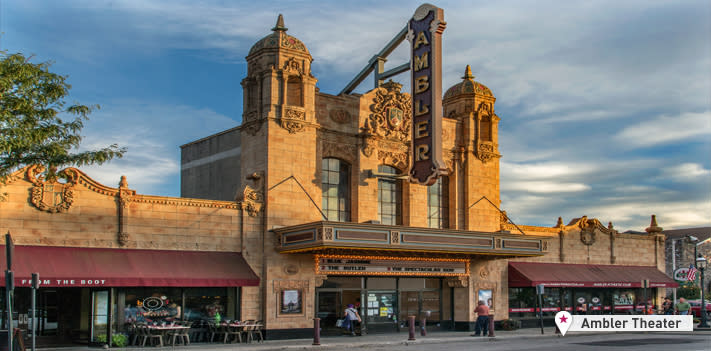 They also shared a love of old movies... and vintage fashions. So an idea blossomed to look into the historic Ambler Theater whose Spanish Colonial style reflects a 1920s feel that appealed to them.
"There is something special about the style of the Ambler Theater," says Erica. "It is so authentic and looks so beautiful. I knew I wanted our wedding to be there."
She contacted the theater's event manager, unsure if hosting a wedding was even a possibility. "I called the office on a long shot to ask if they will host my wedding. The director called us in for a meeting, and she agreed! We were super excited!" 
They set a date, 11.11.11. "Eleven is my lucky number," Erica gushes.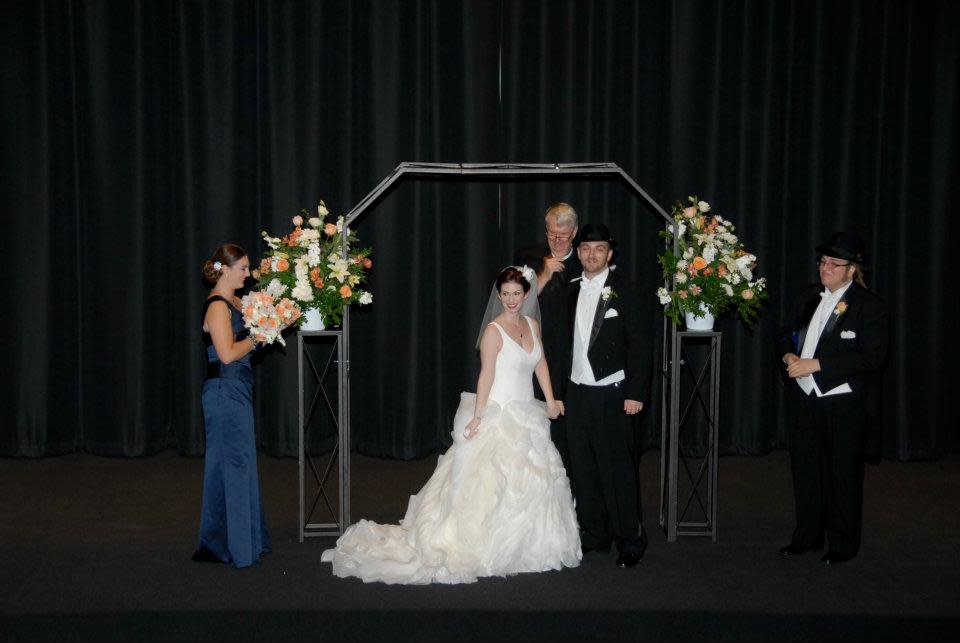 The setting guided many of their other decisions, from fashions to decorations to music and food. In perhaps their grandest display of creativity, the couple produced a short film to play before Erica walked down the aisle. "We made a silent film at the Ambler train station," Erica relates. "We were dressed in the clothing of the late 1920's, and the plotline involved me losing a glove. Davis finds it and tries to find the woman who it belongs. And of course, there is a happy ending."
As a final act of authenticity, Erica and Davis crafted captions - in the form of old-fashioned title cards - and gave the footage a sepia-toned color palette that provided an appropriate look and feel. "We added ending credits, listing the names of our wedding party and our vendors."
And just as in Hollywood, they have since gone on to live happily ever after. They currently live in South Florida, but they continue to remember Ambler - and their special day - with great fondness.
Montgomery County, Pa., is full of charming, one-of-a-kind places in which couples can exchange rings and vows. If you're looking for a farm wedding, a castle wedding, a hot-air balloon wedding and even a wedding on the water, we can accommodate. Want your musical accompaniment to feature fife and drum? We can provide the connections. Interested in George Washington himself toasting you with a rousing "Huzzah"? Let us know.
The weddings page on our website is a starting point, but in reality, there is no limit to the possibilities. Even if you have your venue settled, one of our signature hotels can provide ample space for a reception large or small, where the culinary skills of our local chefs will create magic with their menus.