Author-historian-performer Sarah Vowell benefits from an interesting irony.
Her highest-profile film role is as Violet Parr - an invisible teenager - in 2004's The Incredibles.
But in real life, Vowell is anything but invisible.
Her work in print has examined such diverse historic topics as the overthrow of the Kingdom of Hawaii and the sites connected with the assassination of U.S. Presidents. And in the public eye, her witty and wry views have enlivened conversations with David Letterman, Jon Stewart, Stephen Colbert and Jimmy Kimmel.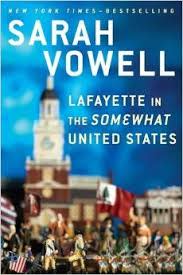 Vowell's latest book, released October 20, will clearly resonate with local history buffs. Lafayette in the Somewhat United States examines the role of the Marquis de Lafayette in the Revolutionary War: Why he got involved. What his impact was. How he spent the winter encampment at Valley Forge.
The details are historically accurate, but the narrative is wrapped in Vowell's viewpoint, which reflects equal parts wit, irony, iconoclasm and insight. Through the course of the book, she reaches back to Lafayette's upbringing and motivations, but stretches those observations forward to comment on our country today.
"I am interested in ways that the past filters into the present," Vowell says, explaining how she developed her unique outlook. "This could be something as basic as street names. In my hometown of Bozeman, Montana, Willson Street is named for architect Fred Willson. Which might not matter except that Fred Willson designed more or less every interesting building in town.
"Or the street I grew up on, Story, was named after town founder Nelson Story, who led the cattle drive to Montana in 1866 that inspired Lonesome Dove.
"I just think knowing things about the dead makes the world more weirdly alive."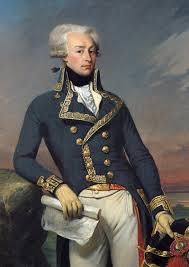 But why, I ask, out of all the colorful characters associated with the Revolutionary War, focus on Lafayette?
Vowell responds: "Initially, I was attracted to the American people's overwhelming response to his return trip to the U.S. in 1824. Just the idea of two thirds of the population of New York City meeting his ship seemed so exotic. That sort of agreement seemed unthinkable nowadays when our country is so polarized.
"Then I got into the research and our forefathers in the Revolutionary War era engaged in more or less constant bickering, backbiting and infighting. So the joke was on me. It's why I modified the words 'United States' in my book's title with the word 'somewhat.'"
Vowell describes how she got here, citing the aspects of her childhood that led her to see the world in an interestingly off-beat manner.
"I was always a reader," she says. "But when I was younger I wanted to be a musician, first a trumpet player and then a composer. While music did not pan out career-wise, all the years of discipline and practicing and rehearsals had a profound impact on my work ethic.
"Regarding my undergraduate and graduate degrees in the arts and humanities, I think it's more surprising when people make careers that closely adhere to their majors.
"It's one reason I am so dismayed to visit colleges where students are majoring in woefully specific careerist-sounding subjects like public relations. There are internships for such things.
"I'm a firm believer in the ways a solid liberal arts education prepares a student to read and write and think, skills that come in handy in just about any job, public relations included. I didn't become an art historian, but I use that background all the time in my writing in terms of actual historical knowledge, the ability to compare and contrast, and probably most usefully, the sort of compassion a background in the arts inspires. Students of the arts get pretty used to their heroes being junkies, misogynists and philanderers. Terrible people can make beautiful things. A feminist who still likes Gauguin is pretty well prepared to deal with Thomas Jefferson and his contradictions."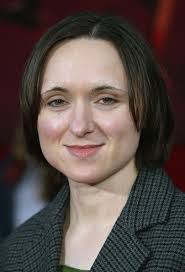 Her research methods include a twist of the unpredictable.
"I go out and find what I find (from primary documents, secondary materials, historical sites, various guys I meet on the road) and then sift through it later. Usually there's some basic chronology, and certain things that have to be mentioned to move a story from beginning to end.  I prefer it when I can graft a narrative anecdote onto a chronological necessity.
"For example, when I was writing a book about Americans taking over Hawaii in the 19h century, whaling was a big part of that story, but I knew I needed to mention that the practice came to an end when petroleum was discovered in Pennsylvania.
"Luckily, I took my then-eight-year-old nephew to a whaling museum in Maui. He was so appalled by the whale butchery he had a meltdown. 'They killed whales?!?'
"Finally, I just told him, 'Cheer up! They're about to discover petroleum in Pennsylvania and the world will go nuts for fossil fuels.'
All he said was, 'Good!'"
"This was a more action-packed way to deal with the transition from whale oil to petroleum oil, even though as a Moby Dick fan his ire broke my heart a bit. My feeling is: whaling is bad, but stories about whaling are good."
Vowell has projects on her horizon that speak to both her literary and cinematic careers. She's planning book number eight, on a topic that is to-be-determined. And a sequel to The Incredibles is bubbling around somewhere in director/writer Brad Bird's mind, but it hasn't come to fruition yet.
I end by asking Vowell about the coincidence that she and I are born on the same day, December 27. Did she find it difficult, as I sometimes did, in having a birthday so near the Christmas holidays?
"Isn't one of the lessons of the winter encampment at Valley Forge that future generations don't really get to complain about holiday ordeals?" she counters. "We're just supposed to feel fortunate to own shoes in December right?"
Of course, right.