Hey, Halloween people!
Tick-tick-tick.
If you are a poltergeist who has procrastinated or a Frankenstein who's forgotten, there is not much time left. The scariest night in Montgomery County is less than two weeks away.
Rather than run around like a zombie with his head cut off, lurch over to Collegeville Costumes. It may be a little difficult to find, buried behind DaVinci's Pub on East Main Street, but this hair-raising retailer is worth digging for.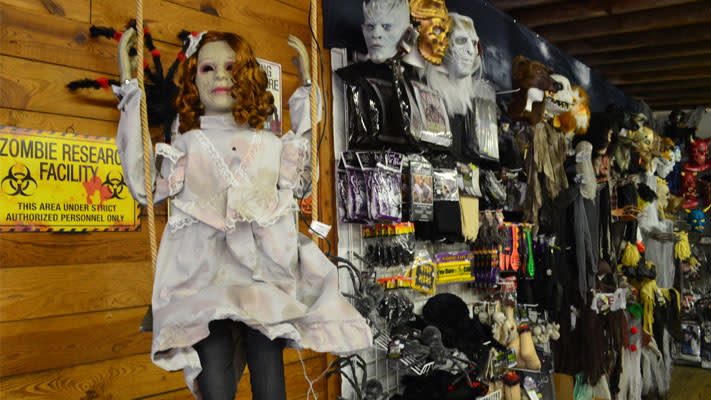 Collegeville Costumes - a family-run business that can trace its roots to the 1920s - was once one of three major manufacturers of Halloween gear. Its reputation was built on hundreds of cartoon- and superhero-based costumes that consisted of a plastic mask (held in place by a thin rubber band) and a silk-screened drape.
From the 1940s to the 1970s, boxes of these outfits flew off five-and-dime store shelves in droves.
Collegeville Costumes' history, however, didn't start with selling Superman or Wonder Woman.
It began with selling American flags.
"Collegeville Costumes was originally part of the Collegeville Flag Manufacturing Company," says Lisa Cornish, who, along with her husband, has stewarded this family business since 2003.
"Our store is part of that old manufacturing plant. You can still kind-of see the aisles where they had the sewing machines," she says, pointing to patches in the hardwood floor that have darkened with years of use. She also motions to a long display counter: "This was their cut table," she explains.
The migration from flags to fangs evolved from the repurposing of material left over from making flags. "I don't know if our first costume was Santa or Uncle Sam, but it involved some reuse of the red and white fabrics that were part of the flag-making process. This was back in the 1920s."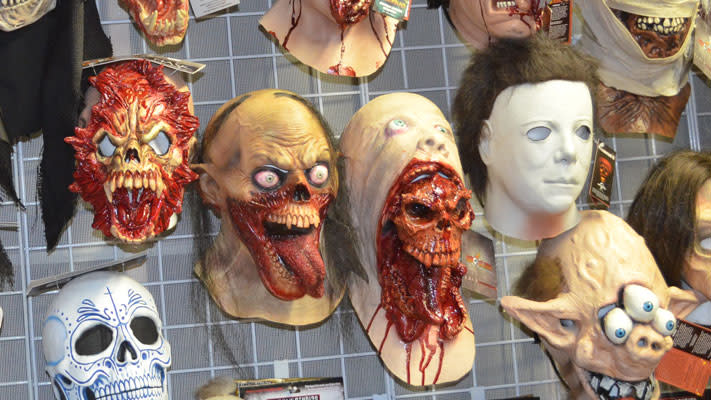 The costumes kept the manufacturer running beyond the traditional stars-and-stripes season of Memorial Day and July 4. The creepy couture evolved into a major product line.
Cornish is especially proud of her status as a non-chain store that also offers more than the pop-up Halloween shops that seasonally arise this time of year.
"We're off the beaten path; we're not easy to find, which can hurt us a little bit. But once people come in here, it's so authentic, so rustic that they find it amazing," Cornish relates.
Collegeville Costumes is two stories of shrieks and screams. The main floor has an impressive array of masks and accessories.
"Our wig selection is probably one of the biggest - at probably the lowest price points," Cornish explains. "Same for our makeup."
Merchandise also includes animatronic decorations whose complexity can raise the hair on the back of the neck of a visiting blogger, even in broad daylight.
Upstairs are stacks of hats, gloves galore and boxes of fangs, feathers and other freakish fun.
Not even an innocent bowl of peppermints can be trusted; as I reach for one, a small skeleton leaps forward to forcefully tell me that they are off-limits.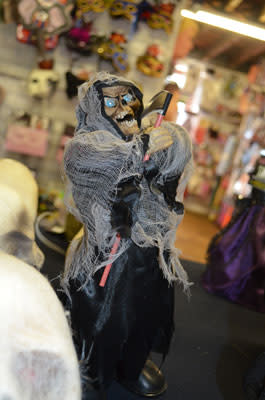 "We've had people use those on their dogs, putting treats in the bowl and waiting for the dog to find them," Cornish laughs. "They don't eat for days."
Big this year are Pokémon costumes, Cornish reveals. Her stock includes several options.
And yes, there are masked representations of both current candidates for president.
"I get the regular customer every year; the wonderful customer who supports a local business," Cornish concludes. "Early on, it's the kids, particularly in the after-school hours and on weekends. Then the adults come because they're starting to get invited to parties and dress-up days at the office."
Collegeville Costumes also attracts shoppers from Ursinus College, which is less than a half-mile to the west.
"I offer a discount to college students, so they come in," says Cornish.
As I exit this chamber of chills, I try again to snatch a piece of candy from the specter guarding the bowl.
Only to be turned away with yet one more shriek.