Koziar's Christmas Village Is Always Merry and Bright, Even When the Weather Is Not
It was not the most festive conditions in which to introduce a family to the holiday joys of Koziar's Christmas Village. As the afternoon evolved into evening, the clouds that had obliterated the sun all day thickened and became a steady drizzle.
But the precipitation did not dampen the spirits of the Murphy family of Collegeville, Montgomery County. Mike and Andrea and prepped their four children - Maura (7), Liam (5), Fiona (3) and Shane (7 months) - with rain gear and departed for their first look at one of the most celebrated holiday light displays in the area.
The Murphy children are captivated even before the car pulls into the parking lot. The sight of a half-million lights cutting through the rainy night ramps up the excitement level immediately. Liam spots a glowing figure sitting on a dock in the pond. "Santa's fishing!" he tells me.
We park and gear up for our visit. Shane gets a stocking cap for his head before being tucked into a baby carrier that mom wears below her chin. He nestles in for a long winter's nap.
Sonia Koziar, daughter of the originators of this festive phantasmagoria, meets us at the gate and guides us through her family's winter wonderland.
The seasonal display grew out of a late 1940s interest in holiday decorating for her parents, dairy farmers. "My parents started by decorating the stone farmhouse," Koziar explains. "The next year, they added lights to the roof and the lawn. And year by year, it grew. Our first visitors were neighbors who called us 'The Christmas House.' People parked at the top of our hill and walked down to see the house. When that became a safety hazard, Daddy paved one of our wheat fields, and that became a parking lot."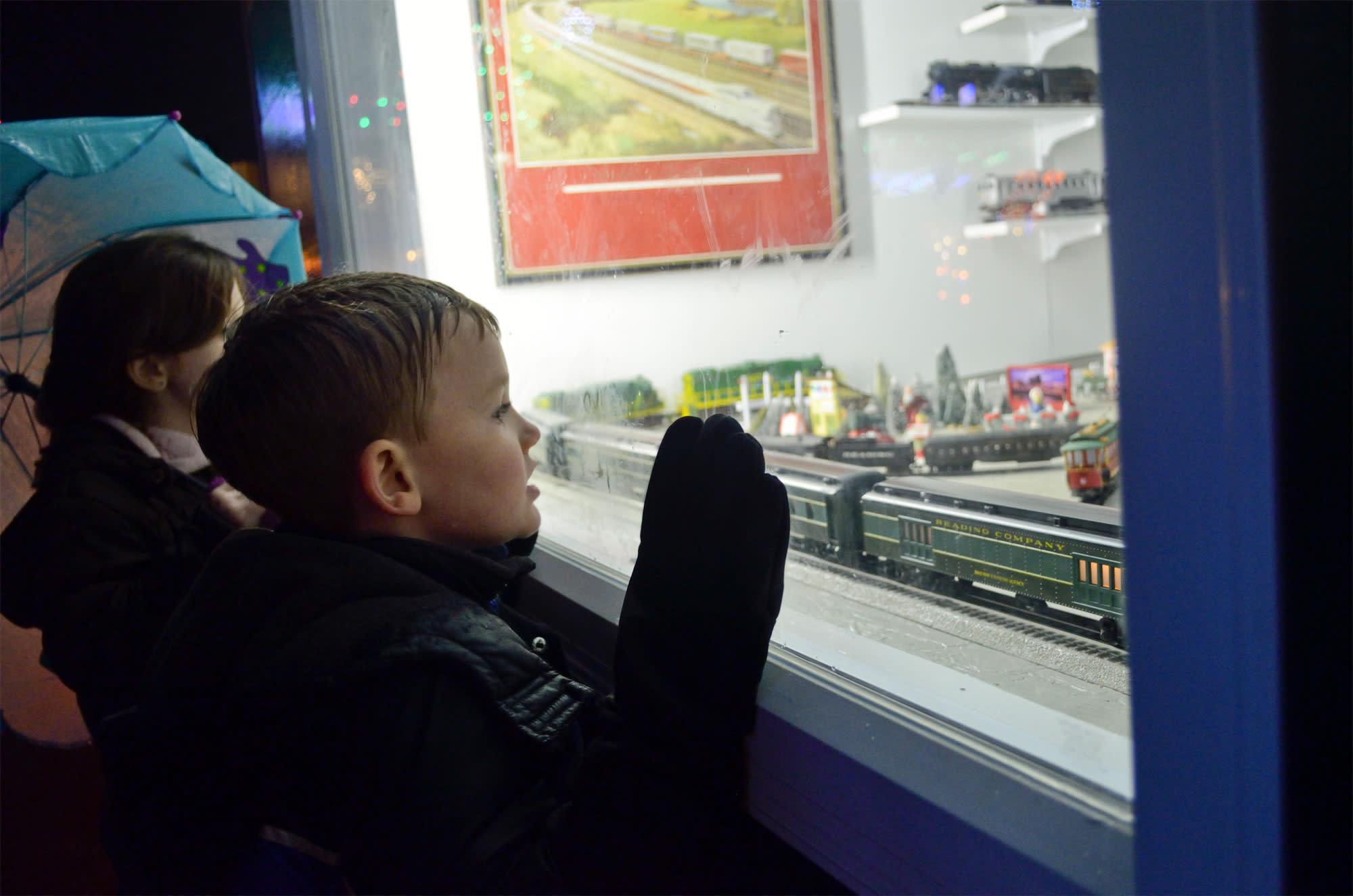 We pass the stone house, and Koziar points up to the windows that once were her bedroom. "As kids, we had to wait until the cows were milked before we could turn on the outdoor lights. There just wasn't enough electrical power to run everything. We were told not to turn on the TV because it would blow the circuits. One night, my brother Billy and I did it anyway. And yup, everything went out," she laughs.
The family began brainstorming about how to make the displays more intricate and decided to create little scenes for visitors to enjoy. They repurposed chicken coops to hold tributes to A Christmas Carol, 'Twas the Night before Christmas and other Yuletide scenes and stories.
The displays are quite personal to Koziar. She points out her mother's china set being used to display a table ready for a holiday feast. And a number of the presents under the tree are her's or her children's. "That's my brother Billy's plane," she says, referring to a pedal-car aircraft from the 1940s. "And those are my sister's original ice skates."
The Murphy children run from display to display. Dad-Mike holds Fiona up so that she can gaze into the windows of Raggedy Ann's Ice Cream Parlor, The Olde Church and the electric neon of Christmas Under the Sea. Liam is a big fan of trains, and Koziar's does not disappoint. There are numerous layouts, including a recreation of the old Reading Railroad line. "How do they get all those trains in there?" Liam asks. "How do they turn them on?" Dad conjectures: "There must be doors in the back..." Maura sees a 1950s-style McDonalds tucked amid the tiny houses and scurrying trolleys. Noticing the sign, she comments, "A hamburger for 15 cents?!?"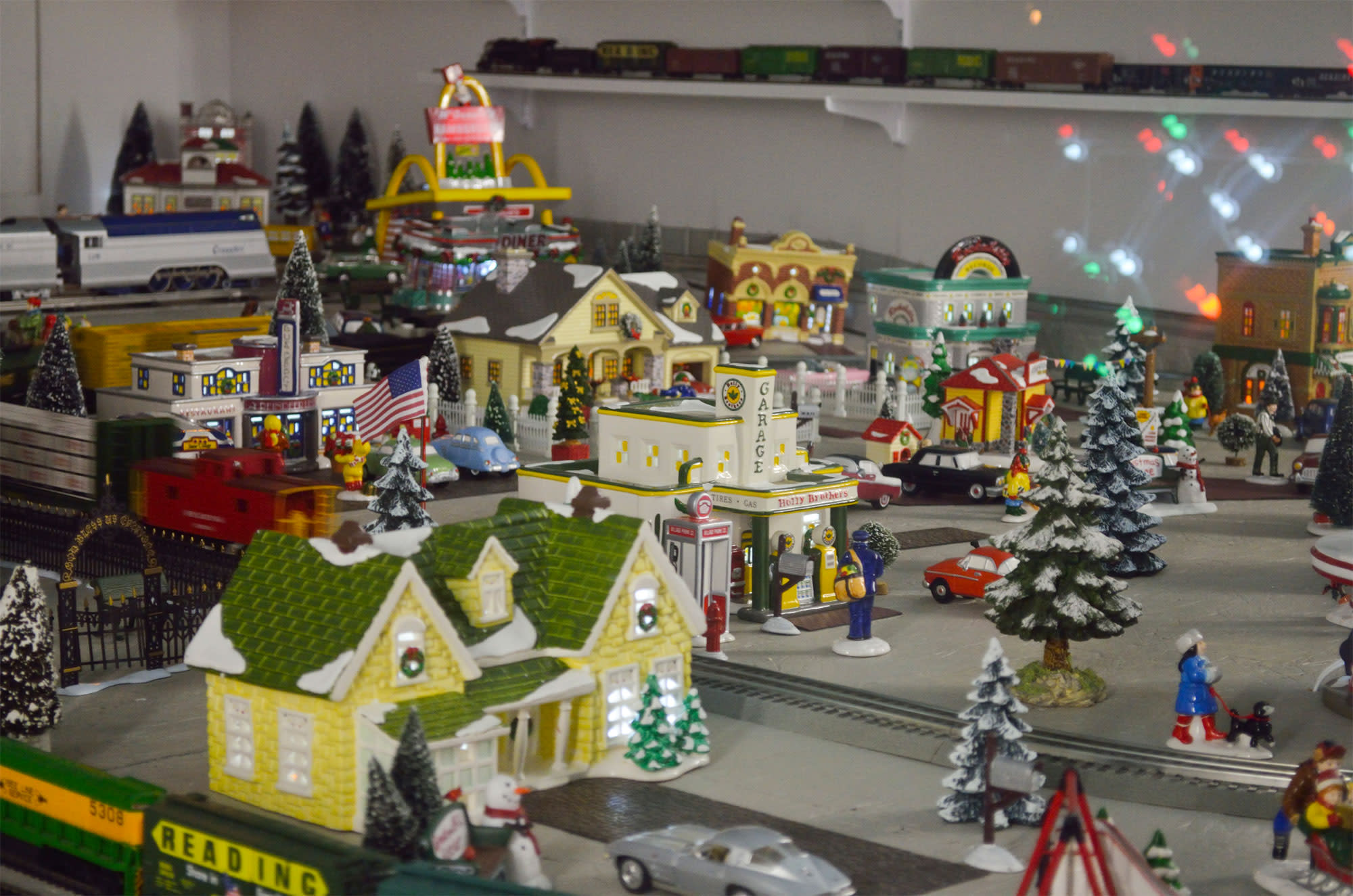 We make it to Santa's Workshop, where St. Nick holds court with children wanting to talk to him about Christmas wishes. The Murphy brood fearlessly walks up to Mr. Claus and begin chatting. "If someone isn't good," instructs Fiona, "they get coal for Christmas." "That's right," Santa replies. "Coal." Fiona qualifies emphatically: "Black coal!" Santa agrees with a trademarked chuckle: "Yes, black coal... But I know none of you is getting black coal for Christmas."
One final stop brings us to walk-around versions of Rudolph and Frosty, happily greeting guests. Liam gives Santa's red-nosed flyer a friendly high-five, followed by a giant hug. "He has been fascinated with Rudolph since last Christmas," explains Mom-Andrea. "He got a Rudolph book that he carried around everywhere."
A quick snack fortifies the family for the ride home (Shane wakes briefly and gets some small pretzel pieces that he happily gums on), and they head home. Sonia Koziar bids them farewell, and I tell her: "You must have the greatest job in the world."
She pauses for a moment before replying: "I do. Everyone who comes here is happy and in a good mood. We bring Christmas joy to thousands of people each year. What could be better than that?"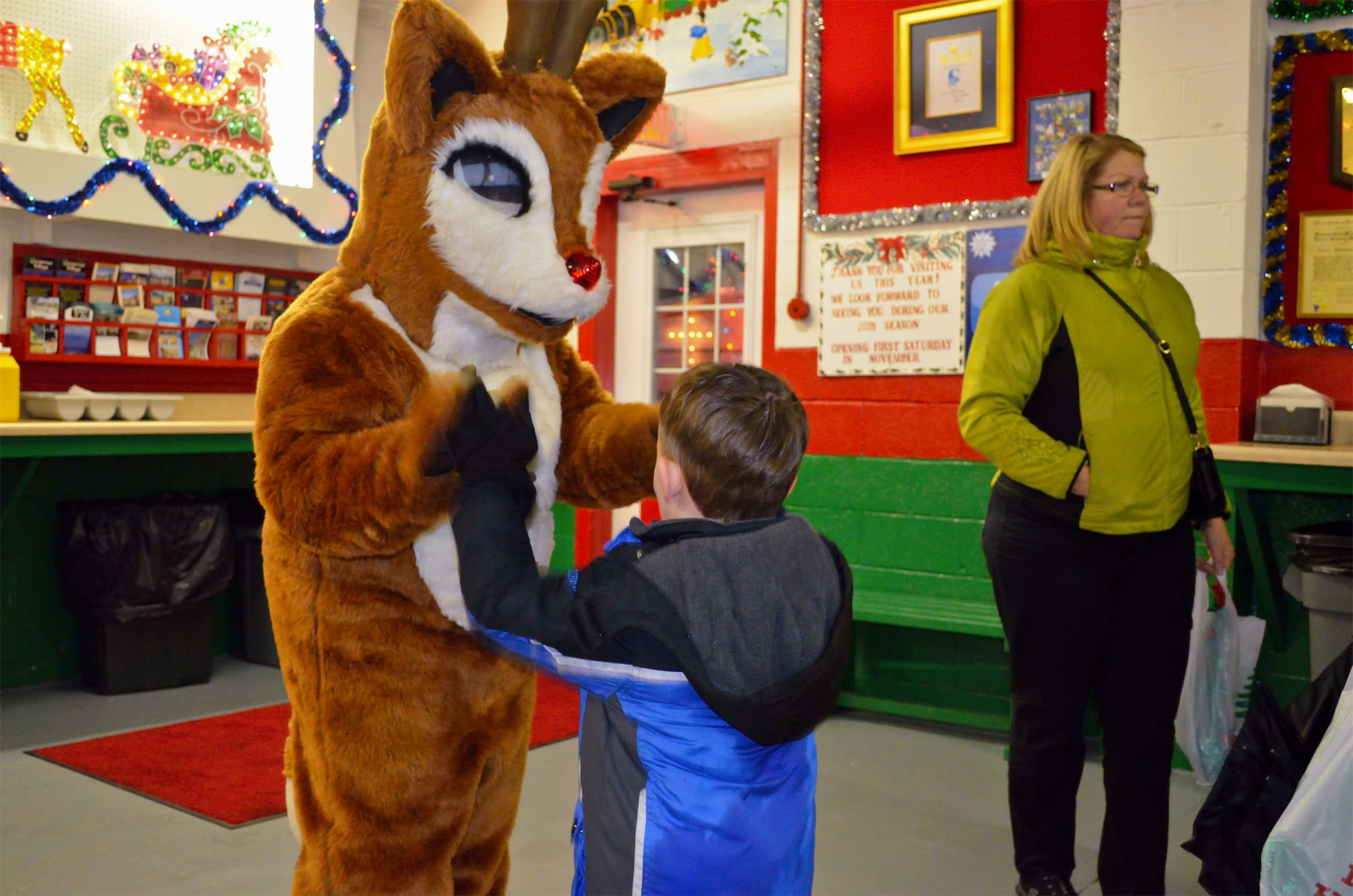 Koziar's is open every night from now until January 3:
Monday to Friday 6-9 p.m.
Saturday 5-9:30p.m.
Sunday 5-9 p.m.
Admission:
Children three and under are free
4-10: $7
11-64: $9
Seniors (65+): $8
Parking is free. Onsite snacks (cookies, cocoa, etc.) are available for purchase. The tour requires walking, but the pathways are paved, easing transport for strollers, wheelchairs and mobility power scooters.
A visit to Koziar's can be the cornerstone to a great holiday-themed getaway. Once you return to Montgomery County, check into one of the hotels recommended on our website. Our accommodations are the perfect place to spend a night or two dreaming of a White Christmas, just like the ones you used to know...