So what, exactly, is a tourism board doing running a food drive anyway?
It's a logical question, especially now, as the Valley Forge Tourism & Convention Board continues with its two-week initiative to address the hunger issue in Montgomery County.
To tell the tale involves a rewind of the clock.
In conjunction with the 2015 visit from Pope Francis, we were asked to devise a farewell gift to the Pontiff. The goal was to mark his overnight stay in our county, at St. Charles Seminary in Wynnewood.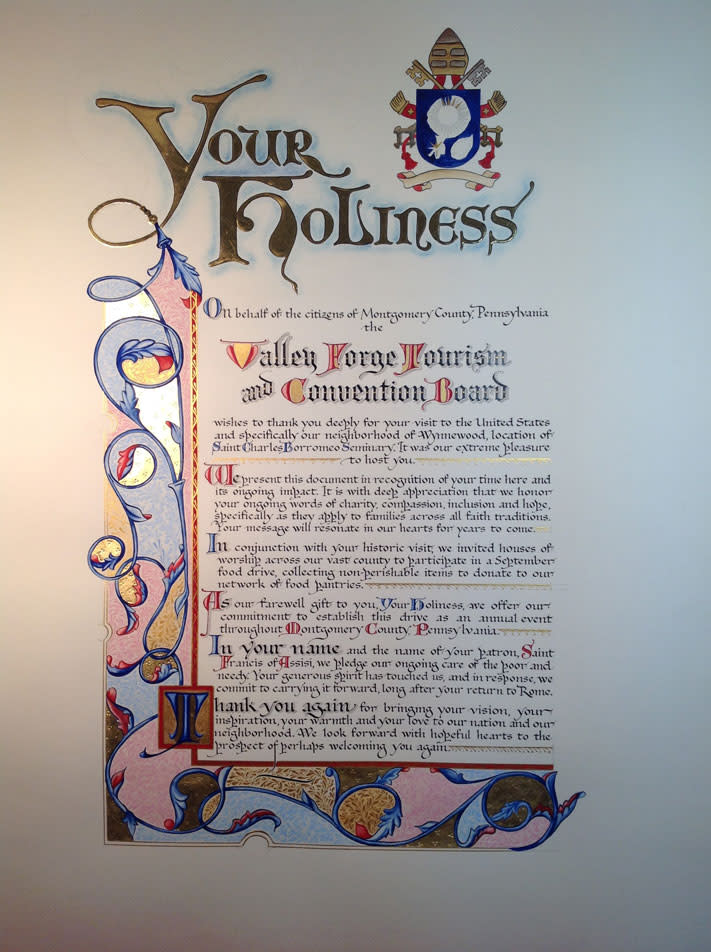 Numerous ideas were floated: some kind of commemorative book; a keepsake plaque; a crystal bowl; a miniature cannon from Valley Forge.
None of it seemed right. Especially with the knowledge that His Holiness had chosen as his namesake Francis of Assisi, a saint devoted to the cause of uplifting the poor and needy.
Why not, we proposed, do something intangible?
Thus came the Valley Forge Freedom from Hunger food drive.
Now, in year two of this effort, it has deepened. We have branded it with a logo, looking to cement it visually in the public's mind. We also set a rather lofty goal, using the historically significant number 1,776 pounds of food.
The drive began September 17 and continues to October 1, straddling the period when Pope Francis was here.
In a data-gathering effort, we spent some time with the Montgomery County agencies to whom our donations are going, those charitable outreaches that face the hunger issue squarely, every day.
We met Patrick Walsh and his colleagues who run the food pantry for Catholic Social Services in Norristown. He and his crew are not only meeting the nutritional needs of local residents, they're doing so with a great deal of respect and humility.
The pantry is set up like a mini-supermarket. Clients come through and make decisions on their own, using credits to fill their baskets that meet their specific needs and preferences.
There's even a kids' section, where young shoppers can pick up fruit snacks or candy.
"Because what kid doesn't like getting something special when going shopping?" Walsh asks rhetorically.
It was Walsh himself who gave our initiative its tagline, that feeding the hungry could be considered "...hospitality at its best."
And visiting with the volunteers there strengthened our commitment to succeeding.
Maria Wilkinson has been donating her time for decades.
When asked why, she responded passionately:
"I was a young girl during the Second World War. And I remember food shortages, when people were given ration coupons and could only get certain items on certain days.
"It was horrible. We waited in line - I was just a young girl, holding onto my mother's hand - and when supplies ran out, they ran out. And I never forgot that feeling.
"So I want to do everything possible to make sure nobody else has to go through that."
Donations of nonperishable items can be dropped off at the following locations:
Valley Forge Tourism & Convention Board, King of Prussia
Hilton Garden Inn, Fort Washington
SpringHill Suites, Willow Grove
Hyatt House, Plymouth Meeting
Holiday Inn Express, King of Prussia
Valley Forge Casino Resort, King of Prussia
Holiday Inn, Lansdale
Sheraton Valley Forge, King of Prussia
Philadelphia Premium Outlets, Limerick
Elmwood Park Zoo, Norristown
Boehm's United Church of Christ, Blue Bell
St. James Episcopal Church, Collegeville
More information is available at ValleyForge.org/Hunger.