Each year, the month of February is dedicated to honoring the historical impact, achievements, and larger-than-life figures in the black community.
In 2020, we collectively began to take a look at the state of our world and how we can strive toward a better future. Now more than ever, we work towards building a better, kinder future and the celebration of Black History Month is so important for all of us to partake in. We invite you to visit Montgomery County and celebrate Black History Month at our numerous sites below
The Patriots of African Descent Monument
Valley Forge National Historical Park
When most people think of the Valley Forge National Historical Park, they think of the Revolutionary Army's encampment in the winter from 1777 to 1778. The park is full of monuments and markers that indicate where major historical figures stayed and where major happenings occurred on its grounds. 
One such monument is dedicated to the Patriots of African Descent. The statue depicts three soldiers; one faces forward, the second faces left and the third faces right. On the back of the monument the words, "In Honor of the Patriots of African Descent who served, suffered and sacrificed during the Valley Forge Encampment 1777-1778" are inscribed. Followed by the description, a quote from Charles L. Blockson, founder of the Blockson Collection of African American historical documents at Temple University, reads, "Throughout these historic and hallowed campsites were courageous Black Patriots who participated in our nation's bitter fight for independence". 
To learn more about the Patriots of African Descent monument, click here
Charles L. Blockson Exhibit at the Centre Theatre
The Charles L. Blockson Exhibition located within the historic Centre Theater is a celebration of the lifework and incredible accomplishments of a local hero - Mr. Charles Blockson
The exhibit will provide access to culture and open a cultural institution in Norristown for residents and the county as a whole to experience.  In partnership with Mr. Charles Blockson, and Temple University's "Charles L. Blockson Afro-American Collection" Elmwood Park Zoo taking over Norristown's The Centre Theater to host The Charles Blockson Exhibition. This gallery will celebrate African American culture and highlight the life work of Mr. Charles Blockson, a Norristown native who has amassed one of the largest collections of African American history in the nation and is an expert on the underground railroad.   

This collection celebrates freedom and will be an incredible and historic cultural addition to Norristown.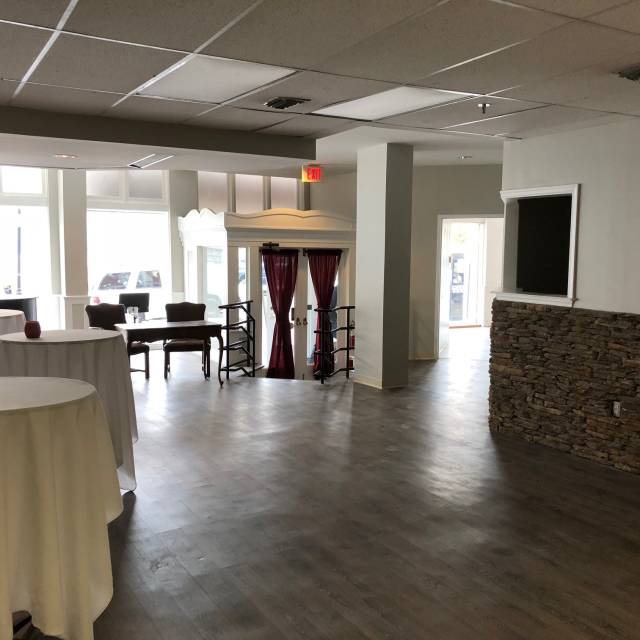 Arts Wall at the King of Prussia Mall
The Arts Wall at the King of Prussia Mall showcases the work of artists who call Montgomery County home. The installation, which is located in the mall's connector corridor across from Macy's, highlights the variety of local artists within the Valley Forge region while also providing a unique amenity to shoppers and other visitors.
In honor of Black History Month, the newest round of artists on exhibit at the Arts Wall are all works from artists of color. Artists featured include James Atkins (Moody Jones Gallery), Ruth Bridges (Moody Jones Gallery), Shelby Brisbane (Montgomery County Community College), Abigail Coachi (Ursinus College), Andromeda J. Cook (Moody Jones Gallery), Taylor Morris (Moody Jones Gallery), Jailene Rodriguez (Ursinus College), Mydera Taliah (Haya Ground Studio), Eric Nigel Taulton (Haya Ground Studio), Dane Tilghman (Moody Jones Gallery), Mekha Varghese (Ursinus College), Yolanda Ward (Moody Jones Gallery), and R.L. Washington (Moody Jones Gallery). 
Visit the Black-Owned Businesses Along Montco's Main Streets
Montco is home to almost a million people. With such a large and diverse population, it's no surprise that diversity is reflected so strongly in our main streets. From boutiques to brunch spots and everything in between, Montco has a plethora of black-owned businesses ready to welcome you to their stores. 
Check out some of our top picks and recommendations below!
---
A Map of Black-Owned Businesses in the County

Montgomery County hosts many black-owned businesses across the county. This February, participate in the celebration of Black History by shopping and supporting your local black-owned business. Check out some of Montgomery County's thriving black-owned businesses below:
Buutchiis Grill | Ambler
Buutchiis Grill is Ambler's top destination for authentic West African & Caribbean cuisine. Buutchiis started off with a food truck and with hard work and delicious meals, their Ambler location came to be. Stop by Buutchiis for delectable home cooked, authentic cooking.
Madelange Laroche Bridal Design Studio | Elkins Park
Brides-to-be need look no further than Madelange Laroche for classic, timeless and luxurious gowns for brides and bridal parties. Madelange's work has been critically acclaimed by dozen's of publications and was recently featured on NBC Philadelphia's Philly Live.
The Cheesecake Lady | Elkins Park
Owned and operated by Vanessa Jackson of Elkins Park, The Cheesecake Lady is a one-of-a-kind bakery that has Montgomery County hooked! Vanessa specializes in cheesecakes and her recipe is so perfected that even those who don't like cheesecake will LOVE her's. 
D'IYANU | Norristown
D'IYANU is Norristown's first retail clothing store dedicated to African-inspired prints and clothing. The name D'IYANU perfectly encapsulates the spirit of the brand; The "D'" means "of" or "from" in French, and "IYANU" means "miracle" or "wonderful" in the Nigerian language, Yoruba. When put together, the literal translation is "of or from something wonderful". D'IYANU aims to promote high-quality affordable fashion while celebrating the blend of West and African culture in their clothing.
The Tricycle Cafe & Bikes | Conshohocken
The Tricycle Cafe & Bikes has got to be Conshy's coolest coffee spot. Part cafe, part bicycle shop, and repair center, the Tricycle offers visitors a chance to enjoy some delicious roasts and check out the latest and greatest sets of wheels as well as sprucing up their beloved bikes. 
Haya Ground Studio | Norristown
Haya Ground is Norristown's resident art studio, gallery, and event space. Showcasing art from local and regional artists, Haya Ground nurtures its artists and patrons through classes, events, workshops, mentorships, and venue rental opportunities. 
Holland and Milan Organics | Ardmore
Holland and Milan specialize in making products that are 100% naturally-sourced, plant-based, and clean. With the goal of providing the most potent essential herbal blends in their products, Holland and Milan clients can expect their hair and skin to reach their highest quality of health.
Lavish & Lit Candle Company | Bridgeport
Lavish & Lit is a fragrance company specializing in soy wax candle blends and melts. All Lavish & Lit products are made by hand out of the highest quality ingredients coupled with premium 100% soy wax blends.
Moody Jones Gallery | Glenside
Moody Jones is an art gallery located in the heart of Glenside, PA. The gallery boasts a rich collection of original paintings and sculpture work done by a variety of artists.