Performer Derek Lightcap admits that building an audience for his drag show at The Underground, the entertainment venue at Lansdale's Round Guys Brewing Company, took time.
"We had a lot of groups of women who would leave the kids and husband home for the night and head out," he says. "Then slowly, they started bringing their husbands and boyfriends and fathers. And it just became a thing.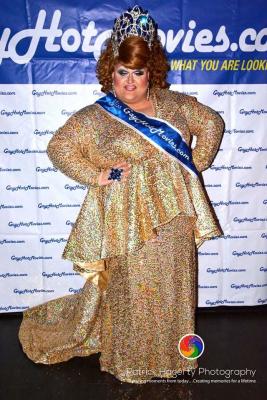 "We now sell out all the time – the crowds are insane. And the age range of our audience is now people from their 20s to their 70s."
When Lightcap takes the stage as host, he sets aside his everyday look as an Uber driver to take on the persona of Fanci Dismount, an over-the-top Southern Belle.
Ms. Dismount has now been gracing the Underground stage for the past three years, overseeing a cast of five. The performance is a little lip-sync, a lot of lipstick and a ton of laughs.
"I've been an entertainer my whole life," Lightcap says. "I went to Pottsgrove High School and did shows there. I went to Wagner College in State Island and got a B.A. in Arts Administration, where I learned the business side of theater.
"But in college, I started to dabble in drag. We did gender-bender cabarets and fundraisers for different things. So that's where I first kind of started with it. But it was never anything serious; it was more just for fun."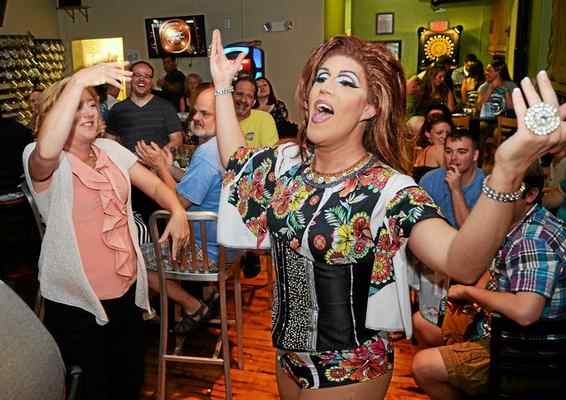 For Halloween 2011, Lightcap was DJ'ing at a bar in Norristown and, apropos of the October 31 date, came to work in drag. An unexpected snowstorm that night cancelled the scheduled entertainment, and the club manager moved him from sound system to the spotlight.
Fanci Dismount's debut was an instant success.
"I filled in," he recalls. "I did two numbers, and everybody fell to pieces. Overnight, I became a drag queen and had regular gigs."
Lightcap cobbled together Fanci's personality from personal experience.
"I took a lot of inspiration from the women in my family," he explains. "My mom's side of the family was from the south, so I kind of play this big, Southern debutante.
"She's an amalgamation of that stereotypical loud-mouthed, bawdy, Mae West type. Fanci is a demure, sweet, innocent, motherly figure who is also a bawdy, raunchy doll."
Lightcap's extensive performance experience and sharp wit come in handy in shaping each show.
"The majority of the show is lip-sync," he describes. "But occasionally, we'll have a girl who will sing live.
"I host in between each number, so that's like a stand-up set. Right in the beginning of the show, I'll do a five-minute intro with the audience, getting to know them, joking around, having some fun.
"Everything is very off the cuff, depending on the crowd. First-timers can be a little quiet, just sitting back and treating us like a traditional stage show. But eventually they figure out, no-no, we want you to be loud; we want you to react; we want you to hoot and holler and scream and have a good time."
Lightcap's work may seem casual, but it results from extensive preparation.
"For the Round Guys show," he cites, "our first show is usually at 7:30. I start getting ready at 4 p.m. I have to get to Lansdale, get all the music together, set everything up, get the girls there, get them ready, get the line-up done, do that first show at 7:30, finish that, flip the house and get the next show ready.
"I finish at 11:30 or midnight. That's a long day at work."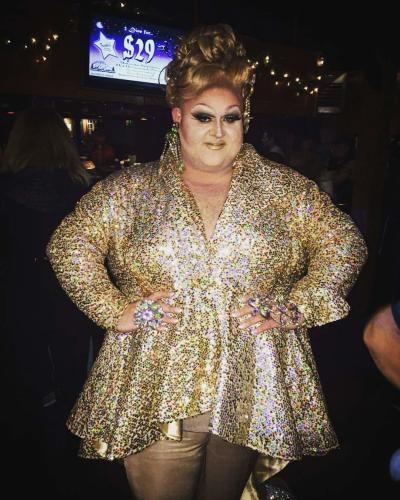 But it's work that he truly enjoys, especially when he considers it in a greater context.
"This has been a neat thing for the area," Lightcap says. "I think it's good that we're bringing a little diversity and showing something different in town."
Fanci's fans agree. Often, audience members who attend the evening's first show stick around for the encore performance that follows, even when the content is basically the same.
"We have a good time," Lightcap concludes.
"People let down their guard and just forget about what is supposed to be reality and just come into our reality for an hour."
If You Go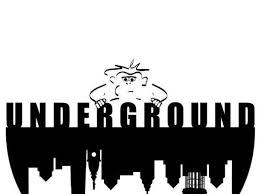 Ladies of Lansdale Drag Show at Round Guys Brewing Company
July 8 (7:30 and 10 p.m.)
Tickets are $10; purchasing them in advance is strongly recommended. Once seats sell out (parties of more than four cannot be guaranteed group seats), standing room tickets are available.
408 West Main Street
Lansdale, PA 19446
610.715.1512