Everyone knows this time of year who the world's most famous toymakers are. They're the little folks in the pointy hats, making playthings for the guy with the beard and sleigh.
This past weekend, however, the North Pole got some serious competition.
The LEGOLAND Discovery Center in Plymouth Meeting – prepping for its Spring 2017 opening – held a competition to find a Master Builder.
The winner of the multi-round, two-day, high-profile audition would not only claim the title of local LEGO legend, he or she would also get a job offer, snapping up what many consider to be the dream job of building with LEGOs all day.
To get the inside scoop, I entered as a contestant.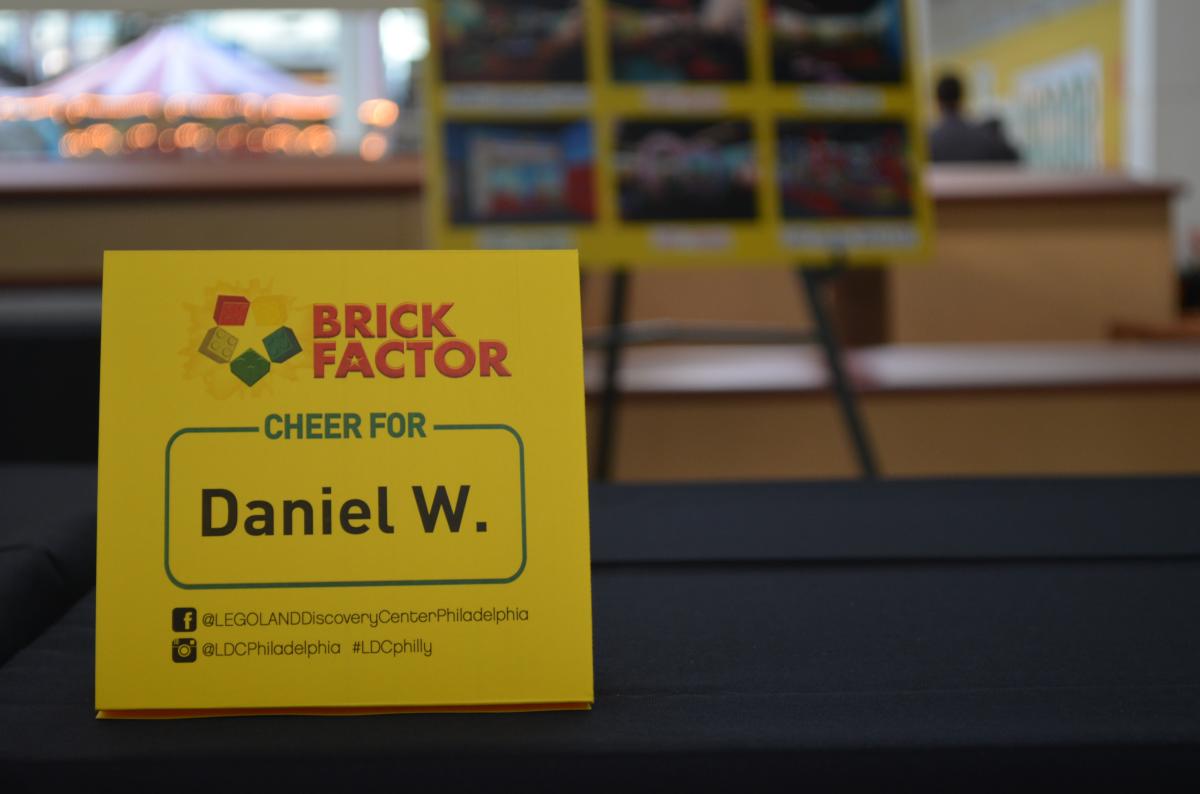 In the name of disclosure, let me say that I haven't touched a LEGO brick for decades – maybe as many as four decades. And even at that, my childhood experience was limited.
I am the third of three boys, and when my (frugal) mom bought LEGOs, she invested in one set and left it to us to divide it. Being last in the pecking order of siblings, I usually got pretty crummy pieces, as I recall.
But maybe that would be an advantage in the Master Builder challenge; maybe that background would make me a little more imaginative than the other participants.
I arrived onsite and eyed up my nine other competitors. Plus I gazed at the giant bins of bricks we would be building from. I tried not to be intimidated by either, but it was difficult.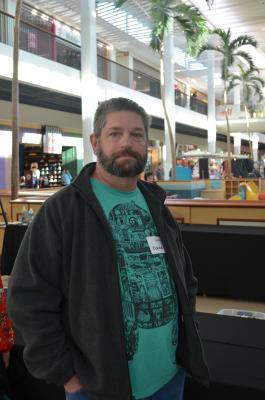 I struck up a conversation with David Alldred of Hatfield, Montgomery County. He's a carpenter by trade who has been building with LEGOs since he was seven; he is now 52.
"I've always loved that 'shooooof' sound of searching through a pile of bricks," he told me. "I was given a suitcase of LEGOs by a neighbor up the street, and that sound always reminds me of those first sets."
He paused, reflecting. "But my wife hates that sound," he laughed.
We discussed prep for the event.
"I practiced last night," Alldred said.
Practiced? Uh-Oh.
"I built a gray pigeon in my LEGO room," he admitted.
LEGO room?
"Oh, yeah. I've got display shelves and bins where the bricks are all separated by color and size," Alldred explained. "Don't you have a LEGO room? Everyone should have a LEGO room!"
I'm in big trouble.
The organizers lined us up. They explained that we could access as many bricks as we needed; that we had a half hour; that we would be judged not only on what we built but how we interacted with the audience; and that we would be building an animal of our choice.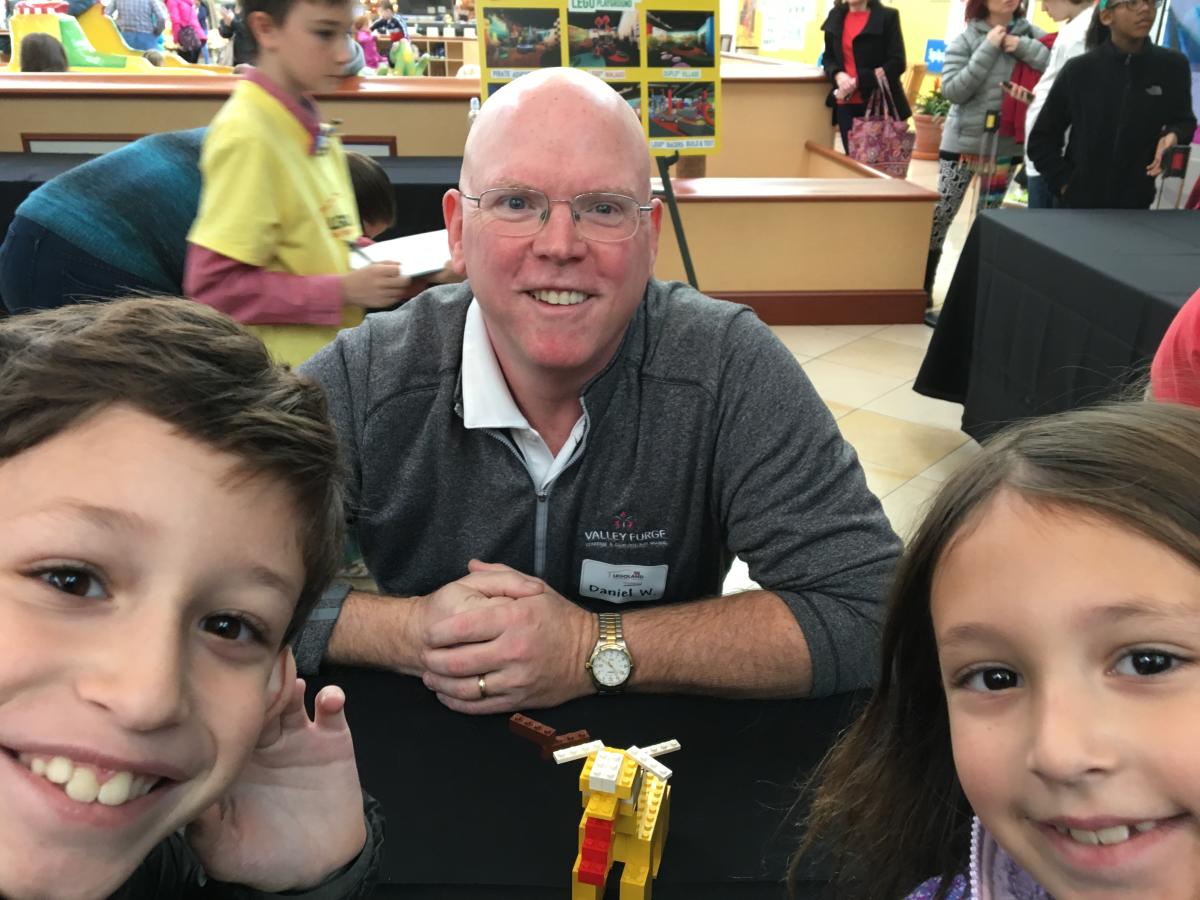 The crowd, including wide-eyed kids, started to press in. Three… Two… One… Go!
I dug into the nearest bin and started crafting our Labrador Retriever, Parker.
My gang of pint-sized spectators offered plenty of encouragement and suggestions.
"Give him a leash!"
"Make his tail longer!"
I snapped away.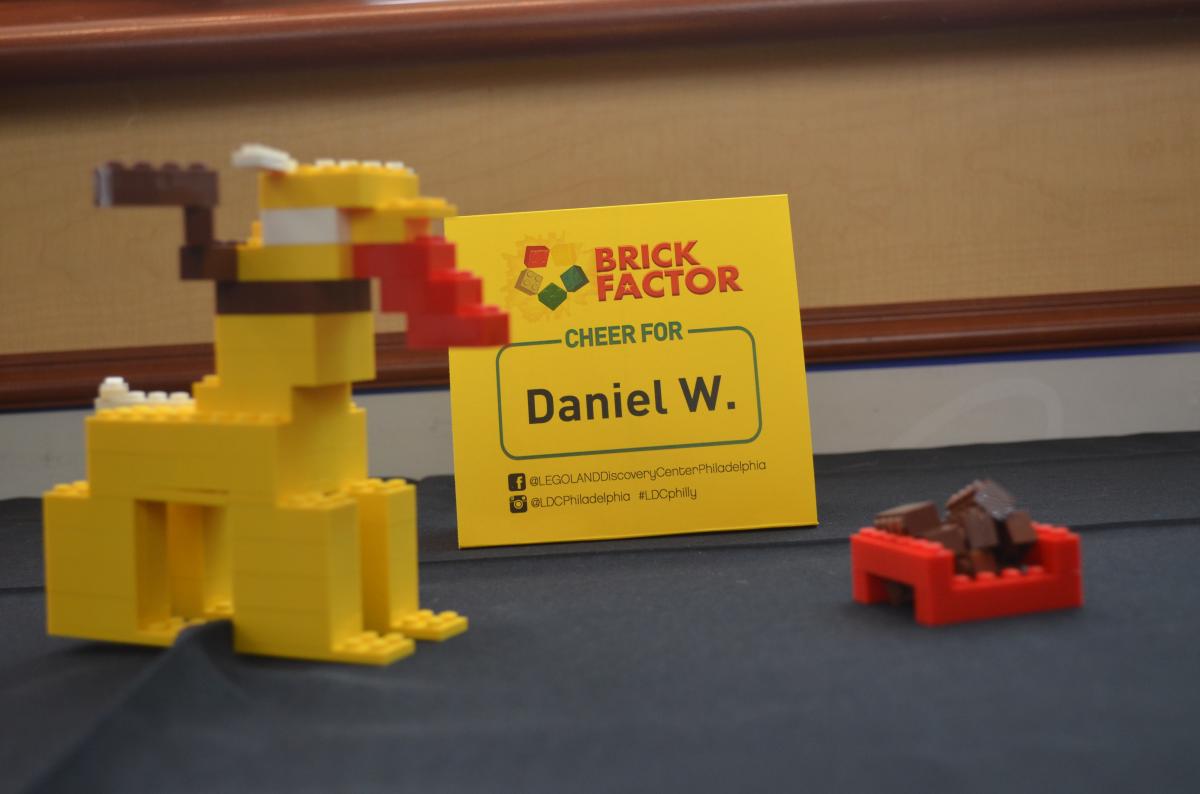 With only seconds left, I added a hasty dog "bowl" and filled it with a meal of scattered brown pieces. It didn't really look like kibble (it actually looked like a firepit with logs in it), but it was close enough.
Time was called. We were done. Parker looked more like Disney's Pluto, but he would have to do.
I looked at my competition. Alldred had made a duck.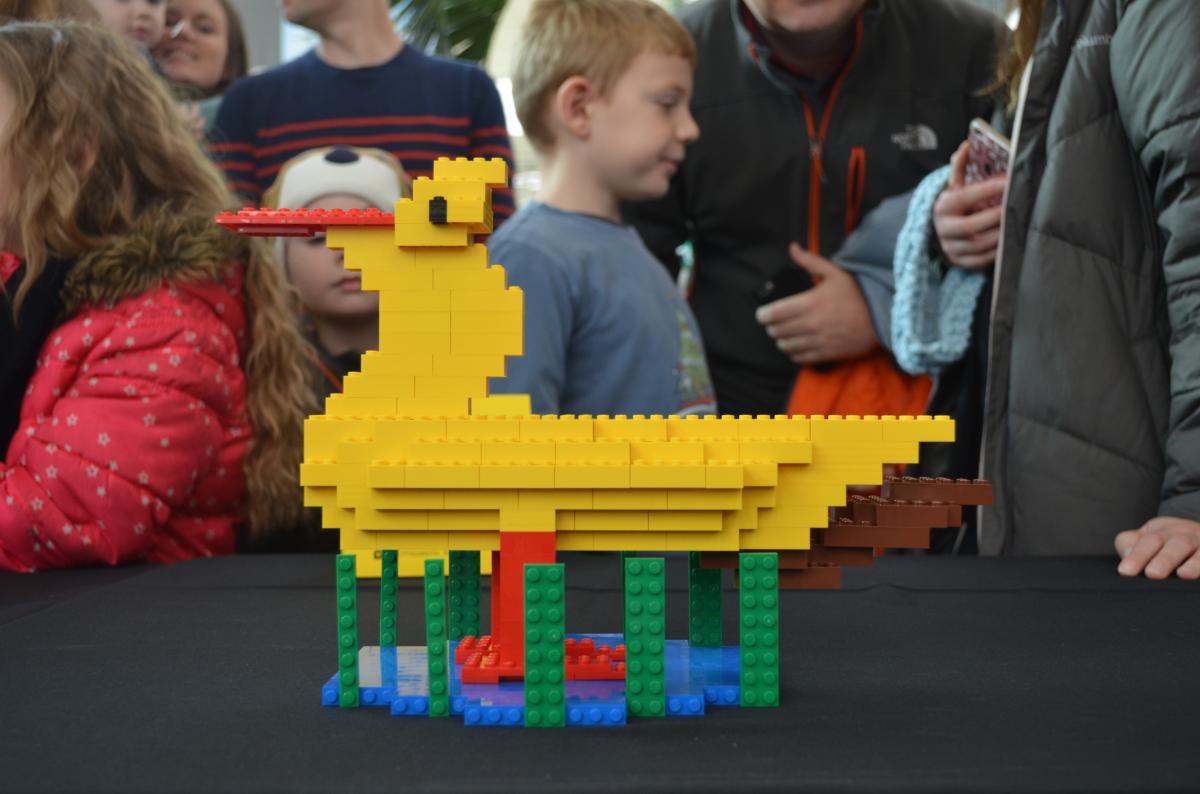 The judges convened and announced their results. I scored fifth. The judges evaluated how we connected bricks, true, but also how we connected with the public. My involvement with the kids is what probably carried me to the middle of the pack.
Although I did not advance, I was proud of my work and had a great time.
The winner?  That was Michael L. Nieves of Monmouth Junction, N.J.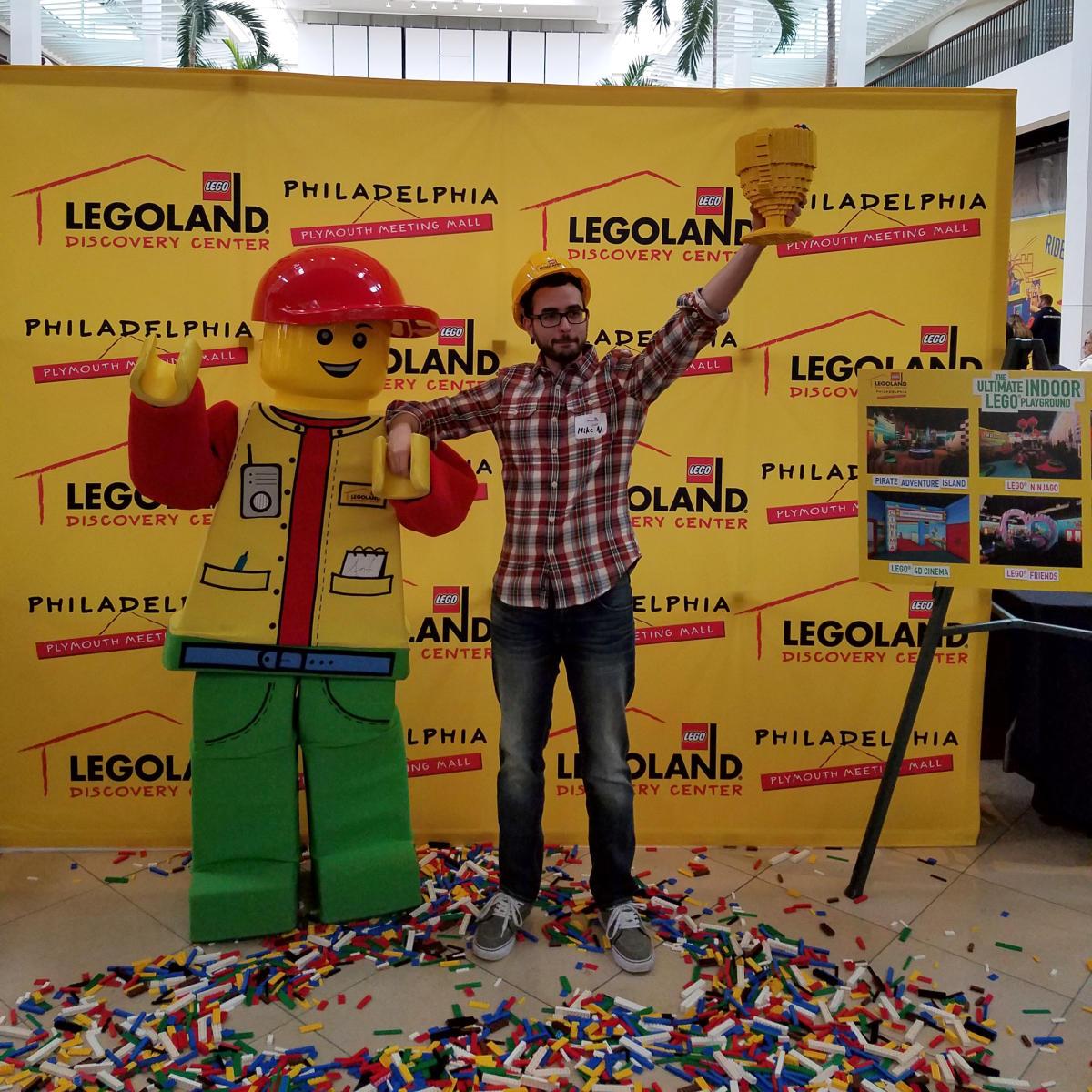 In a series of builds, he had made a fish (with a tail that flipped), a series of mushrooms and fairies (for the theme "fantasy") and finally a representation of himself with LEGO constructions of pieces like a lighthouse and a pirate ship.
Nieves will join the staff at LEGOLAND Discovery Center Philadelphia, inside Plymouth Meeting Mall, when it opens in spring 2017. The 33,000 square-foot attraction includes a 4D movie, a LEGO-themed ride, a DUPLO park for younger builders and Philadelphia MINILAND (icons of the area rendered in bricks).
A limited number of First to Play Annual Passes are available for purchase at a discounted rate of $54 (regularly priced $59) through LEGOLAND Discovery Center Philadelphia's official website.
They make terrific holiday gifts.
Me?
I may very well ask Santa for a LEGO room.